Where the world gathers for
plating, anodizing, & finishing Q&As since 1989
-----
Electroless nickel counterflow rinse troubleshooting
August 31, 2012
Q. Hello,
I have recently introduced a counter flow rinse system after my electroless nickel bath.
There are three tanks:
1. DM water ( should be hot, but my heat exchanger is being fabricated)
2. DM water + NH3 ( at about >1% v/v)
3. DM water.
I am facing the following problems.

1. After the 3rd day of operation, the first tank develops a foul odor, the closest smell I can compare it to is stale sweat.
2. small clumps of particulate matter are observed floating about in the first rinse tank.The look a bit like the film of cream formed when hot milk is cooled.
3. By the end of the 4th day of operation the water in the first rinse tank spontaneously decomposes forming a fine black precipitate.

I have tried filtering the rinse but this has not been much help.
I would really appreciate any insight that can be provided.

I thank you for your time.
Ravi Patel
- Anand, Gujarat, India
---
September 4, 2012
A. Hi.
I have questions. Your design of the 3 tank c/flow rinse is due to customer requirements or your own design? If your own design, what are you trying to achieve?
SK Cheah
- Penang, Malaysia
---
September 7, 2012
Q. I'm trying to reduce the amount of waste water generated by process.
I hope to tune it too a point where I don't have to dump my final Electroless nickel plating rinse, using it as addition instead.
Ravi Patel
[returning]
- Anand, Gujarat, India
---
First of two simultaneous responses -- September 8, 2012
A. The sweat-like smell may be due to lactic acid which is a component of sweat.

Dilute organic acids are an excellent media for growing molds. Your problem may disappear when the rinse becomes more concentrated, or if it is heated.
Lyle Kirman
consultant - Cleveland Heights, Ohio
---
Second of two simultaneous responses -- September 8, 2012
A. Electrochemical baths are "balanced", when properly operated they remain stable over extended periods of time. Theoretically, they do not produce waste chemicals, only metallic deposits, water and sometimes hydrogen, oxygen or other gases that escape to the atmosphere and have to be compensated adding acids or other chemicals. Their rinses contain salts that are still usable. Electrons have not yet reduced them.
On the other hand, EN baths produce waste by-products all the time (generally sodium orthophosphite) which builds up inexorably and is a contaminant. Rinsing will only dilute it, it will never reverse the reaction and provide fresh hypophosphite.
Bill Marrufo-Mexico
Guillermo Marrufo
Monterrey, NL, Mexico
---
September 10, 2012
A. Well stated GM.
Another point is why abuse the EN tank and get 4 turnovers when you could take care of it and get 8 turnovers? Waste disposal of a dead EN solution is a lot more expensive than rinse water unless you have a place to sell the dead solution.
James Watts
- Navarre, Florida
---
September 11, 2012
Q. Dear GM and JW,
Thanks. We haven't dumped a bath since 2008; we have an in-process electrodialysis/IX system that we use to rejuvenate spent baths and recover any stray nickel.
So the question, gentlemen, is meant to be about the rinsing system, and any methods that can help reduce the amount of water consumed.
Ravi Patel
- Anand, Gujarat, India
---
September 12, 2012
A. Hi Ravi.
Since you apparently have the technology to purify the electroless nickel solution, and since the three rinse tanks are already counterflowed, perhaps you should just pump the first rinse counterflow back into the EN tank, but through a filter to exclude the flotsam and jetsam? Even better might be recirclating the initial rinse through a filter constantly, with a slipstream going to a float valve for makeup of evaporation losses in the ENP tank.
Regards,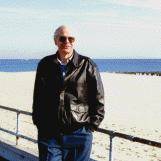 Ted Mooney
, P.E.
Striving to live Aloha
finishing.com - Pine Beach, New Jersey
---
September 17, 2012

Thanks Ted,
I have been doing trials for filtration, but this has turned into a counter productive exercise. The fluid circulation is aerating the rinse causing formation of large clumps of flotsam, My guess is some form of oxidation involving the organic acids present in the rinse.
I think I am going to temporarily set aside this experiment and concentrate on reducing drag out to the rinse tank instead.
I thank you all for your responses.
Cheers
Ravi

Ravi Patel
- Anand, Gujarat, India