Where the world gathers for
plating, anodizing, & finishing Q&As since 1989
-----
Unfinished galvanized pipe as architectural feature
August 30, 2012
Q. Hello;
We are developing an indoor exhibit with an agricultural theme and would like to use galvanized pipes for supporting graphic panels, display cases, etc. We would like to maintain the "pickled" unpainted look. What are the issues and concerns of which we should be aware? Visitors will likely have some contact (hands on rails around displays) with the pipes so what might the effects be on both the pipes and the visitors over the years?
Regards;
Chris
Chris Panther
- Vancouver, BC, Canada
---
September 5, 2012
A. Sir:

Pickled steel is very reactive, both toward oxygen in air, moisture, and perspiration on hands. Thus the "raw" pickled steel will become stained and corrode and visitors will get these oxides all over their hands. Perhaps a clear coat after pickling would do what you wish. Without a doubt galvanized would look the best and last a very, very long time.

Regards,
Dr. Thomas H. Cook
Galvanizing Consultant - Hot Springs, South Dakota, USA
---
September 11, 2012
A. Dear Sir;

Few years ago, a customer of mine came with similar idea. Although we opposed, he insisted on using just pickled steel. For few days, they looked as he wanted but after some weeks with rain and moisture, very heavy rust formed on surface.

Another problem would be the reduction of strength after "corrosion pits" occur on the metal. So there would be heavy risk of failure if these pipes carry some loads.

I guess you want to have the finish of metals used in 50s and 60s ("brutal architecture" structures). What I know is that they used special kind of steel, which has some surface property like aluminium and titanium, in which oxide layer forms on the surface without any further advance.

In my opinion, a galvanized steel with some contrast spangle surface always looks great.

I wish you good luck in your project.
Ozge SARACOGLU
- Ankara, TURKEY
---
First of two simultaneous letters -- September 14, 2012
A. I suspect Chris is talking about spangle look rather than pickled.

Chris: Pickling is a term in galvanizing for the cleaning of the steel in acid. The steel comes out of the steel chemically clean (no oxides), but only stays like that an hour or so, then rapidly rusts.

But galvanized steel retaining the spangle look (large flat crystals of zinc on the surface) is possible to retain.
Handling the steel will reduce the effect, but a clear lacquer over spangled galv can retain it.

Geoff Crowley
Crithwood Ltd.
Westfield, Scotland, UK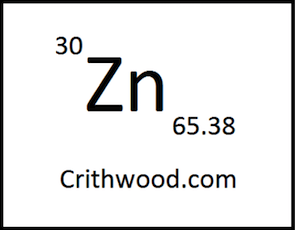 ---
Second of two simultaneous letters -- September 15, 2012
Q. Hello all;

Thank you for your replies. I apologize if I have not been providing sufficiently unambiguous and correct information.

Attached is a photo showing two different traffic sign posts just outside my home. The post on the left is more than 12 years old (extant when I moved into the neighbourhood) and the post on the right was installed some 3 or 4 years ago and looks like what I see at Home Depot these days.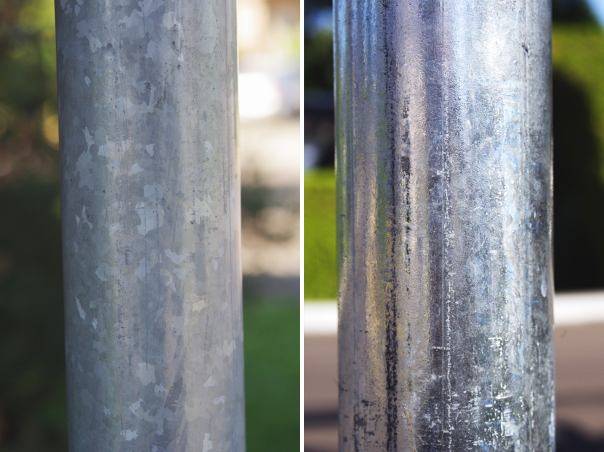 The look I am after is the one on the left to which I referred (perhaps erroneously) as pickled.

So,how can I properly specify what I want?

Thanks;
Chris
Chris Panther
- Vancouver, BC, Canada
---
September 18, 2012
A. Dear Chris;

We call that shapes as "spangles". Recently as Pb addition was forbidden galvanized finish became more spangle-free. You might ask your supplier if their Pb, Sn and Bi concentrations are high. Over %0.5 Pb (or 0.1 Bi instead) with some Sn addition would give the that texture.


And also you must seek for "batch galvanized" pipes. That means the plant produces different kinds of products, not just pipes. Plants that only produces pipes would have spangle free texture.

To be sure I advice you to visit your supplier(s) and check for their products. No plant would adjust their zinc bath with your request, so you need to find the suitable one for you. You can try the galvanizers outside the EU or American region.
Ozge SARACOGLU
- Ankara, TURKEY
---
September 19, 2012
A. Sir:

The pipe on the left is likely done on an "automatic" pipe galvanizing kettle where each 20 foot pipe is galvanized every 6 seconds. The crystalline coating is likely due to 1% lead in the zinc (prime western zinc). The zinc could actually have bismuth and/or tin (and possibly nickel) to produce these same crystals in the zinc (spangles).

The pipe on the right is very characteristic of "flow coat" and consists of pure zinc and higher aluminum. The zinc coating is only on the outside of the pipe (likely painted on the inside). This coating is applied continuously as the pipe is being made and then is cut to length further down the line. "flow coat" zinc coatings are about only 1/4 the zinc thickness as "automatic" pipe galvanized coatings.

"Spangle" has nothing to due with quality.

Regards,
Dr. Thomas H. Cook
Galvanizing Consultant - Hot Springs, South Dakota, USA
---
October 15, 2012
Q. Silk Purse from a Sow Ear? Please can you help!
I have been contracted to provide a quantity of edge protection to one of my structures in a galvanised finish.
This I have done and now the client is saying that the look is not what they wanted or were expecting. They say that the tubes (standard 1" nominal bore water/gas tube) and the posts (standard 50*50*3 SHS) have white markings which are not consistent and it is dull.
I have looked at the finished product and it looks like any other galvanised product that I have seen, however. Is there any technical detail I can throw back at them to state that the finish is as it should be.
Geoff Green
- Kent, England
---
October 15, 2012
A. Hi Geoff. Although there may be times when a specific "look" is part of the requirements, such as was recently discussed in the letter which we appended your inquiry to, to my knowledge galvanizing is otherwise considered a functional finish rather than a decorative finish.
Unless the finish is obviously low quality, or damaged by serious wet storage stain, or in some way non-functional, I don't think the client is correct in objecting. I think you could take a look at ISO 1461 [link is to spec at Amazon] "Hot dip galvanized coatings on iron and steel articles - specifications and test methods", and consider this a reasonable standard to judge by, and see if you feel that the client has or doesn't have a valid complaint. Good luck.
Regards,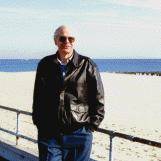 Ted Mooney
, P.E.
Striving to live Aloha
finishing.com - Pine Beach, New Jersey
---
October 18, 2012
A. The question of un-met expectations often comes up with galvanizing. This is most often brought about because the finish is variable, and the variability is caused largely by the substrate being coated. Either the structure shape not allowing for vent/draining properly, or the chemistry of the steel, or the thickness. All can lead to surface irregularity and or colour variations, none of them in the control of the galvanizer.

Getting the customer to understand before processing is the key, but rarely easy to achieve.

Geoff Crowley
Crithwood Ltd.
Westfield, Scotland, UK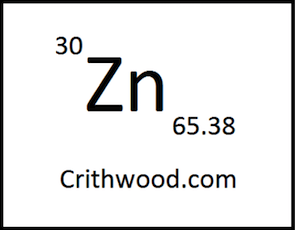 ---
---
October 23, 2012
Q. Please can you look at the attached picture of the 'Tube finish' my client requires.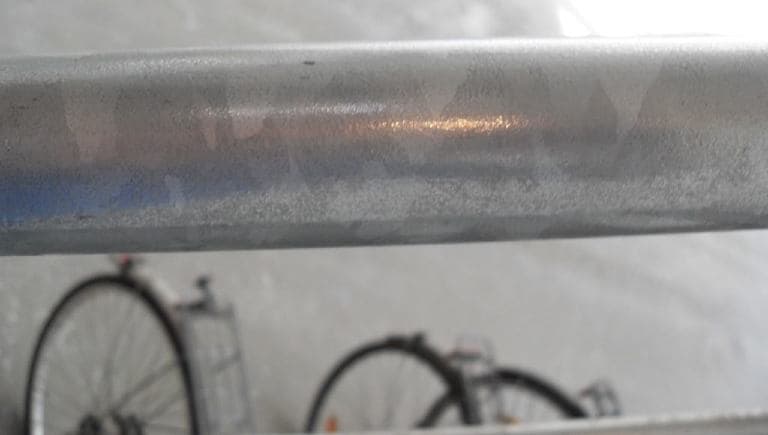 From looking at the photo can you tell or guess at what this is ?
My thinking is it is a tube which has been shot blasted and then galvanised... does that sound about right?
Any advice guidance would be greatly appreciated as I have over 700 m on site which needs to be changed... at my own expense unless I can prove otherwise. Thanks and regards
Geoff Green
- Kent, England
---
October 23, 2012
A. Hi. I'm not a galvanizing expert like many of our readers are, and pictures can be deceiving, but to me this looks like it has a textured clear coat on top of the galvanizing rather than shotblasting/peening under it. If you have a sample of it, you may be able to tell from the conductivity of the surface or by scrapping it with the edge of good knife and seeing if you can remove any non-zinc material.
I've never heard of any specific finish called a "Tube finish", see no evidence of such a phrase in Google or Bing, and don't feel that your customer claiming he wanted a "Tube finish" has any validity.
Regards,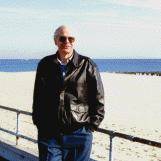 Ted Mooney
, P.E.
Striving to live Aloha
finishing.com - Pine Beach, New Jersey
---
October 24, 2012
A. As said, photos can be hard to tell exactly, but this certainly looks like galvanizing. The slight spangle is visible. From the image there's nothing to directly suggest shotblasting, but the coating thickness will probably reveal if it had been blasted. Blasting is often used as a means to increase coating thickness in galvanizing.

Geoff Crowley
Crithwood Ltd.
Westfield, Scotland, UK