Where the world gathers for
plating, anodizing, & finishing Q&As since 1989
-----
Zinc-Nickel plated part corrodes when part is slightly deformed
August 13, 2012
Q. We conducted a Salt Spray and Humidity corrosion test on 10 Zinc-Nickel plated parts. 5 pieces have been deformed after plating and 5 pieces remained intact. After the test the deformed parts showed significantly more (white) corrosion. This is to be expected on the deformed surface but the increased corrosion also shows in the adjacent surfaces. Attached image shows the differences clearly, the rest of the parts look similar.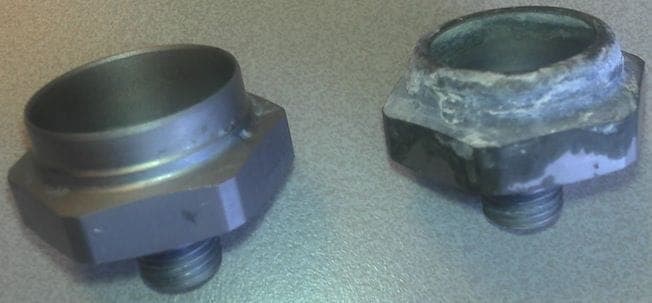 During the Salt Spray test the parts were positioned with the big opening at a 30 degree angle downwards, in order to prevent moisture accumulations on or in the parts.
I'm hoping someone here can tell us how it is possible that the deformed parts corroded more not only on the bent area but almost over the entire part. Advice on where to find more information about this issue are also very welcome.

Jaap Hoftijzer
Design Engineer - Almelo, The Netherlands
---
August 16, 2012
A. Dear Jaap,

Can you tell us if you are using an alkaline or acid zinc-nickel bath? And how many hours have the parts been exposed to salt spray?

If you are using a good trivalent chromate, the parts should pass up to 500-600 hours without white rust, but if you are not using any sealer, damaging the surface could make that area to have less corrosion resistance.

And the issue with adjacent areas to the deformation corroding as the deformed area, I think that could be related to how is the deformation performed. Can you specify more about it?

Hope you can solve this issue! Regards!
Daniel Montañés
Self-Drilling Fasteners Manufacturer - Cañuelas, Buenos Aires, Argentina
---
August 27, 2012
Q. Dear Daniel,

Thank you for your reply. I was on vacation, so my apologies for taking some time to answer your questions.

- We are using an alkaline zinc-nickel bath, Cr3+ passivation and a sealer is also applied.

- The Salt Spray test was actually a combination of Salt Spray and Humidity: 4 humidity salt spray cycles where 1 cycle consists of 2 h salt spray followed by 21 h humidity (90-95 % RH, 40 °C). After these 4 cycles samples were stored under standard atmosphere for 3 days. This was carried out 2 times. So in total the parts have seen 16 hours of salt spray and 168 hours of humidity.

- Previously, we tested the parts on a constant salt spray as well, it took about 100 hours before red corrosion occurred.

- The deformation is used to assemble the product. We apply a 24 kN force to the part with a rounded counterpart to create the bent edge. (See attached picture)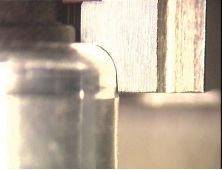 I hope this additional information clarifies the situation.

Jaap
Jaap Hoftijzer
- Almelo, The Netherlands
---
September 19, 2012
A. Dear Jaap,

Sorry for not answering earlier, hope you could solve this issue!

If I can say anything about this, I think that the zinc-nickel layer is breaking with the deformation. If the layer is too brittle, you have microcracks in it when you deform the part, and if the cracks are too large you have two conditions:

-You have some base material (steel) exposed. This causes early corrosion (100 hours is VERY LOW resistance! I would want to know what is the %Nickel in the alloy).

-You have galvanic corrosion in the adjacent areas, so the adjacent areas corrodes faster because of the steel exposed to the salt spray.

I believe a 12% Nickel alloy, 5 micrometers, with chromate and sealer, could withstand more than 720 hours of salt spray. 100 hours is very low, and I think you are having some brittle layer issues there. Ask your vendor if you can improve the layer ductility, they may help you!

I hope this information can help you! Best regards,
Daniel Montañés
- Cañuelas, Buenos Aires, Argentina