Where the world gathers for
plating, anodizing, & finishing Q&As since 1989
-----
Protective coating for limestone grave ornament
August 14, 2012
Q. I just read that your site is primarily for metal finishing users, I found it while searching for "pourable Epoxy" products. I am hoping that someone in your organization can give me some advice.

I am wanting to apply a protective sealant to a native limestone 'drill-core' rock. It is going to be a grave marker which will be permanently set in concrete in an unprotected environment (no shade, and open to occasional foot traffic). I would like to cover it with some sort of pourable urethane or epoxy to a thickness of ± 1/4" on all sides. The stone is approximately 8" in diameter, and 2.5" thick. it will be sanded smooth on the face then re-engraved with the deceased's information (corrected). The mold for the pour will be a piece of plastic water pipe cut to fit for height, and appropriate diameter. This is a one-shot project. due to the nature of the project, the stone is somewhat "sacred", in that I cannot get another one if it gets messed up.

Below are an actual photo of the stone as it exists now, and a rendering of one idea for the final project.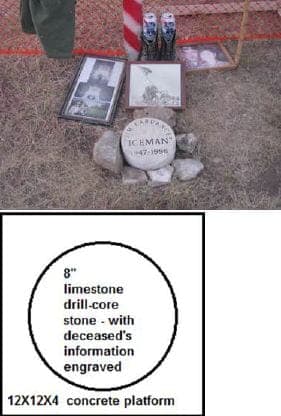 I doubt if it would survive, by just placing the stone in the ground in epoxy or urethane. This is a public place, and is subject to lawnmower and foot traffic several times a year. The concrete would be steel reinforced by either re-bar or re-mesh as needed.

The deceased was a Vietnam Veteran who requested his ashes to be scattered on this location, the site of a veterans reunion. (Permission of the land owner was obtained prior to the scattering).

Any assistance you can provide would be greatly appreciated by his widow.
Rick Baker, Vice President, Rbaker26@cox.net
Kansas Veterans & Family Reunion - Haysville, Kansas
---
August 23, 2012
A. Well, firstly I would like to applaud your efforts in this project.

Now, a couple quick notes on limestone.

1. Water dissolves it over time. It is a slow process most of the time, but depending on location and the type of limestone the wear can start to show in as little as 10 years.

2. Protection. Since the core is round I would suggest getting a section of metal gas pipe that is slightly larger than the diameter of the monument, recessing the bottom end of the monument will keep it from getting damaged from weed eaters and the like.

3. Avoidance. Make the area around the marker conspicuous, laying in bricks, pavers, or similar stone walkway surfaces in a small area surrounding it will help folks that do the yard work and foot traffic pay attention.

4. Sealants. You're on target for what you're going to need to do for keeping the monument from wearing. There are several commercial companies that offer products for protection and weatherproofing, Lithichrome is a good example.

Talk to folks who make monuments in your area, they will likely be able to give you more specific information about your area and probably will have some stuff on hand.
Marc Banks
Blacksmith - Boone, North Carolina, USA