Where the world gathers for
plating, anodizing, & finishing Q&As since 1989
-----
Chromium plating of mesh material
July 27, 2012
Q.
I usually find it difficult to plate a mesh, especially when the holes are tiny and in increased numbers.

Is there way to make mesh plating more easy?

Thanks

Daniel
Daniel Hernandez
- Bucaramanga Santander Colombia
---
July 30, 2012
A. That will depend on size of the part, quality needed and quantity to be plated.

Provide more information for better answers.
James Watts
- Navarre, Florida
---
August 1, 2012
Q. Thanks for your kind answer.

I offer this service (Plating) to different kind of parts, different mesh sizes, and actually I do not have an unique part to be plated.

For example, we plate baskets used to fry french fries with just nickel, they perform well for a long time. But some customers ask them chromium plated.

Really, I do not care for them now, I just offer nickel plated, but it will be good to learn from others if there is a way to plate them more easily with chromium. My question is aimed to learn more about this matter, and sure the answer will help others.

I think in this cases the formula of current per area is not enough to successfully plate difficult shapes.

one day I received one flat surface of 100 cms x 30 cms 0.3 cms thick and in the center it had many perforations of 4 mm arranged in columns and rows separated 0.5 centimeter away each from the other, forming a rectangle of 80 cms x 20.

I tried to solve it plating very near to anodes. but I had to buff a lot then.

I have observed that holes do not plate easy as flat or rounded areas like tubes, as any plater knows.

The reason for that is not the gas coming out from and around them but it is because the electrical field formed around the hole border, due to symmetry of the shape.

One way to solve this kind of problem is to plug or paint inside the hole to interrupt the lines of the electrical field.

But a mesh is different, or is very difficult to plug the holes of a mesh.

For example chicken wire is not a problem I think, but small diameter holes are one challenging work.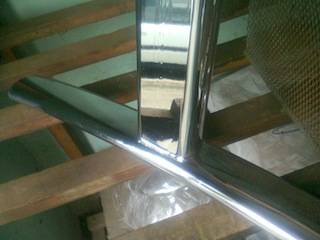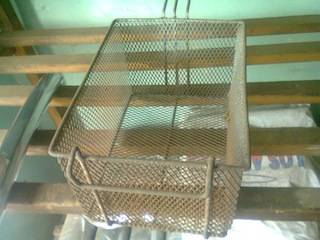 Daniel Hernandez
- Bucaramanga Santander Colombia
---
August 1, 2012
A. Electroless nickel (EN) will outperform conventional nickel of similar or even higher nominal thickness either with or without chrome in that kind of application. Its corrosion resistance and hardness are better than electronickel, the coverage is totally uniform regardless of intricacy and size, at least within conventional macro limits (it begins to present problems with very deep or blind holes, or smaller than 1/8"). I would say yours is the perfect candidate and one of the most common EN plated parts.
G. Marrufo
Guillermo Marrufo
Monterrey, NL, Mexico
---
August 3, 2012

Thank you very much, Mr. Guillermo and Mr. James.

Very useful information
Daniel Hernandez
- Bucaramanga Santander Colombia