Where the world gathers for
plating, anodizing, & finishing Q&As since 1989
-----
Surface defects on 6082 aluminum parts machined on a cnc lathe
June 29, 2012
Q. Hello, I'm occasionally doing some anodizing work on aluminum in sort of a hobby+ type environment and have recently ran into a cosmetic type of a problem with one particular type of aluminum parts, attached are the following pictures:

1. basic drawing of the part, the outside diameter ir ~200 mm, height ~30-40 mm depending on the type of the part, the problem affected areas are in blue, red lines and dots represent the extent of the surface defects on the part.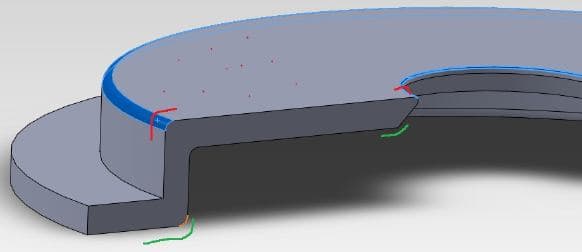 Next 3 pictures are taken using a microscope:
2. defect as seen on the surface of the part, the part has been machined on cnc lathe, no other treatment done to it, wiped down after machining and wrapped in a protective paper, plane, no oils, wrap is only there to protect from surface scratches.
3. different part, higher magnification, other conditions same as the part in 2nd picture, scale added to the picture.
4. anodized Type II, dyed, sealed by boiling in RO water. Sulfuric acid sometimes seems to leach out of the "hole" and eat up the dye color.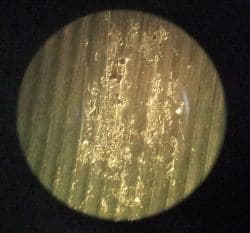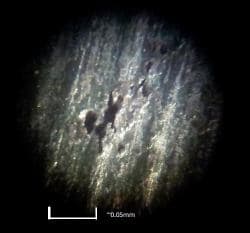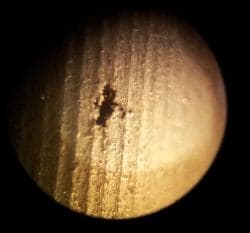 Aluminum is 6082, blanks are cut from extruded bar and then turned on a lathe.

The puzzling part is that the surface defects seem to always be only one (always the "top") side of the part, I have never noticed them on the "bottom", and when they are on the top area, they are always on the blue area (2 edges) of the part (1st picture), very rarely defects are showing up on the top face of the part (red dots in the 1st picture).

My best guess is that, since the part is machined from both sides, the side with the defects is machined first, then the part is repositioned in the lathe, and, while it is being machined on the other side, some cutting fluid might be accumulating on that edge and is doing some sort of etching action, I would like to know a bit more before I go over to the machine shop to try to figure out the root cause of the problem
Janis Ziemelis
- Jurmala, Latvia
---
July 13, 2012
A. Picture #2 looks like galling during the machining process to me.. This could very well cause the issues you are seeing after anodizing.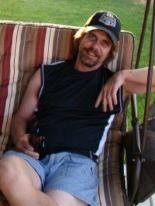 Marc Green
anodizer - Boise, Idaho