Where the world gathers for
plating, anodizing, & finishing Q&As since 1989
-----
Stainless Exterior Hardware with Powder Coat is Chipping/Scraping at Latch-Point
June 10, 2012
Q. We have quite a specific situation, and I wasn't able to find something similar in your archives. We hope you can give us some guidance.

We manufacture gate latches. The ones we're writing about have parts made of aluminum and stainless, but the parts we're having trouble with are two stainless 304 parts. One is the arm and one is the strike. The arm, when the gate is pushed closed, hits the strike, climbs the angle, and falls into the catch. We've been contacted by 3 customers who have had the 20% gloss black (BK-08) powder coat scratch off the angled strike surface in a matter of 5 uses. Most recently, the front side of the arm has a full line of wear showing all the way through to the SS at the location where the arm falls into the catch.

Both of these parts are waterjet cut, then sandblasted, then powder coated.

To put it in perspective, we've sold over 100 of these in the past year and only heard this the few times. We, in fact, have one installed in our yard and it gets use 2-3x a week. It shows wear, yes, in the form of a difference in sheen, but absolutely no chipping or SS visible. However, for the price folks are paying, this is unacceptable.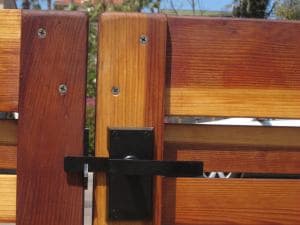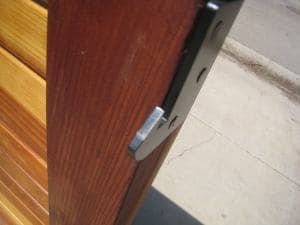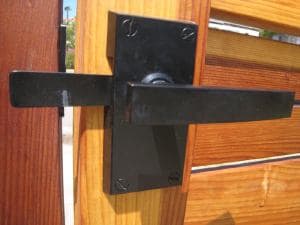 (These pictures didn't go on line until after the first round of comments; sorry for the delay -- finishing.com)
We are asking for your feedback on the situation, and these are some of the things we're wondering:

* Is it par for the course that this would happen at a location where two parts are rubbing on each other?
* Do we need a different powder coating company?
* Can we choose a different brand of powder coat that's possibly more suited to this application?
* Should we consider a different method altogether than powder coating?

We have considered changing the material of those two parts, but aluminum will not work for the arm, and brass/bronze are much more expensive than SS304 for the dimensions we need, at least for the arm.

Thank you all for any feedback you have. One additional note is that these are often installed near the ocean, and almost all of them have 100% exposure to daily sun.
Jana Lombardi
- Portland, Oregon, USA
---
First of three simultaneous responses -- June 12, 2012
A. We get requests from various people at times to powdercoat on stainless.
Our first question is "why"?
Its not easy to get good adhesion on stainless and we've found the best way is shotblasting. But shotblasting removes the chromium oxide layer that gives stainless its corrosion resistance, so it needs passivation afterward.

But assuming adhesion can be achieved, why powdercoat that part? 304 SS would look good in most environments for a long time.

Rubbing parts like that would wear eventually. But it should not chip, unless there's latch misalignment causing severe impact?

Geoff Crowley
Crithwood Ltd.
Westfield, Scotland, UK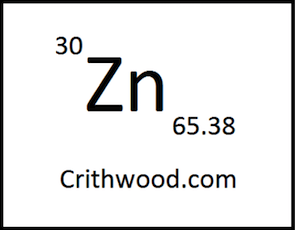 ---
Second of three simultaneous responses -- June 12, 2012
A. The propensity to chip probably depends on the installation. Some likely hit the incline hard (heavier gate or spring closure) and others drop gently into the latch barely striking the incline.

Paint over stainless is a problem as to adhesion. I wish I had a good answer. I'd suggest you talk to paint suppliers and see what they have to offer.

Bright electropolished, unpainted stainless will last virtually forever.

You could consider paint over galvanized, for which effective primers are available.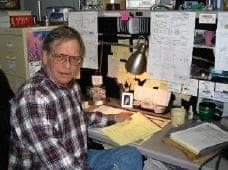 Jeffrey Holmes, CEF
Spartanburg, South Carolina
---
Third of three simultaneous responses -- June 13, 2012
A. Well it sounds to me as though your latches deviate in impact resistance.
To me, that sounds like a deviation in Powdercoat performance.
The most likely reason for deviation in impact resistance with the same powder & same pre-treatment is variation in cure.
Undercured Powdercoat is brittle.
Undercured Powdercoat means faster turn around for the coater.
Undercure is simple to detect by an MEK cure test.
Hope this helps .
Regards,
Bill
William Doherty
Trainer - Salamander Bay, Australia
---
June 15, 2012
A. Thank you for your responses. Unfortunately, the ONLY reason these parts are powder coated is for aesthetics. We need a line of black hardware--we do have several 316 stainless products (unpainted) that sell very well, but their style is quite contemporary and not always appropriate for everyone.

We've thought about the installation as being a factor, as well, and the possible misalignment (and/or heavy gates or spring hinges) causing more impact. And I guess that's par for the course. We can only give photos/drawings and instructions and hope for the best.

The curing time is something we're going to need to talk to our coater about. However, the likely outcome will be us finding a new coater, as the one(s) we've used don't want to accept responsibility for missteps.

Powdercoating over galvanized isn't something that we've considered before, and is something we will definitely discuss.

Also, thanks for the note on shotblasting removing the corrosion resistance on stainless. Learning new things here!
Jana Lombardi
- Portland, Oregon
---
June 15, 2012
A. Hi Jana.
You might wish to contact the site's supporting advertiser, or another supplier, about salt bath nitriding. Some black items have a very durable black (or at least dark gray) corrosion resistant and wear resistant finish obtained this way. The Tennifer coating on Glock pistols is one of the best known examples. Take a look at one. Then you can either successfully duplicate the finish or shoot yourself. Please pick the former. Good luck.
Regards,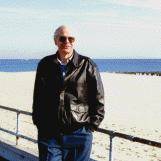 Ted Mooney
, P.E.
Striving to live Aloha
finishing.com - Pine Beach, New Jersey