Where the world gathers for
plating, anodizing, & finishing Q&As since 1989
-----
Please help - looking to replicate a finish!
May 17, 2012
Q. Hi,

I work for a UK based lighting manufacturer, one of our customers like the finish shown in the photo and we are trying to replicate this.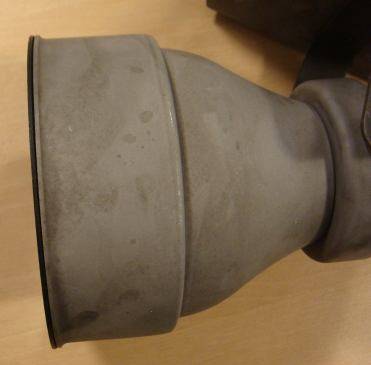 We believe this product is marketed as an acid etch finish but all the UK suppliers we have spoken to have never seen this finish and can't replicate it.

One company have said they can plate the metal in pewter and then age the pewter. Unfortunately this process is very expensive.

We could use aluminium, mild steel or zintec to create the parts we need in this finish.

Has anyone come across this finish before and if so how it is created?
Philip Hall
Design Engineer - Swindon, UK
---
May 21, 2012
This is pretty hard to answer without seeing a photo of the finish...

My first thought was to measure the Ra in order to quantify the type of finish you wanted but it seems it might be more the artistic look that you're looking for. In any case, a photo would be most useful in answering your question...

J
Jose Morales
- Berkeley, CA, USA
----
Ed. note: Sorry! Finishing.com's mistake! The picture is there now, but it wasn't there when Jose commented.
---
May 23, 2012
A. In order to replicate a finish one must first identify the substrate on which it is to be applied, any intermediate layer and the final top finish. Also, characterize the morphology of the surface (roughness and uniformity or variations in same, etc.). For fine artistic finishes (i.e. patina), the above becomes far more complicated and cannot be treated as a mass production industrial process, the involvement of an artist may be necessary.
G. Marrufo

Guillermo Marrufo
Monterrey, NL, Mexico
---
May 29, 2012
A. To me, this resembles a cast aluminum alloy that has been hard anodized.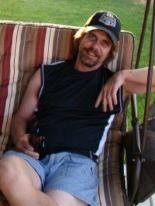 Marc Green
anodizer - Boise, Idaho
---
May 30, 2012
A. My first impression is that it is either a carbon steel etched in hydrochloric acid or stainless steel (possibly 400 series) that someone has tried to electropolish in a simple sulphuric/phosphoric acid bath and without any success. The surface could also be produced by shot or alumina peening. However, it would be very helpful to know what the substrate is!

Trevor Crichton
R&D practical scientist
Chesham, Bucks, UK
---
June 4, 2012
A. You should be able to use zinc nickel plating instead of whatever there is on the parts; the normal zinc nickel can be plated to almost the equivalent finish. Take a look at this picture: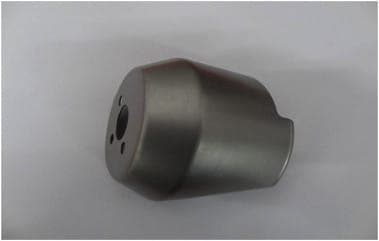 All the best.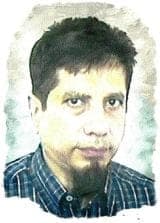 Khozem Vahaanwala
Saify Ind

Bengaluru, Karnataka, India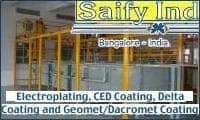 ---
June 5, 2012
A. Hello Phillip,

This can be replicated on a steel, stainless steel or aluminum substrate (or as you might spell it aluminium.)

I had to look up Zintec, as I have not run across that trade name, but it seems to be a zinc plated material. I could try and replicate the surface on that, but something tells me it would be to thin a layer of zinc.

We would be better able to answer your query if we knew what the final application would be. Is this to be used in an interior or exterior setting? Will the surface be touched a lot? How are you planning to fabricate these parts? Spinning? Casting? Welded assemblies?

I hope we can help.

Regards,
Justin Kumpf
- Philadelphia, Pennsylvania, USA
---
June 15, 2012
A. On first looking at the picture I thought it was mild carbon steel that had been shotblasted to about SA2, and then subsequently stored and initial browning of rust is starting.

Other than the spotting, I think this could be replicated with powdercoating, which could be applied to most of the mentioned substrates.

Using a low gloss powder, there's a lot of standard RAL colours in the 7000 series close to that colour.
Is there also a texture in the pictured sample?

Geoff Crowley
Crithwood Ltd.
Westfield, Scotland, UK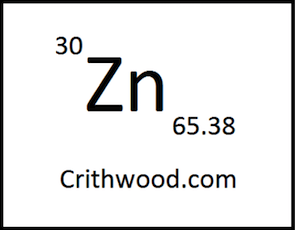 ---
September 16, 2012
A. It seems as nickel/cad.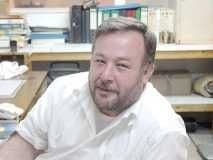 Khair Shishani
aircraft maintenance - Al Ain, UAE
---
September 27, 2012
A. Try using aluminium & then chromic anodizing it. Cast aluminium.
Clifford Rye
- Rainham, Kent, England