Where the world gathers for
plating, anodizing, & finishing Q&As since 1989
-----
Wasteless one step phosphating
May 14, 2012
Q. COMPANY I WORK FOR IS APPLYING POWDER COATING TO METAL PARTS IN A SUBCONTRACT BASIS FOR SEVERAL MULTINATIONAL COMPANIES.

ONE OF OUR CUSTOMERS INQUIRED "CONVENTIONAL SURFACE PRETREATMENT PROCESS CREATES BIG POLLUTION AND CONSUME HIGH ENERGY. IN ORDER TO CONSERVE OUR WORLD, WE SHOULD USE AN ALTERNATIVE SURFACE PRETREATMENT SYSTEM WHICH USES NO WATER, LESS ENERGY AND CREATES NO WASTE."

I WOULD APPRECIATE HEARING YOUR COMMENTS
JEFF HARRISON
- NEW JERSEY, USA
---
May 14, 2012
A. Hi Jeff.
On the one hand, your customer is right that we should all pay close attention to pollution and sustainability. But on the other hand, countless billions of dollars of our world simply rusts away every year because of inadequate pretreatment -- bringing with it massive pollution and shameless unsustainable consumption and waste. Of the two problems, the pollution from proper pretreatment vs. the corrosion & pollution resulting from inadequate pretreatment, there is just no comparison. Pollution from proper pretreatment is roundoff error. To produce millions of pounds of low quality, quick rusting, steel junk to try to save on pretreatment material is a classic example of the old adage penny wise and pound foolish.
Look at the world's production of automobiles today and compare the situation to 30 and 50 years ago when cars failed early and miserably because of poor surface finishing of both body parts and internal engine parts. And it wasn't just the ludicrous cost to consumers, as cars both American and Japanese rotted away, it was also junkyards everywhere with soil contaminated with hydrocarbons because of so many automobiles sent to an early grave, while others sputtered along choking the world with lead and blue oily smoke.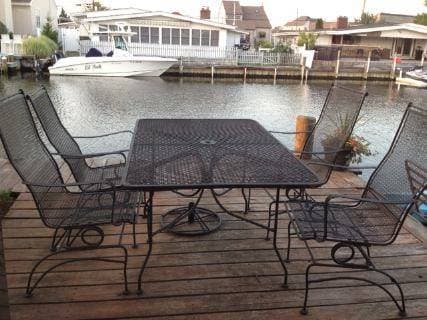 Steel furniture after 13 years, 365 days a year, on a salt water lagoon because no one made the mistake of skimping on pretreatment
Speaking personally, I have a steel patio set that has sat outside on my saltwater lagoon deck in the blazing sun and bitter ice storms 365 days a year for 13 years courtesy of proper pretreatment, whereas I can't even count the chairs, lounges, patio swings, pagodas, BBQs, and other patio junk I've sent to landfill after rotting away in 2 to 3 years -- even less. The overwhelming majority of such stuff receives improper pretreatment, and anything less that the best pretreatment you can do is an insult to the earth!
The absolute first requisite of pretreatment is that it work well. To believe that all of the steps of oil removal, cleaning, surface activation, surface conversion, and passivation can be combined into one step that uses no water, little energy, and creates no waste sounds less likely than being able to serve a tasty 7-course dinner in a single step, with the ice cream floating in the chicken soup and beef gravy.
Ask your customer to show you some items that have lasted 15 years outdoors in a tough environment with this pretreatment before committing to it. Unless he can, you become part of this sustainability travesty yourself by using an inadequate process and thus producing shoddy equipment destined to clutter the landfills way too soon, while keeping the mines and the smelters and the steel mills and the fab shops and the paint shops and the cardboard packaging manufacturers and the retail stores and the trucks and the gas stations and refineries polluting away replacing steel every few years that could have easily lasted 15 years or more.
Regards,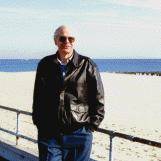 Ted Mooney
, P.E.
Striving to live Aloha
finishing.com - Pine Beach, New Jersey
P.S. November 2016: After those chairs and table were submerged for several days in saltwater by superstorm Sandy four years ago, we moved them to our new home where they are still in use in November 2016. This expanded metal furniture is still in good shape after 17-1/2 years outdoors in an horrendous environment ... and people want to improve 'sustainability' by skipping the phosphating? :-)

---
May 17, 2012
A. Hi Jeff,

Your customer's request is a pie-in-the-sky, ideal situation. Everyone would like to have a pretreatment process that has zero environmental impact. That's simply not realisitic.

A pretreatment process that uses no water? I would love to see that!
George Gorecki
- Naperville, Illinois
---
---
October 20, 2016
Q. Plaforization system is one step wasteless pretreatment system.

What do you think about it?
yasemin kurklu
- istanbul, Turkey
---
November 2016
A. Hi yasemin. There are several wasteless or low-waste pretreatment processes and we don't compare one proprietary with another on this largely anonymous site. But I've already expressed my opinion that it is foolish to try to judge a pretreatment system by the quantity of its waste products unless the components treated with it have been proven to last as long -- because pretreatment waste is roundoff error in the manufacturing process.
Regards,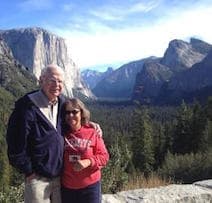 Ted Mooney
, P.E. RET
Striving to live Aloha
finishing.com - Pine Beach, New Jersey