Where the world gathers for
plating, anodizing, & finishing Q&As since 1989
-----
Fastener coating for 1500 hour salt spray
April 23, 2012
Q. We are being asked to supply a M5 screw with a Phillips pan head meeting a 1500 hour salt spray test. The parts must also stand up to a gravelometer test to review chipping issues.

So far we are hearing that the problem will be the filling in of the Phillips slots with the plating.

The only thing that we have been told that will meet the specifications is a ceramic coating. It is very expensive and hard to get in North America.

Does anyone know of a coating that will do the job for us? It must meet European standards as well.

Thanks
Douglas Ward
- Toronto, Canada
---
June 4, 2012
A. Hello Mr Ward,

There are several electroplating & coating choices (Duplex Coats) that make 1500 hours a breeze before you go into the exotic options of ceramics and whatever.

Zinc Nickel plating followed by zinc flake will work.

A very thin but expensive topcoat from a company in Japan that we use works even over even normal zinc plating to give 1500 hours plus. Over zinc - nickel it goes well up to 2500 before tiny red spots appear.

Your challenge is to find someone in your area who can do it for you.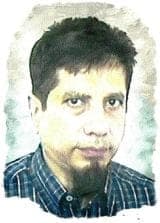 Khozem Vahaanwala
Saify Ind

Bengaluru, Karnataka, India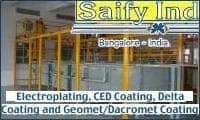 ---
June 4, 2012
A. You might consider dip spinning using a Metallic Ceramic coating.
adv.
My company offers one, and a few other companies do as well. We have gone over 6500 hr salt spray to ASTM B117 [affil. link] .
Leonard Warren
Murrieta, California
---
July 20, 2012
A. Dear Mr. Ward,

We have some experience with some topcoats as Mr. Vahanwala has mentioned. Some companies in India have been working on a silane topcoat that over thick-layer passivated electroplated zinc can make up to 1800 hours. It is not so expensive as a ceramic coating and not so cheap as organic coatings.

Another possibility is, as Mr. Vahanwala said, passivated zinc-nickel alloy plus an organic topcoat, this can make up to 4000 hours in salt spray.

We have some experience, too, with electroplated zinc, plus zinc phosphate and organic coating (FORD WX100 S440). This can make more than the specified 840 hours in SS, and more than 1500 hours, too.

Hope you find how to solve your problem! Best regard,
Daniel Montañés
fasteners manufacturer - Cañuelas, Buenos Aires, Argentina
---
July 22, 2012
Q. Dear Sir,

It is quite encouraging to see the SSTs of 1500 hours to 6500 hours. Most of the OEM specifications insist on white rust and red rust. Especially when we do zinc alloy coating it gives higher red rust and no significant increase in the white rust irrespective of the passivations and top coats. My question is whether organic coatings can be applied without a dip-spin machine. Silane based topcoats do not consistently give good white rust results.
Varadhachari Ramesh
- Chennai, Tamilnadu, India
---
July 23, 2012
A. Dear Mr. Ramesh,

Organic topcoats can be applied via spray, or dip-drain systems. You can apply them without a dip-spin system if you don't have one, but for fasteners (and that is my world now) dip-spin gives more consistent and uniform thickness, and so salt spray resistance.

Silane topcoats, as you say, do not give consistently white rust resistance, because they degrade with humidity in the air and lose their reactivity, they become more passive. But they are good alternatives if you must go to something with more than 1500 hours of salt spray. Silane topcoats over zinc-based organic coatings give much better results than over passivated electrolytic zinc.

We, at the moment, are not using silane topcoats, but organic and combination of zinc or zinc-nickel and organic. And 1500 hours of salt spray, we can only achieve with combinations of electrolytic and organic (dip-spin) coatings.

Hope you can meet the client's spec! Best regards,
Daniel Montañés
Self-Drilling Fasteners Manufacturer - Buenos Aires, Argentina
---
July 26, 2012
Q. Dear Mr. Daniel Montañés,

Thank you very much for your reply. Can you please suggest what kind of organic topcoats are you using currently. for barrel plated zinc-nickel components we are trying to increase the white rust corrosion resistance. We are looking for some organic topcoats which should improve the white rust. We tried with one locally available organic top coat but it was giving a tear drop mark on the components and hence it was discontinued. Hope to get some inputs.

Thanks in advance.
Varadhachari Ramesh
- Chennai, Tamilnadu, India
---
July 27, 2012
A. Dear Mr. Ramesh,

I cannot specify any vendor as in this forum as it is only for technical inquiries, but there are many organic topcoats specified for dip-drain uses.

If the parts you are coating are big (steel sheets, non-threaded components), there are really a wide range of possibilities. I invite you to post an inquiry in www.finishing.com/letters/rfqprodXNA.shtml , I believe there are at least two vendors that could help you with the right products.

Threaded parts are more difficult to treat in a dip-drain system, and fasteners/bolts are almost exclusive for dip-spin. It will depend of the parts you need to paint, the product the vendor may give to you.

Best regards and good luck!
Daniel Montañés
Self-Drilling Fasteners Manufacturer - Buenos Aires