Where the world gathers for
plating, anodizing, & finishing Q&As since 1989
-----
Does imitation jewelry need dull nickel before bright nickel to resist corrosion?
April 6, 2012
Q. We plate bright nickel on polished brass and do titanium nitride and gold on imitation jewelry parts.
We often encounter corrosion of brass on usage.

If we do a 5.0 micron layer of dull nickel before bright nickel, will it help avoid corrosion?
Ramasubramanian Sankara Bhatter
- Bangalore, India
---
April 7, 2012




A. Hello,
If your Ni plate is thick enough, you should not be experiencing corrosion or migration of the brass. As you know, Ni is an excellent diffusion barrier. There are 2 reasons I can think of why you are experiencing this problem. Inadequate Ni thickness or metallic contamination of the Ni bath. There are some platers that prefer to put down a layer of Cu on brass before the Ni plate. I don't think you have to add a dull Ni bath, first try increasing your dwell time in the Ni. If that doesn't work have your bath checked for metallic impurities. Copper would be the main impurity to check for. Be sure to go into the Ni bath with live current. Palladium is also a good diffusion barrier and it is a hypoallergenic alternative. There are also "Ni free" plating baths available. I thought that Ni, even on imitation jewelry, was a thing of the past because of skin allergies.

Mark Baker




Engineering - Mesa, Arizona, USA






---

April 7, 2012




A. Dull and bright nickel deposits are known as duplex nickel and their purpose is to improve corrosion resistance. However, I see that you are making imitation jewelry, although I am not sure what you mean by "imitation" - is it to be used a a jewelry item?. There is a ban in the EU on any jewelry that contains nickel, so before embarking on making your imitation jewelry, make sure that it does not contravene this legislation, or you could be wasting your money and time. I also believe there are similar bans in many Pacific rim countries and the USA, but perhaps Ted can confirm this.




Trevor Crichton




R&D practical scientist




Chesham, Bucks, UK




---
April 9, 2012
A. Hi. With 30% of young women condemned to a lifetime of the misery of nickel-itch, I certainly think nickel should be banned in jewelry in the USA -- but it isn't.
I have the same problem as Trevor, that this phrase "imitation jewelry" is not familiar to me here in the USA -- I'm assuming it means the same as what we here call "costume jewelry": nice looking stuff with little intrinsic metal value. We tend to call jewelry which has substantial intrinsic value "fine jewelry".
Regards,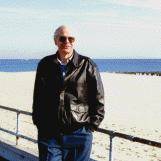 Ted Mooney
, P.E.
Striving to live Aloha
finishing.com - Pine Beach, New Jersey
---
April 25, 2012
A. Ted,
Imitation jewelry production and marketing is a big business in India. The word itself denotes the meaning "Imitate" the original. Cheap jewelry is manufactured and given a gold/Rhodium/platinum of any other precious metal plating and make it look alike or attractive. By a glance you and me may think wow!!! and that's it.
Again the European legislation on Nickel allergy is not bound in India. We adhere to the norms once it is meant for export to European Countries & USA. We Indians have thick skin and Nickel allergy is not much heard of in this part of the world. So undercoat of Nickel is generally followed here for our own use!!
Regards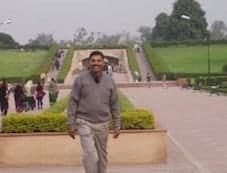 T.K. Mohan
plating process supplier - Mumbai, India
---
April 27, 2012
! Wow. It's 30% now? and they keep exposing themselves to nickel for the rest of their life? Seems like odd behavior.
Neil Bell
Red Sky Plating

Albuquerque, New Mexico
---
April 29, 2012
i. Hi, Neil. I'm not an epidemiologist, but according to a study quoted in the New England Journal of Medicine [http://www.nejm.org/doi/full/10.1056/NEJMc0809293], 30% of young women doesn't look to me like an exaggeration: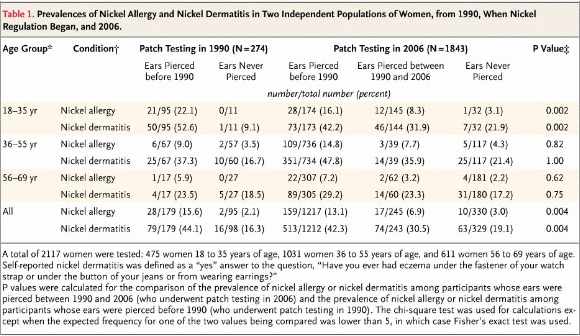 The point of that study is that these numbers can be reduced by jewelers avoiding leachable nickel as they've done in Europe. A point made in some threads at finishing.com, and evident in that study, is that the numbers can be reduced by avoiding piercings.
Yes, women keep exposing themselves to nickel for the rest of their lives because it's not only in jewelry, including their engagement & wedding rings, but in buttons, zippers, rivets on jeans, underwires & hooks in bras, buckles on belts, and other essentials. Most women are unaware that white gold in the USA is loaded with nickel.
To many women, their single most prized possession is their engagement ring, not only because of cost and beauty, but its emotional singularity. I personally think it's outrageous that women engaged in 2012 are thus expected to still be wearing nickel-bearing rings in 2062. As a first step, can we at least agree that we should get nickel out of engagement rings & wedding bands?
Regards,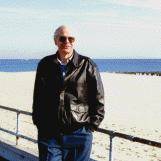 Ted Mooney
, P.E.
Striving to live Aloha
finishing.com - Pine Beach, New Jersey
---
May 1, 2012
A. I too am not a dermatologist and am certainly no expert on the subject, but I have been loosely involved in nickel itch and its causes. Without wanting to get into a too deep discussion about bodily secretions, one of the initial criteria for nickel itch is for the nickel to become "bioavailable". This means that something must dissolve the nickel and create nickel ions that can be transported through the skin and ultimately into the skin cells and ultimately into the lymphatic system. The most common solution capable of doing this is sweat (perspiration), so nickel itch is quite commonly found in people who have naturally moist skins and it starts in areas of the body where it is most moist (e.g. arms, torso, face etc).
Another common site is under jewellery, such as rings, where moisture can collect, especially if you do the washing up! Similarly, it will occur under wrist watches, where there is a moist area of skin.
Nickel itch is also commonly found where a nickel containing product is kept in close contact with the skin, such as spectacle frames, jewellery and watches.
There is some evidence to suggest that nickel sensitivity is linked to ethnicity, but this is not clear cut. However, it is quite conceivable that people who live in dry climes may not be as susceptible to the problem as those who live in hot and humid ones. It is also possible that the ethnicity issue is due to the availability of nickel containing products that are in prolonged and intimate contact with the skin.
It was also considered to be a "woman's problem", but this was because when it was first identified in the 1920's, it was found in areas where women wore nickel containing clips as found on suspender belts, bra straps, etc. However, since men have taken to wearing jewellery, there has been an increasing amount of nickel itch found in men.
I am quite prepared to accept that 30% of some populations may suffer from nickel itch, but as an average, I think it would be closer to 8-15%, but with a very high standard deviation.
Finally, without appearing to state the obvious, the basic criterion for nickel itch is the presence of nickel.

Trevor Crichton
R&D practical scientist
Chesham, Bucks, UK