Where the world gathers for
plating, anodizing, & finishing Q&As since 1989
-----
Nickel-Chrome plating is Blistering / Peeling when Stressed
March 22, 2012
Q. We have been nickel chrome plating the same parts for decades! We use a Watts Nickel bath and Atotech Tri Chrome Plus. Recently a steel part that gets stressed in an assembly operation after plating has had the nickel/chrome plating "spiderweb" away from a corner (high current density area) and even peel a bit. (The nickel is peeling off of the steel.) The part DOES bulge a bit so I am not all that worried about the brittleness of the nickel but cannot figure out why it is blistering/peeling off of the steel! If I am not mistaken, properly applied nickel should never peel off...even if the part is stretched with a resulting "spiderweb." We keep our tanks in very good condition, have recently had them analyzed, and even switched our regular filters out with carbon filters for a couple of hours to get out any potential organic/inorganic impurities out. After the carbon filter treatment we put the brightener, anti-pit, carrier, etc. back in but the parts continue to peel (a small percentage of parts.) Our NaOH tank could be dirty but we usually know that it is time to clean it when the parts start burning and right now they are not burning.

Shouldn't the Ni stick to the steel even if stretched to the point of "spiderwebbing?" Does anyone have any tricks to know when to clean the NaOH tank? I think the only thing that was off on the analysis was the Nickel Chloride was high ... could that cause blistering/peeling when stressed? Thank you!
Matt Larson
Process Engineer - Des Plaines, Illinois, USA
---
March 23, 2012
Hi, Matt..
Although improper cleaning can certainly cause peeling, I'd venture to say that it is not the usual cause in production plating of nickel-chrome onto steel, and usually manifests as blistering under no stress. I think the problem is more frequently excessive brightener or excessive chloride. Since you see excessive chloride, I think you've identified the most likely problem. Excessive chloride causes brittleness and tensile stress. Although I do not fully understand the mechanics of why this causes peeling ... it does.
Regards,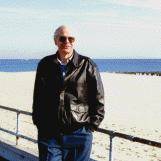 Ted Mooney
, P.E.
Striving to live Aloha
finishing.com - Pine Beach, New Jersey
---
First of two simultaneous responses -- March 23, 2012
Good day Matt.
I have worked with Watts nickels, plating on stainless headlight bulbshields and steel gas fireplace doors. I have found "loading" of NaOH soak at max. 6%, 3% electro to be of an indication when to dump. A sulphuric acid addition to 100 mls NaOH soln. will cause the oils to drop out, depending on the surfactant/chelating agents, and type of cleaner. I found over cleaning produces more problems. How high is the chloride?Higher than 14 oz/gal I found ductility compromised, as it does produce a harder deposit.
I also found lower current densities produce more ductile deposits. Have you done a ductility test on your nickel? I kept mine @ 13 - 15%. What is your sulphate concentration? What is the TOC value, as it indicates when to treat.
Hope this helps.
Eric Bogner
- Toronto Ont. Canada
---
Second of two simultaneous responses -- March 23, 2012
What kind of steel? Is it "leaded steel"? Is it 4000 family alloy? Has it been heat treated?

Robert H Probert
Robert H Probert Technical Services

Garner, North Carolina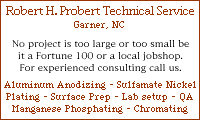 ---
March 26, 2012
Thank you, Ted! I'll let you know what we find out. I reviewed the analysis again and we are actually good on the Chloride ... it was the nickel sulfate we were high on. So maybe it IS the brightener. Aside from peeling nickel, is there a way to know how much brightener to keep in the bath or is that completely subjective?
Matt Larson
Process Engineer - Des Plaines, Illinois, USA
---
March 27, 2012
Hi again.
I assume that you are using a proprietary nickel plating process. If so, the laboratory of the vendor can analyze this for you periodically or when you have trouble. For day-to-day operation, running Hull Cell panels is the normal way to find whether the brightener is in the proper proportion. You will get a very wide "bright range" when it is correct, and defects in the high and low current density areas when it is not. I don't do nickel plating myself, so better answers may be forthcoming from other readers.
Regards,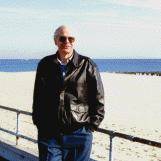 Ted Mooney
, P.E.
Striving to live Aloha
finishing.com - Pine Beach, New Jersey
---
March 28, 2012
Hooooold everything! Looking back at the most recent analysis our three bright Ni tanks are at about 10 oz/gal of Ni Chloride. Years of historical analyses show that we are typically at about 6 oz/gal. The lab doing my analysis suggests 10 oz/gal as a target value but every other reference I can find, including the Metals Handbook, suggest an acceptable range of 4-8 oz/gal, which would put my current level well above that. So I think my Chloride levels are just too high. Does anyone else agree? Thank you for your help!
Matt Larson
- Des Plaines, Illinois, USA
---
June 4, 2012
A. I think it is lack of ductility of nickel deposit. I had trouble like you have before. Spider web, peeling....

It could be caused from unbalance between 1st brightener and 2nd brightener. I think 2nd brightener level might be too high in your case.

Add some additives that give ductility to nickel deposit.
Steve Lim
- Incheon city, South Korea