Where the world gathers for
plating, anodizing, & finishing Q&As since 1989
-----
How to Increase pH in Citric Acid Passivation Tank
March 13, 2012
Q. Hi

Our company has a small citric acid passivation line. We do orthopedic implants. We have trouble with heart treated 17-4 alloy etching. We blast parts after heat treat to remove scaling. We are using 10% citric acid concentration in bath. We think the pH needs to be increased.

Is there a practical way to bump pH without causing other problems? We were thinking sodium hydroxide might work.
Robert Melloy
- Monroe, Washington, USA
---
March 19, 2012
Good day Robert.
I am not familiar with citric acid passivation, and I do not understand why you wish to increase the pH. In acid gold solutions we use citric acid and potassium citrate to control baumé of the solution and pH. Citric acid lowers the pH and potassium citrate raises the pH.
Hope this helps.
Regards,
Eric Bogner
- Toronto, Ont, Canada
---
March 21, 2012
You should not need to RAISE the citric passivation pH. The citric acid does not passivate the stainless, it activates it so that the AIR can "passivate" it. You want the pH naturally LOW.

Robert H Probert
Robert H Probert Technical Services

Garner, North Carolina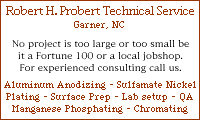 ---
April 4, 2012
Robert Melloy,
Yes, as long as the citric concentration is where it needs to be, you can add some alkaline chemistry to bump the pH up a little in order to avoid etching your parts. We have been doing the exact same thing for over a decade. Let us know if we can help you.

(Robert Probert: That is of course true, the air creates the passive layer, not the acid bath, but correcting the terminology that industry has been misusing for decades is not a semantics battle I spend any effort fighting.)

Ray Kremer
Stellar Solutions, Inc.

McHenry, Illinois