Where the world gathers for
plating, anodizing, & finishing Q&As since 1989
-----
Plating Steel and Aluminum die cast
March 8, 2012
Q. I have a piece that is a steel bar in an aluminum die cast. The inner diameter needs to be restored dimensionally but the problem is that it has aluminum touching steel where it was cast.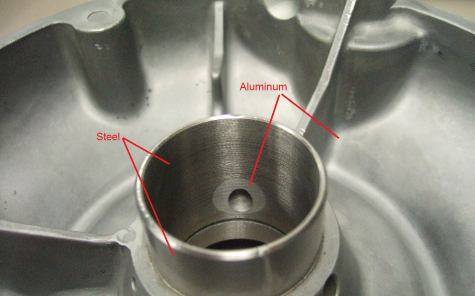 Our shop specializes in plating steel and nickel alloys, but unfortunately not so much experience plating aluminum. I have read through literature as well as your website on the problems and solutions in plating on aluminum, but have found nothing on plating steel and aluminum.

I need a build up of approximately 0.020" each side or 0.040" total
The aluminum part is AL 380 per QQ-A-591
The steel part is CRES 347

My proposal is to:
Vapor degrease
Grit Blast
Electroless nickel plate approximately 0.001-0.002" thick
Nickel plate
Machine to approximately 0.008-0.010" thick nickel
Chrome plate
Grind to finish size (0.008-0.010)" thick chrome

What do the experts think? Will this work?
Debra Whittaker
Plate Shop Employee - Oxford, Alabama
---
First of two simultaneous responses -- March 9, 2012
You *might* get what you propose to worth, but it will be quite difficult. It would be so much easier to just press a sleeve in.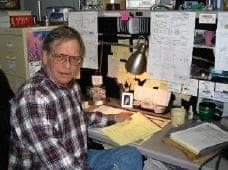 Jeffrey Holmes, CEF
Spartanburg, South Carolina
---
Second of two simultaneous responses -- March 10, 2012
Let's talk about the steel surface that will take the repair and forget about the aluminum for a moment:
1- Adhesion of acid EN over steel is good but probably not enough considering that machining develops huge forces, more so with such a tough metal as nickel. 2- Supposing EN adhesion is fabulous, the adhesion of the subsequent electrolytic nickel over EN will also be limited for this application even if you give it a Woods strike. 3- The adhesion of chrome over nickel will also be limited, again, even after a proper strike.

Now let's talk about the aluminum portion.
4- If you zincate the, steel will hate it. If you don't, the aluminum will hate it. 5- Recommended EN chemistries are different for both metals. Aluminum requires an alkaline EN while steel needs it to be acid. 6- Any of the above chemistries attacks aluminum if masking fails.

Conclusion: I would recommend to analyze other alternatives such as inserting a second pre-plated bushing or thermospraying,
Bill Marrufo
Guillermo Marrufo
Monterrey, NL, Mexico