Where the world gathers for
plating, anodizing, & finishing Q&As since 1989
-----
Anodized reflector doesn't read enough ohms
February 27, 2012
Q. Could anyone help me in this issue please. I anodize reflectors, I use 24 v at 15-20 °C. Required anodization thickness 4 - 6 microns when applied for 12 min in the anodization bath and for 15 min in the sealing bath. The customer applied 500 volt to the reflector by megger; its resistance was less than 1000 mega ohm at any two different points at the reflectors what does that mean and is it correct to measure the insulation of the reflector by a megger?? And how should I solve this problem should I put it in the anodizing bath for a longer time
Sheero M
- Alexandria, Egypt
---
March 3, 2012
Ideally, you and your customer should use the international anodizing standard ISO 7599 to specify and agree to the anodizing standards required. But, in the real world customers often devise their own tests which lead to conflicts such as the one you describe.

For the measurement of resistivity the area of contact must be known. The prods of the megger are not going to be consistent in area of contact and also the pressure applied will have a great influence in the reading. What I think the test is doing is giving a measure of the electrical breakdown voltage. Here the voltage is increased, with virtually no current flow, until there is an electrical breakdown of the coating and a large current flows (big fall in resistance). The breakdown voltage is a measure of anodic film thickness, sealing properties and alloy composition. Old British Anodizing Standards (and no doubt others) included a description of such an instrument.

What your customer may have found is a simple "go/no go" test that meets his needs. If other suppliers meet the test, then you may need to consider increasing the film thickness. Do you do any thickness or sealing tests?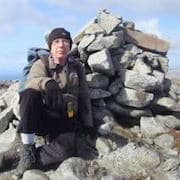 Harry Parkes
- Birmingham, UK