Where the world gathers for
plating, anodizing, & finishing Q&As since 1989
-----
Stainless steel discolouration after washing off laser etching solution
February 27, 2012
Q. Hi. I'm Heather and have a company that manufactures and laser etches belt buckles. I use stainless steel for the buckles and MIG weld a mild steel pre-fabricated latch on the backs. Recently, I have been getting random discolouration on the buckles when I rinse the Cermark etching solution off. The discolouration is purple/blue/gold...similar to the colouring you would find after welding or torching them. Each piece is only under the laser for roughly a minute, so I can't imagine that it's the heat from the laser, and it's only a 35 watt laser to begin with. The patches of discolouration are randomly located, and sometimes don't appear at all. They do not appear specifically at the penetration points where the weld is, and each piece goes through an identical process. They are dry tumbled with only stainless steel, rolled, welded and polished with a hand grinder using 60 grit flap discs, which I change very regularly.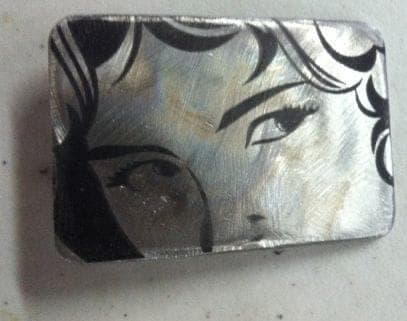 Any ideas would be great. My production has grown exponentially in the last year and I have a waiting list of nearly 100 stores who want to carry them...figuring out how to fix this problem and remove the newly added polishing off step would be extremely helpful in taking that next step.

Heather.
Heather Church
- Bayfield, Ontario, Canada
---
February 28, 2012
From the description of your problem, I think that you are having some of the dissolved metal immersion plate back out on the SS.
Curiosity, Why not use 410 SS instead of steel for the buckle/pin. It welds better and does not rust and is more compatible with the main SS part.
James Watts
- Navarre, Florida
---
February 28, 2012
I love the flap disc polishing which gives texture for the hottie's "skin". So much more impact than if it were a plain smooth sheet.

I notice a number of tiny gouges or pits -- does the flap disc polishing introduce these or is the sheet imperfect before you start? I don't know what chemical is in Cermark and whether it might preferentially discolor a gouged or newly polished area where the stainless lacks a thick passivation film. The most discoloration seems to center on the nick at the tip of her left eyebrow, but I'm only looking at a photo of one sample and the pattern I see may be just coincidence.

James is usually right so I hate to advance an alternate theory, but I think the discoloration is in fact a diffraction film -- a thin layer like the rainbow from an oil drop on water, carnival glass, or (as you say) heat coloration. Exactly what is causing it (heat from polishing? reaction of fresh polished area to Cermark?) remains an open question. But is there any possibility that you are not carefully inspecting the stainless plate after polishing and before you mark it? I wonder if passivating the item in citric acid won't remove the diffraction layer.

Can you wipe one with citric acid (leave it wetted for a while) and see what happens? I don't think citric acid will hurt the Cermark marking but I'm not sure.

Regards,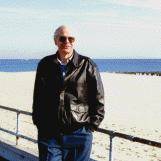 Ted Mooney, P.E.
Striving to live Aloha
finishing.com - Pine Beach, New Jersey



---
February 29, 2012
Thanks for the compliment, Ted.
A very quick way to find out is to make up a beaker of new solution in the lab and do one buckle in it. If it comes out nice, then continue doing one buckle per regular load and see if the solution eventually goes bad. I would certainly try Ted's suggestions as you undoubtedly would like to fix this problem as quickly as possible.
James Watts
- Navarre, Florida
---
March 5, 2012
Wow! Thanks guys!!

James, I could use stainless, but I get the premade ones for .59 each...so right now, it doesn't make sense to start getting dies, etc made. I've left one with my laser cutter...a brilliant mennonite who is continually finding solutions for me. So, hopefully, we'll be able to get a fix on that front soon.

Ted, the marks are mostly from the tumbling process. I just put all of the blanks in a cement mixer and let them ding each other up a bit. (When I started, I used hammer each piece separately...that got old, quickly!!) I've never tried citric acid before...where would I get that? It seems almost film-like. That's the exact term I used to describe it when I first saw it. I'm going to try the citric acid first, and then hopefully I will have new stainless backs sooner than later.

Thank you again for the ideas!!

Heather Church
- Bayfield, Ontario, Canada
---
March 6, 2012
Hi again.
One source would be Stellar Solutions [a finishing.com supporting advertiser]. They might do samples; I'm not sure.
Regards,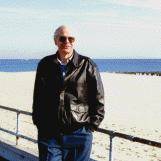 Ted Mooney
, P.E.
Striving to live Aloha
finishing.com - Pine Beach, New Jersey
---
March 8, 2012
Indeed we do, Ted. We are also willing to receive sample parts for examination and testing in our lab.

I looked up the CerMark stuff on google, its website describes it as "The process works like ceramic glaze in that the laser heats the CerMark Solution and causes it to change color and soak into the metal surface." So that may or may not be what is going on.

I must admit, the laser marking process is still mostly an unknown for me, I see lots of laser marked/etched parts but have no experience with the laser machines themselves. Products like this only add to the unknowns. Heather, have you consulted with the CerMark manufacturer at all to see if they've seen or heard of this happening before?

Ray Kremer
Stellar Solutions, Inc.

McHenry, Illinois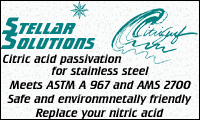 ---
March 9, 2012
Hi, Ray.
The Cermark is sprayed or bushed onto the sheet in the general area of everywhere you want the black marks, which, for an article like this, is the entire surface. Then a computer controlled laser beam draws the patterns and they turn black. Then you wash away the Cermark that was not converted by the laser. If you "youtube" CerMark, you'll understand the process in a couple of minutes.
My theory, based on no experience, is that the Cermark does react with the surface to some small extent even without the laser beam, and we're seeing different effects because some of the surface was very freshly cut by the flap wheels whereas other areas may have a heavier layer of natural passivation. I'm hoping that the discoloration is a nanometers-thick oxide film diffraction layer that Citrisurf can remove without harming the Cermark markings. I could be utterly off track :-(
Regards,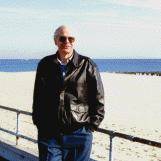 Ted Mooney
, P.E.
Striving to live Aloha
finishing.com - Pine Beach, New Jersey