Where the world gathers for
plating, anodizing, & finishing Q&As since 1989
-----
Issues with passivation of 304L SS machined parts
February 20, 2012
Q. Hi.
I'm SQE in Mexico working on machining and plating commodities.
We found some sort of contamination after the Passivation process. Parts are made of 304L SS and the description we received from our machining supplier, responsible for the finishing supplier, was "Most of the time it is a black 'pepper flake' looking substance, but we also see the brown staining as well. We tried to re-process these thru the Vapor Cleaner, but the substance is 'stuck' on the base material. The only way that we have been able to remove it is to scrape the area, which of course damages the part". So far, the passivator doesn't have a clue on "what went wrong" since they have been supplying these parts for 3 months without issues. Requirement, according to my company's drawing is:
Passivate per ASTM A967 [affil. link] , nitric 2. All passivated parts shall pass any of the tests described in ASTM A967 [affil. link] section 1.4 after passivation.
What could've gone wrong? over exposure to nitric acid? cleanliness issues of the parts or "plating bath?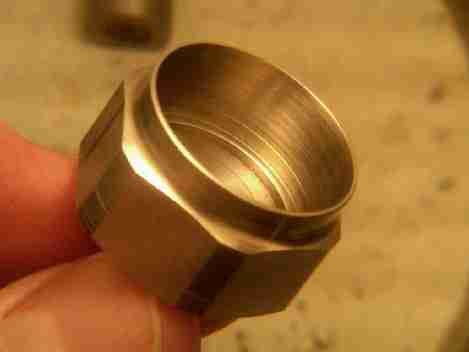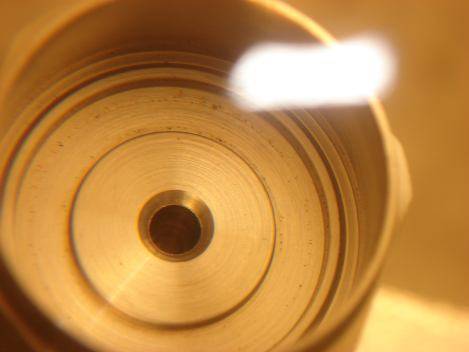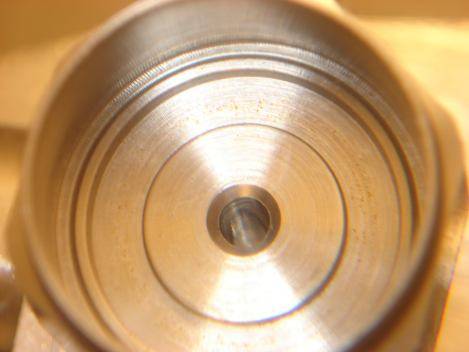 Thanks for your help.
Jaime Castaneda
Supplier quality engineer - Aguascalientes, Ags. Mexico
---
February 23, 2012
There are three possibilities which occur to me. The parts might not have been clean entering the passivate step. The passivate solution itself may have some suspended insoluble contamination (grease, oil). The post phosphate rinse may be inadequate or contaminated with insolubles.

By following parts through the process and carefully examining at each step, you'll likely find the problem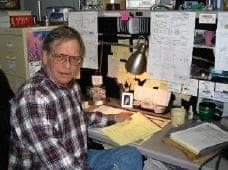 Jeffrey Holmes, CEF
Spartanburg, South Carolina
---
March 8, 2012
In my experience, a lot of "stains" that "won't clean off" are actually areas where the surface has been etched. What sort of surface imperfections you are actually dealing with is usually very difficult to tell unless you get it under a microscope. A good 40x or so magnification will show you the difference between contaminants ON the surface and damage TO the surface.

Ray Kremer
Stellar Solutions, Inc.

McHenry, Illinois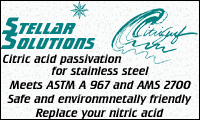 ---
March 13, 2012
Jaime,

When you see problems like this, after passivation it is most likely due to improper cleaning before the etching (cleaning) that comes before the passivation step. The only solution I could suggest (for these parts) would be to do a light mechanical removal of the contaminated area (if your tolerances allow it) and go through a degrease step, etching, and then passivation one more time. But again, I've seen these type of stains before and most commonly are attributed to improper cleaning before etching.

Do you know if they even do an etching step before the passivation?

Good luck!

JM
Jose Morales
- Berkeley, California, USA