Where the world gathers for
plating, anodizing, & finishing Q&As since 1989
-----
Removing gold plate from aluminum wheels
February 21, 2012
Q. Hi my name's sam. I have four 20 inch car rims that are 24k gold plated. I need to remove the gold to paint the rims. The rims are aluminum and I obviously don't want to mess them up. What chemical solution would you suggest for removing the gold? I have done some reverse plating on other metals but never of aluminum. Any suggestions?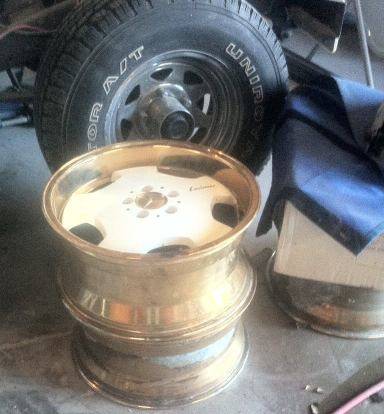 Sam Berry
- Belt, Texas, USA
---
February 24, 2012
Hello, Sam. Try HNO3+HCl (1-3) it should passivate the aluminium and dissolve gold layer. Another way - KI+I2+H2O - this is not fast but safe method . You can use brush for it , I2 can leave some dirt on aluminium surface.
Stepan Puzyrnikov
- Velikiy Novgorod, Russia
---
February 24, 2012
Hi Sam
For gold to be effective in the highly corrosive environment next to the road, it has to be thick -- probably 5 microns+) and plated over nickel. I also ask myself why anyone would use this extremely expensive process on the inside of the wheel rim?
If your wheels truly are gold plated, they are worth a not so small fortune! So the best course of action would be to sell them to a gold scrap dealer, buy a new set of wheels and spend the change on a new car.
I suspect, however, that they are actually 24 ct gold coloured anodised aluminium and can simply be cleaned, primed and painted. Stripping would simply reduce the corrosion resistance unless you re-anodise; in which case it is best to prime within 8 hours of anodising and without sealing the anodising.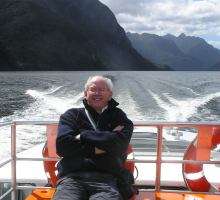 Geoff Smith
Hampshire, England
---
March 28, 2012
Hi SAM,

Industrial Hydrochloric Acid can strip gold or you can use strip gold solution.

Mostly I have seen full wheel rim in yellow are not gold plated ... plater just plate front side by dipping or brush

Spray coatings or PU gold-color coated rims are stripped by acid.

Regards,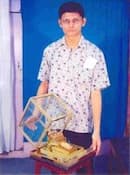 Dipen Pattni
jeweler/goldsmith - Dar-Es-Salaam, Tanzania