Where the world gathers for
plating, anodizing, & finishing Q&As since 1989
-----
How much metal must be removed to achieve a given Ra value?
January 31, 2012
Q. Dear All,
I am currently struggling with a question that has been asked of me:
"Is there any relationship between Ra values and amount of material we should remove to create an improvement?"
Example situation
Ra required = Ra 1 in an operation
Actual reading off the machine = Ra 2 readings

Is there a calculation or ratio that I could use to accurately estimate removal?
I'm really sorry if this is not at all clear

Is there any answer to this?
Simon Rudge
- Wolverhampton, West Midlands, England
---
February 2, 2012
Short answer is NO; however, that is because of the way you worded question. If you included the metal and the hardness there might be a ratio. Then again, there are some other factors such as other machining and processes.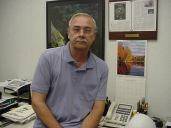 AF Kenton
retired business owner - Hatboro, Pennsylvania
---
February 5, 2012
If you understand what the roughness reading means, you realize there is a theoretical answer, "cut the peaks, do not touch the valleys". But the question is how perfectly and efficiently will the practical procedure do that.
G. Marrufo
Guillermo Marrufo
Monterrey, NL, Mexico
---
February 29, 2012
This question is related to two states of material

Aluminum in a machined state 7000 series
Also Hard anodised Aluminum with a hardness of greater than 300Hv 0.05

we are honing using a DM30 Diamond grit stone and was enquiring if there is a theoretical ratio
Simon Rudge
- Wolverhampton
---
March 10, 2012
You need to make up your mind. The ratio you are looking for will depend on the initial roughness depth and the roughness left by the abrasive you are using, among other things. The time consumed will also vary accordingly.

Case 1:
Abrasive coarser than initial surface > Removal = Infinite (zero improvement).

Case 2:
Abrasive equal to initial surface > Removal = Infinite

Case3:
Abrasive finer to initial surface > Removal = F(grit size, conditions and procedure).

Case 4:
Abrasive zero grit, perfect conditions > Removal = Initial peak height.

Good luck,

Bill Marrufo

Guillermo Marrufo
Monterrey, NL, Mexico