Where the world gathers for
plating, anodizing, & finishing Q&As since 1989
-----
Aqua-regia Process Loss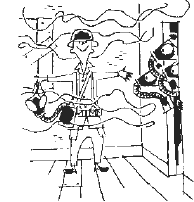 January 17, 2012
Q. Sir,

I'm started Aqua-regia process on last month. I buy glass vessel for reactor from India and precipitation PP tank from thai vendor.Solution transfer by vacuum in piping.But Now I have problem that is a "big loss". I checked and cleaned every unit but got back little gold.
What do you think about this problem? And please help me to solve this problem.
And I ask you if we heat the gold solution, can it be lost under vapor phase? Because I use about 90 °C for reaction time.

Thank you
Bigg
Thailand
Bigg Tuenthamkaew
- Bangkok, Thailand
---
January 18, 2012
A. Hi Bigg,
You need a lot more information than I can provide on a brief answer on a website. Several books are available that can provide good refining information. "Small Scale Refining of Jewelers Wastes" by Roland Loewen and "Gold Refining" by George Gajda. Check Amazon.com for these titles .

Your problem may be excess nitric acid. As long as the Aqua Regia contains nitric acid, the gold will not precipitate and will stay in solution. You must drive off the nitric acid by adding urea or cook it down to a syrup to remove the nitric acid. Then your reducing agent will precipitate the gold. It is doubtful that 90° C will volatilize much gold. A reflux condenser attached to the top of your reactor will take care of any volatilized metal. Read the books, you need a lot more information before you do gold refining to avoid costly mistakes.

Good Luck & Best regards,
Jim Sivertsen
Refining & Alloys - Alden New York USA
January 28, 2012
A. Hi ,
I'm Bhupesh Mulik, worked as gold refining officer. First can you post pictures or videos of your process. Another thing: how much loss happened in percent, and are you using scrap or dust for refining? And what carat including alloy metal composition? I will definitely give you answer. Actually as per my opinion, you have to recover 993 gm gold of around 0.998 purity from 1 kg gold of 0.995 purity.
Bhupesh Mulik
concrete additives & chem. - Mumbai, India