Where the world gathers for
plating, anodizing, & finishing Q&As since 1989
-----
Chromic Anodize Analysis Conundrum
Q. In my shop, we run a 1200 gallon anodize tank. In the almost 5 months I have worked here, we have added 300 pounds of chromic acid. Currently, the free acid content is 4.68 oz/gal (8.8 mL NaOH used) and our total chromium concentration is 7.39 oz/gal (13.9 mL NaOH used.) Those numbers are based off of the procedure on page 117-118 in Robert Probert's book, Aluminum How To, and the dissolved aluminum content is 3.3 %wt/vol. In all the literature that I have read on chromic anodizing, the total chrome content will always reach it's max before you need to worry about dissolved aluminum. All the aluminum parts that we are anodizing are coming out with a nice gray coat and our test panels yielded an approximate coating weight of 400 mg/sg ft.
I am also in the process of determining a new protocol for testing the chromic anodize tank. I like the method in Robert Probert's book but I'm also looking for a secondary method to validate the analysis. The last chemist did not leave much of a procedure and the line operator, who was trained by the last chemist, showed me what he was doing. In testing the free acid content, a small sample was titrated with 1N NaOH [affil link] and phenolphthalein [affil link] indicator. And the total chrome content was determined by titrating a sample containing 5 M HCl, KI and starch with 0.1 N sodium thiosulphate [affil link]. I have looked into Graham's Electroplating Engineering Handbook and found a method that I am going to the try when I get the materials in.
What could be causing our dissolved aluminum to be so high? Is it time to send a sample to a lab? If so, does anyone have any recommendations?
Are there any other references that I could look in to, to help me with this issue?
Any help with this issue would be greatly appreciated. Thank you.
Aimee Longacre
- Savannah, Georgia, USA
December 30, 2011
---
January 4, 2012
I am FAXing to you the procedure in the Englishman's McFaden book.

Robert H Probert
Robert H Probert Technical Services

Garner, North Carolina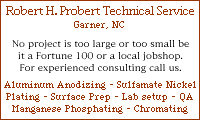 ---
January 9, 2012
Thank you so much for those procedures. I can't wait to try them.
Aimee Longacre
- Savannah, Georgia, USA