Where the world gathers for
plating, anodizing, & finishing Q&As since 1989
-----
Caustic Etch / Deox Versus Tri-Acid Etch
December 28, 2011
Q. We are an aerospace anodizer (Types I, II, III - aluminum and titanium) that currently runs a caustic etch/deox combination following our alkaline soap cleaning stage. Some upcoming, long-term customer parts require a tri-acid etch (ammonium bifluoride, chromic acid, and nitric acid)/rinse scheme.

We are tank space limited, so I want to know whether I can just substitute the tri-acid etch/rinse tanks for the caustic etch/deox/rinse tanks. Are there any common part/alloy/customer types that require only the caustic etch/deox scheme? Adding the tri-acid to the existing scheme will require enlarging the spill containment/processing area - not an easy task.

Mike
Mike Palatas
aerospace anodizing - Gardena, California, USA
---
First of two simultaneous responses -- December 29, 2011
"Tri-Acid" is only needed for castings. You did not tell us the alloy. Please come back with that info. Be aware the mist from Tri-Acid must be scrubbed. Tri-Acid would be very aggressive on wrought alloys, so try to avoid that if possible. Tri-Acid is also very difficult to control. In most cases, sand castings may be adequately prepared in 100% Nitric Acid plus 2 pounds per gallon ammonium bi-fluoride, and die castings may be prepared in 50% Nitric with only one pound per gallon ammonium bifluoride. Any specification that requires tri-acid on wrought alloys is from a school boy engineer who has never "been there".

Robert H Probert
Robert H Probert Technical Services

Garner, North Carolina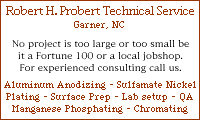 ---
Second of two simultaneous responses -- December 30, 2011
Mike,
You cannot make any changes or substitutions for a part process unless you speak to the customer, the customer agrees and signs an agreement/waiver or changes their purchase order.
If the customer is unwilling or is unable to make the change for the etching process, then it is time to weigh the options. If the tri-acid process is something that you will use more than once and will pay for its self over time, then maybe consider the investment. However, if it is a one and done type of job perhaps you need to tell the customer that you cannot process the parts.
The first thing to do is to speak with the customer. If you verify a process and not actually do the process, you could be in a world of hurt later on. Do a little research on the tri-acid process, make a pros/cons list and talk to the customer.
Aimee Longacre
- Savannah, Georgia, USA
---
First of two simultaneous responses -- January 3, 2012
I'd just like to weigh in with a thought here. As a coater for the last 25 years, I just want to be given a spec that tells me what properties my coating must have.

Don't tell me how to get to the end results, just tell me what you, the paying customer, want to achieve with the service that I'm providing, and let me determine how to get there. I am, after all...supposed to be the expert.

Nothing frustrates me more than reading a specification (that I'm supposed to adhere to) that has been passed down over the period of a decade or more, when other methods have been developed to give the same, if not better results....in a more cost effective manner. Honestly, I've seen prints over 10 plus years old telling me how to do my job. Can you imagine that flying in the electronics industry today? We'd all still be using 56k modems.

Rant complete, thank you for your time.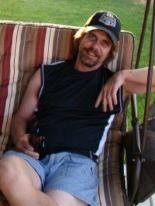 Marc Green
anodizer - Boise, Idaho
---
Second of two simultaneous responses -- January 3, 2012
Mr. Probert: Regarding the alloys we process: 2019 (rare), 2024 (30%), 6061 (50%), 7075 (20%). We might do 3% castings - everything else is machined/wrought. Mike
Mike Palatas
- Gardena, California, USA
---
January 6, 2012
You do not need a fuming tri-acid deox for 97% of your work.
Depending on the casting alloy, you may get excellent results with just nitric and ammonium bifluoride (but it still fumes).

Robert H Probert
Robert H Probert Technical Services

Garner, North Carolina