Where the world gathers for
plating, anodizing, & finishing Q&As since 1989
-----
Excessive thickness variations when hard chroming with old plating solutions
December 29, 2011
Q. With new electrolyte, coating thickness varies very little from different batches. As time goes on (electrolyte gets old), thickness varies much larger. I think thickness should get smaller or larger, but not with a larger fluctuation. Why the fluctuation gets larger when the electrolyte gets old.
Chao Wang
- WX, China
---
First of three simultaneous responses -- December 30, 2011
Are you running weekly analysis of the plating solution by Hull Cell? It could be as simple as needing to add brighteners or purifiers to the tank.
Aimee Longacre
- Savannah, Georgia, USA
---
Second of three simultaneous responses -- December 30, 2011
Hi Chao Wang,

you're riding in the young lady and you seem to treat her well so the efficiency is increasing ... be happy, saves you bit on process time and costs.

Happy New Year 2012

Regards,
Dominik
Dominik Michalek
- Melbourne, VIC, Australia
---
Third of three simultaneous responses -- December 31, 2011
VARIATION IN THICKNESS:- ANODES/SHIELDS/THIEVES/CONTROL OF BATH CONDITIONS/UNIFORMITY OF THE POWER SOURCE/SURFACE PREPARATION.
ANODE:- LEAD-TIN MINIMIZE CORROSION.
RATIO OF CHROMIC ACID TO SULPHATE 100:1.1 TO 1.2.
TEMP/CATALYST (CHEMICAL SUPPLIER)
IMPURITIES:- CHLORIDE (USE DEIONIZED (DI) WATER ONLY)
TRIVALENT:- 1% OF CHROMIC ACID(2.25 G/LR)
(DO NOT USE CHROME TANK FOR REVERSE ETCHING)
USE SUFFICENT ANODE AREA.
DUMMY OUT SOLUTION REGULARLY USING MORE ANODE AREA. ( ANODE:CATHODE 30:1) 4 TO 6 HOURS DUMMY DAILY OR 24 UPTO 48 HOURS WEEKLY. CLEANING ANODES.
TRIVALENT REDUCTIONS SHOULD BE DONE AT HIGH TEMP./CURRENT
HEAVY METALS:-IRON/CU/NI.BELOW 5 G/LR COMBINED. IF HIGHER DILUTE BATH.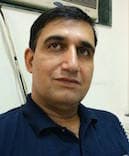 Ajay Raina
Ludhiana, Punjab, India
---
January 16, 2012
Generally, we find that the build up of iron over time reduces throwing power in the hard chrome bath, resulting in higher thickness variability. You probably need to remove impurities from your bath.
Kent Backus
Fort Worth, Texas, USA