Where the world gathers for
plating, anodizing, & finishing Q&As since 1989
-----
Corrosion Resistance Tests for AMS2700 Passivated Stainless

Q. What is the recommended corrosion resistance test for 17-4PH?
Can I perform salt spray test for 17-4 PH which contains less than 16% Chrome?
Omer Raz
Material Engineer - Israel
December 22, 2011
A. Hi Amer,

It really depend on what specification you are carrying the passivation process out to. Each specification allows for certain tests to be carried out. Better still, see what your customer will allow, because even if we say it is an acceptable test your customer may yet disagree.

Brian Terry




Aerospace - Yeovil, Somerset, UK






---

A. The problem with salt spray on 17-4 is a risk of false positives. Even fully passivated, it can show rusting, although the 2 hours is a short amount of time. That's why our choice of standard procedure is the humidity test. It takes longer, but we don't get any false positives.

Yet if one of our vendors used salt spray to test passivation on our products, I wouldn't object.




Lee Gearhart




metallurgist - E. Aurora, New York




---
Q. Brian,
The passivation is being performed in accordance with AMS2700 [affil. link].
According to this specification, the recommended tests are water immersion or humidity tests. For alloys containing more than 16% Chrome, salt spray or Copper Sulfate tests may be performed instead.

In some cases , 17-4 PH can contain more than 16% chrome. Can salt spray test shall be performed in that case?

Lee,
What would you do if one of your vendors has performed a salt spray test on 17-4 PH, and rust was found afterward?
Omer Raz
[returning]
- Israel
December 27, 2011
A. Omar,
Salt spray, humidity tests, and other accelerated corrosion tests can ALWAYS be performed. The main issue is having realistic expectations. A 440 stainless will never stand up to salt spray the way 316 will. Customers usually require the parts survive a certain number of hours in salt spray, but the number should not be arbitrary or unrealistic for the grade being used. Running a passivated part against a control unpassivated part will show you what you have gained with the passivation.

17-4 is a decent grade and performs well in salt spray. Copper sulfate works great too. Find out what testing your customer expects. If they don't have an opinion, use your best judgement.

Ray Kremer
Stellar Solutions, Inc.

McHenry, Illinois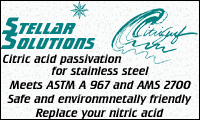 ---
Q. Ray ,
Thank you for your response.
If I have 17-4 PH parts that failed the salt spray test, but passed the copper sulfate and water immersion tests, what would be a possible reason for that?
Is there a problem with the passivation process?
Notes:
1) After sand blasting, the parts had passed the salt spray test.
2) I am the customer, the passivation was performed by a subcontractor.
Omer Raz
- Israel
January 9, 2012
A. Omar,
Salt spray is, of course, the harshest test of the lot. I have data, however, that suggests well-passivated 17-4 should pass 200 hours of salt spray easily. How many hours were your parts run for? What was the passivation process used?

Are you saying that the parts pass salt spray prior to passivation but fail after passivation?

Ray Kremer
Stellar Solutions, Inc.

McHenry, Illinois