Where the world gathers for
plating, anodizing, & finishing Q&As since 1989
-----
How to reproduce brushed finish on stainless steel
December 7, 2011
Q. Curious to know if there is a more cost effective method of repairing a stainless steel counter top. The counters are not a traditional 'linear' design and the best method we have come up with is to introduce a linear pattern (which is the easiest for a homeowner to replicate should they scratch it in the future). I'm curious to know if there is a faster way to apply this finish than by hand (say with a portable device). I also am interested to know if there are such machines that would replicate other finishes. Thanks in advance.
Aaron Bartlett
- Vancouver BC, Canada
---
December 8, 2011
A. Hi, Aaron.
The original brush finishes are usually applied via one quick "scritch" from a full width belt sander (sometimes called a "Timesaver" because that's a popular brand name).
It is indeed difficult to restore the finish if it is scratched because the "brush marks" (actually sandpaper marks) consequently run the full length of the sheet. I'm not quite following you about it not being a traditional linear pattern. Maybe it was scritched twice at perpendicular angles?
Regards,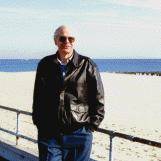 Ted Mooney
, P.E.
Striving to live Aloha
finishing.com - Pine Beach, New Jersey
---
December 9, 2011
A. A typical 3" home belt sander is going to take a bit of luck or a lot of experience to have the entire top uniform in the desired scratches.
You might want to try several different grits with a random orbital sander. 6" would be an absolute minimum diameter.
With some practice, you can have a wildly variable circles pattern.
Again, a bit of luck and skill.
James Watts
- Navarre, Florida
---
December 14, 2011
Q. I appreciate the input. To clarify, I am repairing scratches on counter tops but the problem is that once the scratch is gone you essentially have to brush out the entire surface to keep the continuity of the look. I am looking for a device to take into a residence that will allow me to recreate the look. I have thought about the orbital sander but was under the impression that would leave a different finish than the brushed look. more of a circular pattern. I am just trying to find a faster method than by hand, which can achieve a good look but takes hours and hours to achieve. thanks for the advice thus far.
Aaron bartlett
[returning]
deficiency work - Vancouver BC, Canada
---
January 12, 2012
A. The only way I know of achieving this is good old fashioned elbow work... trying to match the grain of an existing countertop is impossible without regraining the whole piece.
We have a lot of customers choosing a Random DA [dual action] finish on countertops these days, because it hides scratches better, even in the most harsh of environments, and the finish can be applied again by the homeowner when/if they desire a fresh look again.
Chad Lindsey
- Spokane, Washington, USA
---
January 17, 2012
A. You have been given good advice. Here is the problem with any metal finish. Oxidation. Once you remove a scratch or mark you have a different oxidation level and the only way to blend that in is to work all of the area around it.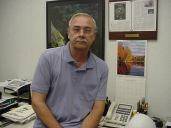 AF Kenton
retired business owner - Hatboro, Pennsylvania
---
---
Blending a brushed finish
September 16, 2014
Q. I have a 102 inch by 102 inch stainless steel sheet x .4 mil. It needs to have a flawless number 4 brushed finish. What can I use to blend all the streaks in it out? I have tried everything under the sun: wd40, Sheila Shine, Water, Windex...
I'm starting with a polished finish. I am using a stroke sander.
tom girty
- tom time
---
September 19, 2014
A. Tom,
I'm confused by your question. Cleaners like you mentioned would be used to remove "streaks" present due to grease, oils, or an otherwise unclean surface on a very highly polished surface. If you create a brushed finish, those kind of streaks aren't likely to even be visible. If you are referring to the streaks made by your sander, those are grit lines that are physically present in the surface of the metal. If you have grit lines going in the wrong direction, you need to grind them out with lines in the desired direction.

Ray Kremer
Stellar Solutions, Inc.

McHenry, Illinois