Where the world gathers for
plating, anodizing, & finishing Q&As since 1989
-----
Plater dull nickel plates heat sinks; customer wants bright
December 6, 2011
I am making a copper heat sink that gets bright nickel finish. My customer has told me that he does not like my finish and has shown me another heat sink that is very shiny while mine is a dull gray finish. I spoke to my plater about it and he tells me that my copper may not have been shiny enough before plating so this is what I get.
It seems to me that because there is such a wide difference between the different parts, that something in the plating must be required to make this big of a difference. Can someone tell me how to get the real bright and shiny look to my part. Are there things to do to the baths to make this happen? Thanks for any help
Sam Rearick
Toolmaker - Apollo, Pennsylvania, USA
---
First of two simultaneous responses -- December 6, 2011
What does the finish look like prior to plating? It should look better after plating with bright nickel. If it's a smooth machined surface, it should look quite bright, although machining marks will still mostly show.

Try some samples with a different plater.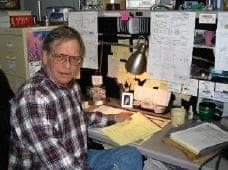 Jeffrey Holmes, CEF
Spartanburg, South Carolina
---
Second of two simultaneous responses -- December 7, 2011

The first thing I have to say is that in this forum there are a lot of people that have more experience and knowledge than me and this is just an humble advice.

There are several paths to follow in order to achieve a good, bright or mirror like finish.

It depends on several factor such as type of bath used, type of material plated, additives used, mechanical preparation before plating,part geometry, etcetera.

But, to start, I don't know exactly how is the heat sink for example it could be like those used on computers.

In that case the geometry plays a role, and the bath used could be electroless nickel and is far from my knowledge to help you in order to obtain good leveling and bright in those baths, the only thing I can say is that a good mechanical preparation can help, copper is very easy to finish, it can be polished and buffed easily, but the finish is up to your opinion or customer needs. For some, a brush finish is ok, for others mirror like gloss is needed.

If your bath is standard watts bath you can add additives that you can find on the market, mostly they use saccharin and introduce sulfur on the coating which make the nickel a little bit less resistant to corrosion and they are sold usually in two separate components, (there is a secret rule over not to reveal components of the additives because each vendor have proprietary formulas and there is a lot of effort in developing them as far as I know specially trial and error). But the additives don't do miracles!!, they can achieve bright if the bath is ok from a 600 number on finish.

Due to the fact that I can be speaking too much and it sounds like gibberish, In order to help you can get more accurate on the answers if you give more details of the type of bath used, part geometry and finish desired.


Daniel Hernandez
- Bucaramanga, Santander, Colombia
---
Photo Posted December 7, 2011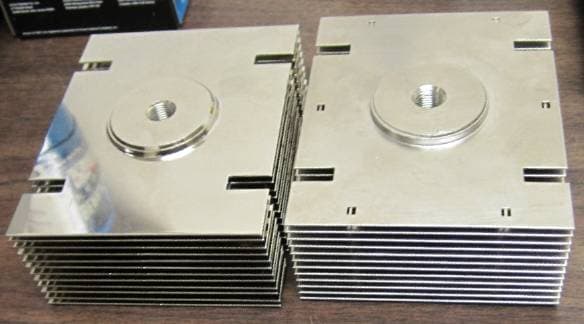 ---
December 7, 2011
Now that I see the parts, I assume that the plating is electroless nickel. Your plater can, if he finds it profitable to do so, duplicate the brighter finish, however he may have to change his electroless nickel formulation supplier, keep his bath under better control, and replace it more frequently.

You should have a frank discussion with him as to what is required, whether he knows how to achieve the brighter finish, and whether he is wiling to do so. This will require some work and expense on his part, so his decision may depend on how important to him you are as a customer.

You may have to go to another plater if your present plater is unable/unwilling.

FWIW, The duller of the two parts doesn't look all that bad to me. I would normally call it a workman like job as electroless nickel is not primarily used for it's decorative properties. You may have to do a bit of shopping around to find a plater who will guarantee to always produce to match the brighter part.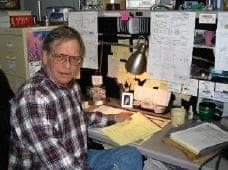 Jeffrey Holmes, CEF
Spartanburg, South Carolina
---
December 8, 2011
Hi Jeffery,
I am going to guess that each plate is a separate heat sink.
It looks like it was either bead blasted or some other light blast.
From the yellowish color and dull finish, I am going to guess that it is sulfamate and possibly contaminated. It could be a worn out EN as you say.

I am perplexed by the bright finish and reflectivity of the lower left hand corner. It may just be the picture, but it is strange.
I go with your recommendations. Talk to the plater. If his answers are not satisfactory, find another plater that will give you what you want.
Jim
James Watts
- Navarre, Florida