Where the world gathers for
plating, anodizing, & finishing Q&As since 1989
-----
Identifying the materials in a fire screen
November 23, 2011
I have acquired an old tarnished fire screen which appears to be brass- it consists of a pressed metal sheet featuring a sailing ship in relief on a flat background with a raised edge (like a square frieze) surrounded by a margin of beaten metal (i.e. it has the hammered look) This sheet is welded to a tubular frame standing on two 'feet' and a handle on the top - all of which appears to be brass . I have done the magnet test and none of it is magnetic. However, I have started trying to clean it up with Brasso, and having mixed results - some sections I have cleaned look like brass- others are much paler - not the typical golden brass yellow - other sections look almost pinkish-the colour of copper i.e the raised border between the 'frieze' and the hammered margin . Is it likely that the screen is only a brass-coated metal of some kind - (it is not a heavy object) - and I am just rubbing off the brass coating? How I do test for this? If it is only a coating, is there any way I can clean it without taking off all the brass?
I attach a photo.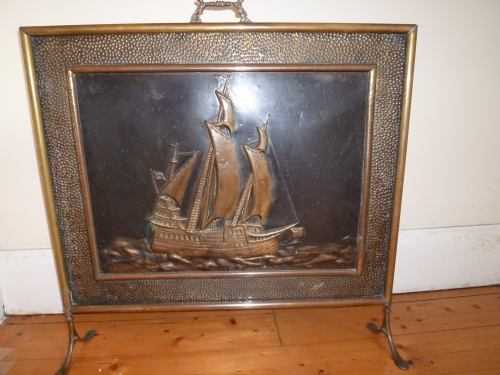 Many thanks
Sally Sweeney
- Sydney, Australia
---
December 21, 2011
Hello Sally,

Please define Cleaning. This screen has a nice patina applied to it to help improve the definition of the design detail. If you remove all of the "discoloration" you will not see the design in relief. But it will become like a bumpy mirror.

Odds are this is copper. You will need to remove the brown coating on the metal to actually get at the metal to polish it. ( please remember then when "clean" you are a slave to the polished metal cause it will tarnish quickly, unless coated with a protective coating. )

Odds are the coating is a sulphate of copper with a clear paint or wax over the patina. One can use steel wool and "clean" the surface, or one could use a buffing wheel with compound. Either process will take you to bare metal. Only then will you know if you have copper or brass by the color inspection.
Paul Barnhart
- Lake in the Hills, Illinois, USA