Where the world gathers for
plating, anodizing, & finishing Q&As since 1989
-----
Problem with Hardcoat Anodize flaking off
November 23, 2011
I have a customer that we do Black Hardcoat Anodize & Teflon for -- the part is an extrusion called a SHOE & used in fabric machines.

We run approx. 200 pieces per year, usually in lots of 6-12 pieces. We have been doing the job for 10+ years & have never had any issues.

Recently the customer has advised us that 3 separate customers of his have complained of coating flaking off, right down to bare metal. Attached are pics showing the defect. We took 1 of the defective pieces back & stripped and redid it no problem. All of the pieces look perfect when they leave here.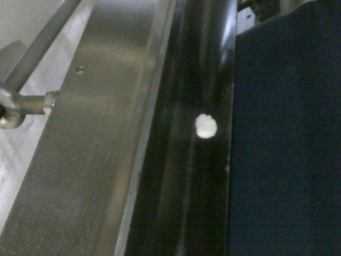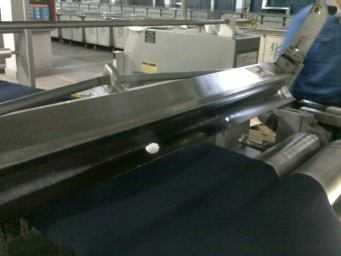 Customer is looking for answers & assurances.

We have already thought of & ruled out a few possible causes:
- Something the end user (customer) did i.e., apply excessive heat = unlikely, these customers have been using these same Shoes for years
- Dye too hot?? -- doubtful -- PLC has good control on that.

Here is our original procedure:
ALLOY: 6061
SURFACE AREA = 4.71" SQ PER PART
RACK: BOLT ON IN 3/18-16 HOLES
WIPE WITH ACETONE
NO SOAP OR ANY OTHER CLEANING AT ALL !!
HARDCOAT 43 MINUTES (3 MIN RAMP + 40 MIN HC) @ 35 DEG F @ 30 AMPS PER FT SQ
NITRIC DIP 3 MIN
BLACK DYE 5-10 MIN
NICKEL SEAL 5 MIN
TEFLON COAT & BAKE 20 MIN @ 155 DEG F

One suggestion was that the surface of the extrusion is becoming work hardened & that we should add a Soap & Deox step -- We have done that for the past 6 months & just got notice that one more bad part has turned up in China.

We have never had this problem before with any other customer & we run tons of hardcoat.

Any help or suggestions would be greatly appreciated.

David Kraft
Plating Shop Executive - Paterson, New Jersey, USA