Where the world gathers for
plating, anodizing, & finishing Q&As since 1989
-----
Electroless Nickel Plating Issues

Q. Random parts are not plating completely. We can 200 pcs that visually look the same and out of those 200 pcs, 50 pcs won't completely plate. The plating voids are always in the same area around the glass. Our plating vendor cannot provide feedback on what may be causing this.

Part information- We make sight glasses. The sight glasses are made from 1215 CD steel. The bushing is machined and the glass is sealed by running thru a furnace. No adhesive or sealant is used when sealing the glass.

History- been producing this part the same way for 20 years. We have never had a problem with the parts not plating. We recently had to start using a new plating vendor because our old vendor could not handle the volume. This problem started with the new vendor.
Elias Vaca
- Bourbon, Indiana
October 20, 2023
---
---
↓ Closely related postings, oldest first ↓
---
---
Q. Our Company currently manufactures 6020 T8 Aluminum spool valves that are Medium Phosphorous EN plated by an outside vendor. Over the past few months the parts have displayed 'pitting,' 'edge pullback,' 'Black spot staining,' and 'poor adhesion,' upon receipt from our vendor. Every part does not necessarily show all defects but the majority of them have one defect or another.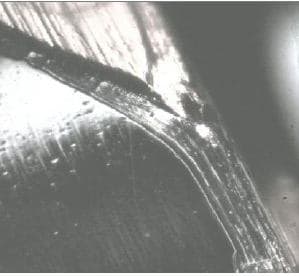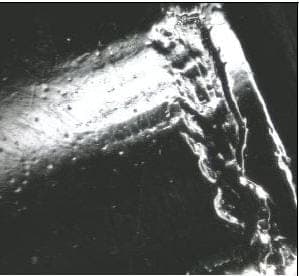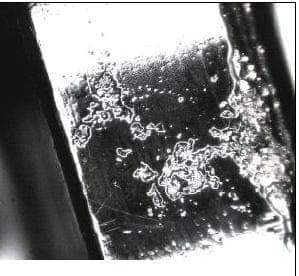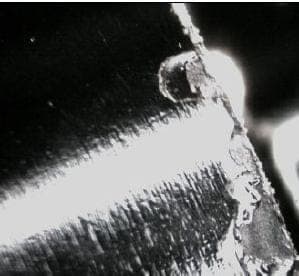 The root cause(s) for these defects has yet to be determined, but our vendor has alluded to the pitting issue coming from contamination on the parts prior to plating. It seems that contamination would result in a lack of plating on the area contaminated, not a pitting in that area, is this a correct assumption? Also, what could be the root cause for the other issues described?
Kevin Thorrez
Project Manager - Jackson, Mississippi
September 26, 2011
A. IMO of the problems mentioned, only porosity could be attributed to the base material if parts are die-cast, hardly if they are machined from bar stock. According to your pics and explanation most surely he's doing several things wrong, cleaning, pre-plate and maintenance of a balanced EN chemistry, perhaps also improper final rinsing and drying.
G. Marrufo-Mexico
Guillermo Marrufo
Monterrey, NL, Mexico
A. Aluminium usually requires a proper pre-cleaning and activation which is different from the mild steel parts; and if the jobs are cleaned in the wrong way it is likely to get etched causing pits, etc. Also the type of pre-cleaning will depend on the type or series of aluminium.
Divya Siddharth
- Chennai, India
A. Aluminum preparation is totally relevant in regards to adhesion and contamination; also, water quality plays a very important role. It is very important that parts get properly cleaned and prep before getting in to the E-less Ni bath. If the process includes an e-less nickel strike, then the black staining could be caused by inappropriate pH in the bath. I'll recommend to carefully review the current process used to plate your parts and recommend effective changes.
Glenn Foster
- San Diego, California
A. Is it possible that the parts are defective before the electroless nickel process? Parts should most definitely spend some time in a clean tank, so they can pass water break. If parts are not passing water break, there is your first issue. To remedy this, you may need to add more cleaning product to the tank, a simple titration will indicate the amount needed, or perhaps the tank itself is spent and needs to be replaced.
Next it depends on the part or the company but the part could then be put into an etch or a secondary wash tank. Again, make sure the part passes water break. It is very important to remove all impurities on the surface of the part. The concentration of the product in the tank could be low, or if etching the part, it is not being left in the etch bath for the correct duration. A titration and/or etch weight panels could yield some answers.
Somewhere on the EN line, there probably is a 50% nitric acid dip. A simple titration will indicate its concentration and if the tank needs an add.
All rinse water tanks should be clean. Ideally, it should be DI water.
And lastly the EN tank itself. When coating parts, is the tank at the proper temperature? It is something simple to overlook but it plays a HUGE part in making the reaction happen. Next, is how often is the tank being tested? Depending on the frequency of use and the number of parts moving through the line, the tank should be tested every hour if many parts are being processed. When performing titrations of the tank, be sure the sample is fresh and at the operating temperature.
Aimee Longacre
- Savannah, Georgia, USA
A. In order to give recommendations we must know the preplate cycle.
Does it contain a double zincate etc.
Without a full description of this cycle, there is no way to assist you.
How many MTO are done in the same EN solution before dumping?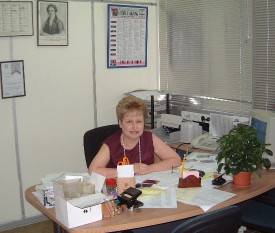 Sara Michaeli
Tel-Aviv-Yafo, Israel
Q. Prep is as follows:
Soak Cleaner
Caustic Etch
Water Rinse 2x
Acid Etch
Water Rinse
Smut Removal
Water Rinse 2x
Zincate
Water Rinse 2x
Smut Removal
Water Rinse 2x
Zincate
Water Rinse
Alkaline Strike
Water Rinse
DI Rinse

Typical MTO are 8-10 before new bath
Kevin Thorrez
[returning]
- Jackson, Michigan, U.S.A.
December 20, 2011
---