topic 57740
How to repair a brushed metal finish
September 22, 2011
I am making an electrical control system, and have a brushed metal electrical panel that has been scratched. I need to remove the scratches to make it look presentable; would I be able to remove the components and sand it down? If so, what grade of sandpaper? Should I use wet & dry?
Arthur Haythornthwaite
employee -
Bristol, England
---
October 2, 2011
Need a lot more info for proper answer; however, my first choice would be a non-woven wheel.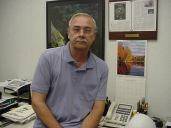 AF Kenton
Nova Finishing Systems Inc.
Hatboro, Pennsylvania
---
November 15, 2011
I own an art oriented metal working business and find myself working with brush finish stainless quite often. If I have a scratch that runs across the grain, after I am done cursing it, I use a 5 inch hook and loop sanding disc with a 240 or 320 grit on a 5 inch grinder. Without digging the corner into the metal and without building so much heat as to warp it, I sand that scratch out. Its very tough to match that grain without it being noticeable so I usually opt for re-graining the entire piece after I sand out the offending scratch. For a soft residential application I will hand grain it taking care to keep my strokes straight and go in one direction only, never back and forth. I use 80 grit then I go right to gold scotch brite then red. For commercial application or to match the original brush you can use that non woven wheel on round or irregular surfaces but for a flat surface I prefer a planing sander. Its about 2 inches wide and 16 inches long and has a quick back and forth "jitterbug" motion. Depending on how fine the grain is you are trying to match you may use anything from a 36 grit to a 320, again keep some gold, red, and gray scotch brite on hand and you stand a good chance of pulling off a perfect finish. Good luck!
Brian Fredella
-
Bedford, Texas


This public forum has 60,000 threads. If you have a question in mind which seems off topic to this thread, you might prefer to Search the Site