Live! From beautiful Pine Beach New Jersey: Welcome to the world's most popular metal finishing website
topic 57550
Anodize is peeling during assembly operation
A discussion started in 2011 but continuing through 2018
August 11, 2011
Q. Hello we are metal finishing company in Southern California and we have recently delivered anodized, (Ty 2), parts to our customer in which the anodize peeled after processing. The parts had an epoxy applied during processing and was then put in an oven At 185 °F for two hours to cure the epoxy. Upon removal from the oven the anodize layer began to flake and peel off as shown in the pictures.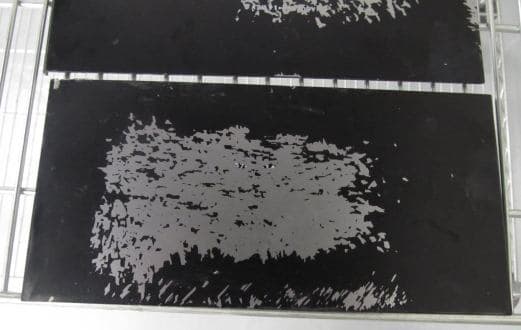 photo added August 14
At this point I'm trying to provide corrective action to our customer and fix whatever condition caused this result. I am the quality manager here that I've only been in the plating industry since November of 2010. Our chemist who have been in the business 30 years or more, so far have no answers my research seems to indicate thermal stresses in conjunction with minor force applied during assembly may have resulted in the initial cracking but my suspicion is there was a problem with surface preparation prior to plating. I was hoping someone on this site could at least give me an avenue of inquiry could possibly lead to an answer. Thank you for your assistance.l
Ron Bivins
quality assurance manager - Sun Valley California USA
---
August 12, 2011
A. Under heat above 85° C, the underlying aluminum metal expands 5 times the aluminum oxide on top. Documentation available.

Robert H Probert
Robert H Probert Technical Services
Garner, North Carolina
---
August 14, 2011
A. Hi, Ron.
While Robert's statement is no doubt true, it seems to imply that anodizing is not satisfactory for parts that will be baked at 185 °F, and that is not true. Anodized cookware that performs well both on the stovetop and in an oven at over 400 °F is a commonplace. I have numerous aluminum pots and pans that are still satisfactory after 10 years of such service. (BTW, I'd love to see a micrographic cross-section from used anodized cookware, if anybody has one, to get an understanding of what it looks like).
It could be that the anodizing is not actually peeling; rather the epoxy is peeling. Or it could be that the wet epoxy is flowing down into the cracks in the anodizing, then hardening, and then popping the anodizing off when it cools. Still, I think the bottom line is that epoxy on conventional anodizing is probably an unsatisfactory finish regardless of the actual mechanics of why. Please see letter 871.
Regards,
Ted Mooney, P.E.
finishing.com
Pine Beach, New Jersey
Striving to live "Aloha"
---
August 12, 2011
A. My guess is that it was painted before enough moisture evaporated from the anodize cells. How long did it set from anodize to prime? Was the anodize sealed?
James Watts
- Navarre, Florida
---
---
August 15, 2011

? Ron

Can you provide some information about the alloy and processing parameters (acid conc., temp., dissolved Al., coating thickness)?

Willie Alexander




- Colorado Springs, Colorado





---

August 15, 2011

A. Ted is absolutely correct, but let's take it further. The difference in the coefficients of thermal expansion is a fact, however, it is not yet researched for every condition of alloy, temperature, and time. One of the other similar problems we have in our industry is that the aluminum people have been trying to replace stainless steel for hospital autoclave trays. I have telephone serviced over 25 inquiries about the problems of the heat that those autoclave trays are put through. The cookware people have a secret gimmick and they will not release their process. Mom and Pop anodizing shops cannot apply anodizing to withstand high temperature and time. The 7000's and the 2000's are major problems as the zinc and copper walk around under heat so that each particular alloy reacts differently, some tiny crack, some major crack, some "flake". Another tendency to flake are the cold drawn alloys.

Robert H Probert




Robert H Probert Technical Services




Garner, North Carolina




---
August 12, 2011
-- this entry appended to this thread by editor in lieu of spawning a duplicative thread
Q. We are starting with 6013-T4 metal sheet which is milled and then formed. Then it is aged to T6 condition. After which is is anodized with MIL-A-8625 and then painted with an epoxy paint. We do the machine work and then send the parts out to the be anodized and out to be painted. We have never had a problem in over 25 years. Now we have a problem with paint peeling just using masking tape and it pulls the paint away from the anodized layer. The parts went straight from anodize to paint in the same packaging as came from the anodizer.
Dale Neff
Job shop quality manager - Los Angeles, California USA
---
August 17, 2011
A. I have faced similar problems at my plant and the fix was a bit simple for me. Most of my clients need black color on their anodized parts having a coating thickness of at least 25 microns. On most parts, we dip the anodized parts in electrocolor, give it a light bronze color and then dip it in a metal dye for the black. Earlier the film would just chip off on some parts. Since this chipping used to happen only on black colored articles, I realised that my operator used to switch on the transformer immediately after fixing the jig to the electrode.
Letting the jig remain for a few minutes in the electrocolor solution solved this problem almost completely. We work mostly with 6xxx series of alloys. Heating the dyes to between 50-55 °C degrees also allows better penetration of the dyes and increases light fastness.
Winston D'Souza
- Bombay, India
---
---
June 19, 2012

-- this entry appended to this thread by editor in lieu of spawning a duplicative thread
Q. I had a lot of 1000 articles anodized per MIL-A-8625, Type II, Cl 2, Black. I'm pretty certain they were hot water sealed. In our assembly process, we had to bake these units at approx. 200° F. in an oven for 30 mins to cure an epoxy that was applied. After these came out of the oven, we performed a tape test on the surface and the anodized black dye came right off. It even comes off with a napkin or finger tips and leaves the surface looking bare or peppered with raw aluminum (2024-T3) peeking through the black anodize. What would be the cause of this? Can this be fixed and acceptable with an Alodine touch up? or to meet the spec, do we need to strip them, etch them and re-anodize?
Mr Wiley
Quality - Clearwater, Florida, USA
---
---
August 4, 2012
Q. We manufacture aluminum parts (6061 t6-t6511) that require black anodize Mil-A-8625 Type II with Nickel Acetate seal. The anodizing is sourced out to an approved processor. The problem is : our customer ultrasonic cleans the parts prior to assembly and the color washes completely from the parts. The platers claim the cleaning method is to aggressive and is acting as a strip. Our customer claims to always ultrasonic clean the parts prior to assembly. How can we resolve this issue?
William Schuler
machine shop - Tampa, Florida, USA
---
August 6, 2012

A. Any water based ultrasonic cleaning fluid with a pH above 7, especially above 8.5, will attack aluminum metal, aluminum oxide, and hydrated aluminum oxide (seal). In your case the seal, which may have been inadequate to begin with, is attacked by the cleaning fluid and the dye is washing away.

Robert H Probert




Robert H Probert Technical Services




Garner, North Carolina





---

August 7, 2012

A. Hi William,

I think I have some sympathy with your anodizers. There are a couple of factors to consider when ultrasonically cleaning dyed parts:

1. Will the solvent in the cleaner affect the dye?

2. Is the ultrasonic cleaner too aggressive? It is surprising how damaging an ultrasonic cleaner can be. We once had an issue of the ultrasonic cleaner actually punching holes into aluminium sheet when one of the transducers went out of sync.

Brian Terry




aerospace - Yeovil, Somerset, United Kingdom




---
---
May 28, 2018
Q. Question: We have a sand casting almost machined all over. This is subsequently subjected to Black Anodizing. The Aluminum material is ALMag 35 or A535. One of the test after anodizing is the "Tape Test" where a clear adhesive tape is sticked to a part of the anodized surface. After some time this is removed and if the coating is removed we say the coating is "peeling off". The anodizing process is outsource and recently they are experiencing this "peel off" after tape test. The anodizing company claimed no change in process and raw materials used. Would like to know what can cause this defect "peeling off".
Danieper Carlos
- Laguna, Philippines
---
May 29, 2018

A. Hi Danieper,
What is your pre-anodising treatment of the castings.
I ask because you could have an issue with silica from the moulds. Also the alloy itself could contain silica.
An etch with approx. 25%v/v nitric acid and 2%v/v hydrofluoric acid might well cure this.
The etch removes silica from the surface that will be preventing full anodic coverage and may be the cause of your adhesion problems.

Mark Lees




- a sunlit rock in the Irish Sea





---

May 29, 2018

A. Can we have "work hardening" from that "machined all over"? Possibly from dull tools that are too aggressively fed.
If so the stress of the work hardened area on top of the underlying area is subject to "peeling". Also, are you using fluoride to reduce the non-anodizable silicon on the surface?" This is "way out" but so is all anodizing on sand castings.

Robert H Probert




Robert H Probert Technical Services




Garner, North Carolina




---
June 1, 2018

Thank you for your replies. Let me talk to our anodizing sub contractor and will come back to you.
Danieper Carlos
[returning]
- Laguna, Philippines
---
June 1, 2018
Q. For additional information on pre-anodizing treatment, prior to machining we do pressurized wet sand blasting. After machining we buff the machined surface and subsequently wash with tap water. We then bring these parts to the anodizing company. I will check with them your query re etching process and compare your suggestion of etching with suggestion. Thank you Mr. Lees

Have read some of the thread on "peeling off" where "silicate contamination" is one of the reasons for this defect. Since we do sand blasting prior to anodizing here, there will be times that after many batches the silica will build up in the tank. Is it advisable to filter the liquid in the tank and recycle?
Danieper Carlos
[returning]
- Laguna, Philippines
---
June 25, 2018
A. Hello Mr. Carlos,
In this case, where you have blast media making its way to the plating line, I would agree tank filtration is a good idea, starting right with your soap! Is changing from a Silicon-bearing sand to an aluminum oxide blast media an option? It will certainly help reduce Si contamination. And be certain to keep on a regular schedule of changing your deox/desmut tank. It is your last, best defense against stuff you don't want in the anodize solution! :)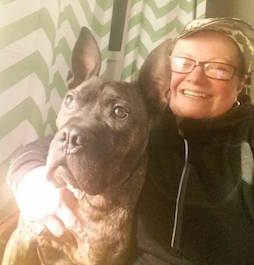 Rachel Mackintosh
Plating Solutions Control Specialist / Industrial Metals Waste Treatment - Brattleboro, Vermont


If you have a question in mind which seems off topic, please Search the Site