topic 57431
Refinishing cast iron and pewter lamp
A discussion started in 2011 & continuing through 2017
July 12, 2011
Q. I am a graduate student who loves old things, and I'm always lucky. I found a charming cast iron and pewter floor lamp at the thrift store for four dollars! I would like to rewire and refinish it, but I don't know how. The lamp is heavily painted with a dull beige paint. Someone carefully stenciled brown decorations on it, too. This paint is very deteriorated. The beautiful spiral pewter counterbalance is in good condition, aside from the chipped paint, but the pewter base has pewter disease. This lamp has a double brass fixtures in excellent condition, and an unusual cast (or rolled) iron shade. Does the opaque shade mean that this is a reading lamp? The lamp has an art nouveau or possibly early art deco look.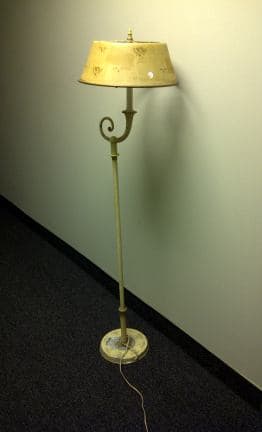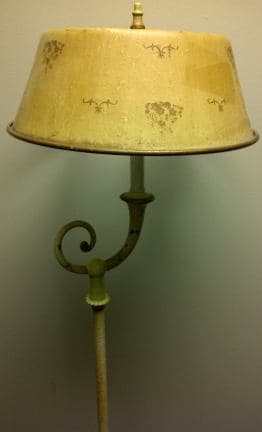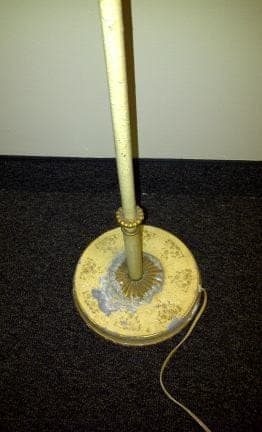 I love it, and would like to know the best way to restore it. I know I need to remove that heavy old paint from both the pewter and iron portions, but I am not sure how to proceed. I don't want to damage the lamp--it actually worked when I bought it! Sweet old thing. I hope you have some suggestions for this lamp, the previous owner rewired it (circa 1940s) and painted it. They must have cared for it as much as I do. After I restore its physical beauty, I will rewire it and have a great old reading lamp for my office.

Many thanks!

Brenda Smith
student - St. Louis, Missouri, United States
---
July 13, 2011
A. Hi, Brenda.
I wouldn't go with a store-bought "environmental" stripper because of possible attack on the pewter and brass. Try talking to a specialist like Miles Chemical first about using a safe stripper on pewter and brass. If they can't offer encouragement, you can go with aircraft stripper (based on toxic methylene chloride), which will remove most any paint without damage to metal, but it is terrible stuff that requires protective gloves [linked by editor to product info at Amazon], goggles [linked by editor to product info at Amazon], and good outdoor ventilation.
Regards,
Ted Mooney, P.E. RET
finishing.com
Pine Beach, New Jersey
---
July 20, 2011
Q. Thank you for your response regarding my old cast iron and pewter beauty. After I strip the paint, should I leave the surface bare metal (sounds cool to me) or repaint it? I like the idea of a bare metal lamp, but aren't lamps of this era usually polychromed in hideous colors? Will my lamp be inauthentic if I leave it bare? Thanks again!
Brenda Smith
[returning]
- St. Louis, Missouri, United States
---
July 20, 2011
A. Hi, Brenda.
Myself and most of this site's readers are industrial metal finishers, not artists, historians, or antiques experts. While a qualified reader may eventually stumble upon your inquiry, sorry, but I can't answer the question of what were the popular finishes when your lamp was new. I am pretty confident that the basic paint scheme on the base was there from the beginning, regardless of whether the previous owner re-painted it. So I believe that the lamp always looked rather like it looks today (except obviously cleaner and fresher). The base will not look good unless carefully repainted. I was born in the middle of the forties and, although I'm getting old, they were certainly not making anything like this in the forties or fifties. Despite zero expertise in antiques, I'd date it to the tens or twenties.
Regards,
Ted Mooney, P.E. RET
finishing.com
Pine Beach, New Jersey
---
---
Preparing a Pewter Surface to be Oil Painted
October 7, 2016
Q. I am going to be painting portraits with oil paint on pewter, and am trying to figure out how to prepare the surface. The pewter I am using is 98% tin, 0.5% copper, and 1.5% bismuth. It seems like the best method is to coat it with a self-etching primer after sanding, but I'm not sure which to use that is a good surface for oil paint to stick to. I'm also not sure whether I should use an oil based primer or a water based primer with this, and if there's anything that should go between the primer and the oil paint (though I guess this depends on the brand).
Madalena Noyes
Artist - Astoria, New York, USA
---
February 5, 2017
A. Madalena,
In most cases high quality name brand metal primers with oil or water base will work fine with an oil top coat but for your material oil based primer might be better. Nothing needed between primer and top coats.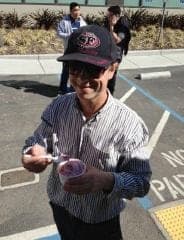 Blake Kneedler
Feather Hollow Eng.
Stockton, California


This public forum has 60,000 threads. If you have a question in mind which seems off topic to this thread, you might prefer to Search the Site