60,000 Q&A topics -- Education, Aloha, & Fun
topic 57240
Blackening of ADC-12 Aluminum in Humidity Testing
June 1, 2011
Q. We encounter the Aluminium Alloy (ADC12) becoming dark grey/black in color after subjected for humidity test (90 °C, 90% RH). However, we are unable to find any high C% using SEM/EDX to indicate as organic contamination. Not sure if anyone can help to advise what is the basic principal/mechanism that will turn Al into dark grey/black color at a high temperature and high humidity environment?
Camelia Koh
Material Engineer - Malaysia
---
June 1, 2011
? Come back and give us a USA 4-digit alloy number, or tell us the percentage ingredients of ADC 12.

Robert H Probert
Robert H Probert Technical Services

Garner, North Carolina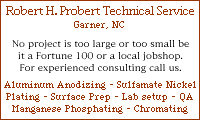 ---
June 3, 2011
Q. Thank you for responding. ADC12 is a die casting grade Aluminium which is similar to LM2, or ASTM 383. Major alloy composition will be: Si 9-11.5%, Cu 0.7-2.5%, Fe 1%, Zn 2%, Mg 0.3%.
Any inputs about the blackening effect is pretty much appreciated.
Camelia Koh
[returning]
- Malaysia
---
---
October 29, 2020
Q. Hi, We are also experiencing a dark grey to black shading on aluminium ADC-12 after leaving it in a humid, alkaline environment for more than 10 minutes. Our process involves washing these cast aluminium components with an alkaline degreasing agent in a pressure washing machine at 60 °C. Is there any way to clean/remove the blackening?
Shruti Gosavi
- Pune India