topic 57163
Galvanizing surface defect (look like black spot)
A discussion started in 2001 & continuing through 2017
May 16, 2011
Q. We have a modern hot dip galvanizing plant.
For some days we've observed a defect in particular section.
Defect: unidentified material patches (pink colour) observed on surface only after pickling, & found that no acidic reaction done on particular patch (HCl Tank Strength 18%), after galvanising it look like black spot.
Some cases the patch over surface which can remove by fine grinding. But most of time it penetrated on surface which difficult to remove by grind & which created dip mark.
(Before fabrication it is not observed)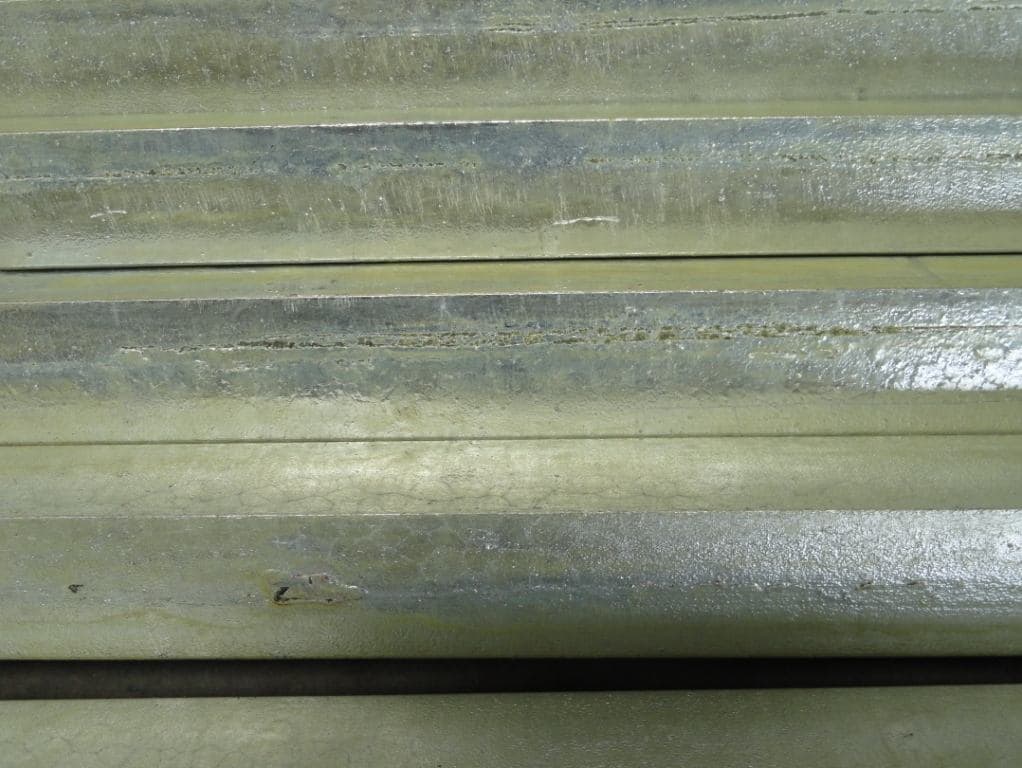 Nitin Sontakke
employee - India
---
May 19, 2011
A. Dear Nitin,
The problem you're facing is common in Hot rolled material like angles & channels.
Sometimes while rolling, some undercuts and laminations are developed in the material, which gets filled with thick Mill scale.These mill scales are found very hard to remove in pickling.
All I can say that there is nothing wrong with your process, the defect is in your steel.
I would suggest you consult your material supplier.

Regards.
Samrat Chanda
towers - Jeddah, Saudi Arabia
---
May 19, 2011

A. I agree, this looks like either slag inclusions in hot rolling, or laminations in rolling.
Not a galvanizing fault, a steel rolling fault.

Geoff Crowley


galvanizing & powder coating shop
Glasgow, Scotland



---

May 19, 2011

A. Sir:

On the one hand, Samrat may be correct.
On the other hand, a stronger flux and altering the zinc chemistry may well prevent these black spots (bare areas).
Since only last summer I have learned to overcome some problems like these by altering the zinc chemistry. Although I have learned much in the last 40 years about galvanizing, since last summer I have at least doubled what I previously have learned.

Regards,

Dr. Thomas H. Cook




Galvanizing Consultant - Hot Springs, South Dakota




---
---
December 24, 2013
Q. Hi friends,
We have problems about bare spots on galvanised surface of our products in continuous galv line. Dew point of furnace is about -36 but we have some problems with radiant tube (ss 310) some of them have leakage on weld lines. Is it possible this is the reason for bare spot? Also we change the Al % in zinc bath. and reduce from 0.3% to 0.2% but quality not more change. Does chromating process have any effect?
Please guide me.
Mohammad Reza Ourang
- Tehran, Iran
---
December 30, 2013
A. Dear Mr. Mohammad Reza Ourang,
The dew point and Aluminum are not the cause of uncoated spots. It is possible for leaking radiant tubes to cause uncoated spots. The combustion mix in the radiant tube should be lean (4% oxygen in the exhaust flue gas) and this will oxidize the strip in the radiant tube section. An easy way to confirm this is to manually shut down the burners of the leaking tubes by shutting off both the air and gas valves. If the uncoated spots disappear, then the leaking radiant tubes are the culprit. Please remember that there are a lot more possible causes for such defects.

Happy New Year

Voo
Yk Voo
- Shah Alam, Malaysia
---
---
Dust-like stain on galvanized steel
August 23, 2017
Q. Sir,
We are galvanizing plant of lighting poles in Thailand. Currently, our problem is that the poles developed a dust like stain about 3-4 days after galvanizing. The stain can be cleaned but will start coming back after a while. Our supplier suggests this is an acid corrosion, but since we never had this problem before, we believe it could be related to we started adding Zn-Ni alloy into Zn bath or changing passivation chemical from chromic acid to dichromate.

Here is Zn bath analysis (%wt):
Pb 0.9542
Cd <0.0001
Fe 0.0212
Cu 0.0062
Al <0.0001
Sn 0.0004
Ni 0.0335

We currently not sure what the problem is or how to solve the problem.
Immediately after galvanizing: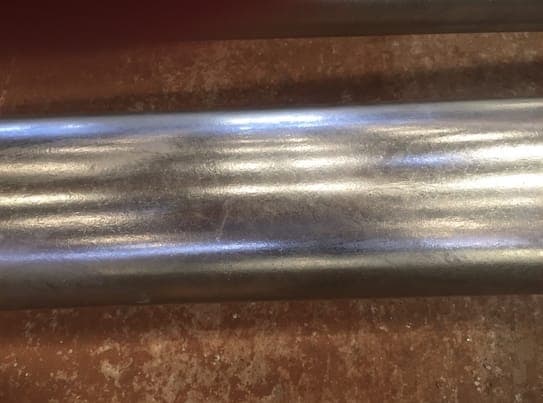 After 3 or 4 days: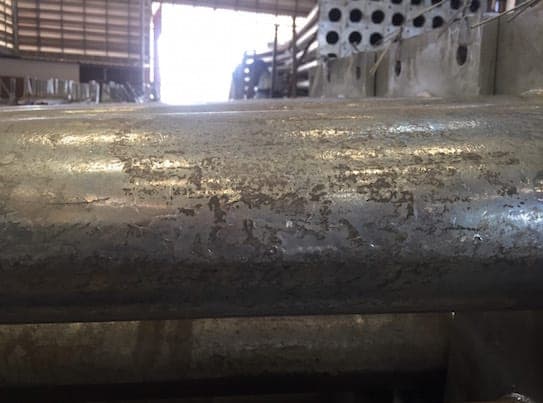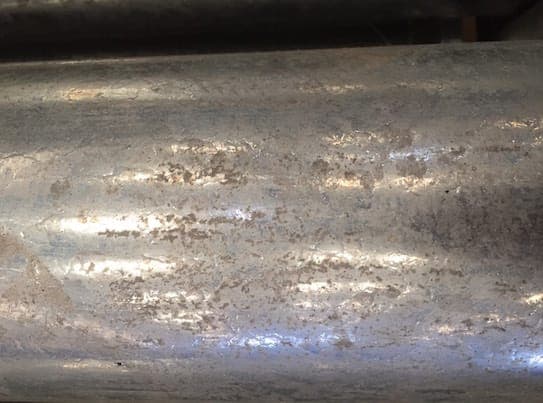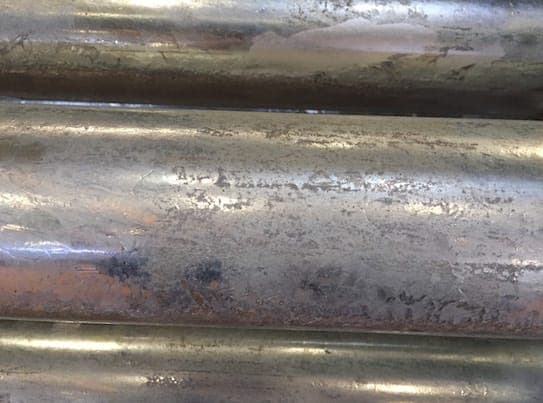 Any suggestion would be appreciated.
Nattapong Suksudprasert
- Bangkok, Thailand
---
August 26, 2017
A. This looks like "White rust", and your mention of the change in passivation sounds like the likely cause.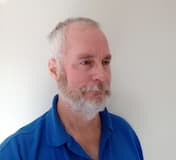 Geoff Crowley
galvanizing & powder coating shop
Glasgow, Scotland


This public forum has 60,000 threads. If you have a question in mind which seems off topic to this thread, you might prefer to Search the Site