60,000 Q&A topics -- Education, Aloha, & Fun
topic 5729
Etching copper designs & circuit boards
A discussion started in 1996 but continuing through 2020
1996
Q. I am a printmaker/artist living in Northern Alberta, Canada and have some questions about etching copper that you may be able to help me with.
I use Riston photopolymer film laminated on to roofing copper plates which are exposed to my art work or photographic halftone and then subsequently etched in ferric chloride. After the plate is etched it is cleaned and printed as an etching.
I had heard of the Peroxy-sulfuric method of etching. This system sounds great but can you give me a formula by which I could mix the constituent parts of this solution. i.e., hydrogen peroxide, sulfuric acid, copper sulfate and organic stabilizers. What are organic stabilizers? Can you give me an indication if this is something that I could purchase easily. For instance I know that I can buy the copper sulfate at the local Pivy Mart Store as this is what is used to purify dug-outs. I am really interested in availability and possible substitute products.
Also what is Ammoniacal etching of copper? Does this mean I can purchase some industrial strength ammonia and use it as a mordant or copper etching solution?
What alternative exist for me if I want to etch into a copper plate?
Yours sincerely,
Keith Howard
---
A. I no longer have access to the reference, but look for an older book (say, 1970) on the manufacture of printed circuit boards, they might have a simple way to prepare and use sulfuric-peroxide and ammoniacal etchants. Proprietary chemicals, such as the organic stabilizers, are sold by chemical companies in the directories of these pages.
I found this in the 1941 Chemical Formulary:
Etching of Copper and Brass
Usually dilute nitric acid solutions are used but for bulk etching, the following solution is recommended:
Water - 50 oz.
Sulfuric acid - 30 oz.
Potassium Chloride - 5 oz.
Concentrated Nitric Acid - 15 oz.
I think you would be better off buying a proprietary formula from a supplier if you use a drum or so every month. They would be able to work up some costs for you if you called them. Look in our directories for phone numbers.
Purify "dug outs"? You mean like a dugout where baseball players sit?
Dug out canoes?
I would love to know.
Look in our (voluminous) resources for book lists where you can buy the latest and greatest.
If you were contemplating medium to high production, you could probably buy a few sections of a previously owned printed circuit board etching machine, and adapt it for your plates. It is only a pump distributing etchant to spray nozzles in a covered area over a sump, with a conveyor of little rubber wheels on a chain. You may already be doing this, but you could control the etching depth by making the speed of the conveyor fast enough so you need a few passes to finish the job. This would be a lot easier than dipping plates into tanks, if that is what you do. Of course, automating something takes all the fun out of it:-}
I don't know how this would change how you control pollution, but you can regenerate the ammonia and sulfuric-peroxide etches; I think you get copper sulfate crystals back.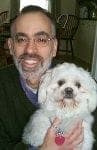 Tom Pullizzi
Falls Township, Pennsylvania
---
---
2000
Q. I am in the middle of setting up a small 'ammonical' copper etching tank. My main problem is finding detailed information on the bath composition and operating parameters for the ammonical etching.
Information I gathered from online articles in www.pcbfab.com/ineretch.html and the article by Rudy Sedlak www.finishing.com/library/sedlak/rscuetch.html is about the best I can find. I have not found any books on printed circuit manufacture that go into necessary detail either. And as far as I know ammoniacal etching of copper is not used in any industrial process other than in PCB manufacture. Because this is a specialized process I suspect any technical information on ammoniacal etching is specific or proprietary to the suppliers of the etchant or etching equipment.
Would this be correct, and the only way I can find such data would be to visit the suppliers or do my own pain-staking experiments ?
Adam Seychell
- Australia
---
2000
A. Adam,
Operating parameters are: 140-155 g/l Copper 180-190 g/l Chlorides, hence, you mix ammonia chloride with water. This is an endotherm reaction, which means that it needs heat to mix. I think that the mixture of ammonia chloride solution (170-175 g/l chlorides) in conjunction with a pH adjustment (ammonia) to about 9, (temp 50 °C) will be enough to start the etching reaction. This way you can dissolve copper to desired concentration.
Then lower the pH to 8.5 (by not adding more ammonia or vent) and start etching. And maintain the copper by adding the ammonia chloride solution. Its critical that the copper, pH and chlorides are in spec. Otherwise sludge occurs. I think this will work if you don't want to use propriety chemicals, which contains speed enhancers and such. regards Peter
Peter
[last name deleted for privacy by Editor]
- Sweden
---
May 2020

Thanks, Peter.

A. Adam, it's been decades since I've looked at it, but try to find Coombs' "Printed Circuits Handbook" in the library because, unless my memory is tricking me, it discusses all of the alternative etches for copper in depth.
Regards,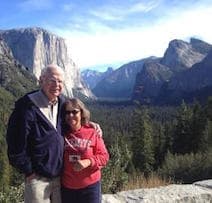 Ted Mooney, P.E. RET
finishing.com - Pine Beach, New Jersey
Aloha -- an idea worth spreading
---
---
Deep Etching of Copper Plate
2001
Q. I will be attempting to deep etch a copper plate to produce a deep relief image from a black & white photograph.
Do you know of a text that address' this subject?
If not, do you have any insight that might be helpful?
Thank you.
Jaye Waas
- Burbank, California, U.S.A
---
2001
A. This process is called photo engraving and has some similarity to printed circuit board manufacture. Positive photoresist is available in an aerosol from various electronics supplies. I would suspect a lot of trial and error would be needed in the design of the etching tank in order to get uniform and deep etching of the plate. If you can afford very slow erosion then an electrowinning cell may be preferred over an oxidizing solution. That way the solution can be reused for the next photoengraved plate you wish to make.
Adam Seychell
- Australia
---
---
Lab scale for Solution etch rate
2005
Q. How many decimal places are required in a laboratory balance to successfully perform a solution etch rate.
Fred Scurry
seals - Wheeling Illinois USA
---
2005
A. The answer depends upon exactly what and how you are trying to measure. For example, I've frequently needed to measure the rate of sodium persulfate to etch the copper on circuit board laminate. I wanted about 50 millionths of surface removal, and used 3"x3" coupons. For this purpose I needed to weigh on an analytical balance which measured to 0.0001g. The point here is that you need an instrument which can determine the weight difference of the sample accurately enough for your purposes.

James Totter, CEF
- Tallahassee, Florida
---
2005
A. Another thing to consider is your customer requirements. For example, if you are an aerospace subcontractor(and I believe you are, among other customers, you may be doing your test to a Boeing "BAC" test procedure that may define the precision requirements. If your customers' specification reference an ASTM procedure, you need to review that. Nadcap requirements are more generic; you need to review the limits of your etch rate and order of magnitude...are the etch rate limits ± 0.1 inch/hour or 0.0001 inch/hour? You then fall back with standard calibration requirements....with the complication that you are converting weight loss to a linear dimension. Boils down to algebra.
Douglas A. Hahn
aerospace - Rocky Mount, North Carolina
---
---
April 27, 2020
Q. Hi, I did an experiment trying to find something easier to handle for etching printed circuit boards (copper on fiberglass), I noticed that by mixing bleach and vinegar in a closed container while the pcb submerged; that after 24-48 hours the copper completely dissolved and a blueish liquid is inside the container which after leaving it to evaporate turned to some blue crystal stuck with a smaller white crystal. Can you explain the reaction that happened here? I assume that chlorine gas emerged and started a redox for the copper.
thanks in advance
jack smith
- amman, jordan
---
May 2020
A. Hi Jack.
(Hopefully you realize how dangerous it is to mix bleach with an acid, even a weak one like vinegar, because of the evolution of chlorine gas).
If you mix any acid (vinegar in this case) with any oxidizing agent (bleach in this case), I think you'll get the capacity to dissolve copper, which is what you did. The blue solution is due to copper ions in solution, the blue crystals are probably hydrated copper acetate.
Regards,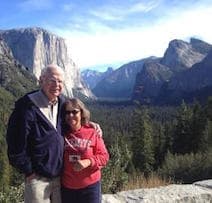 Ted Mooney, P.E. RET
finishing.com - Pine Beach, New Jersey
Aloha -- an idea worth spreading