topic 56879
Old Pistol Finishes: Chrome or Nickel, Original Plating or Replated?
June 17, 2013
Q. Sir,

Is there an easy way to tell the difference between nickel-chrome, nickel and a hard chrome finish? I have read that an ammonia solution will damage nickel and possibly dissolve nickel leaving a greenish finish. I suspect the chrome finish will not be harmed by the ammonia but a nickel-chrome finish might be if any nickel surface is unplated by the chrome.

I have a WWII pistol that seems to have two layers of a finish and in some areas the plate or nickel is peeling. I've always been curious which plating I have and if it is original. With your excellent explanation I wonder if I might also have a chrome plate over an original nickel plated pistol.

Dan
Dan Potter
- Fullerton, California, USA
---
February 2014
A. Hi Dan. It's probably not possible to tell if the item was replated vs. the plating having been laminar from the beginning, except from the assumption that an OEM pistol probably did not have defective plating, and that getting good adhesion onto an earlier layer of nickel plating is difficult. So odds are the plating is not original.
If the surface is porous, which it probably is on a WWII pistol by now, the ammonia will probably damage it regardless of what plating is on it. Decorative chrome plating is so thin -- millionths of an inch -- that you would probably not perceive it as peeling. If you are seeing peeling, it is probably nickel plating that is peeling.
Regards,
Ted Mooney, P.E.
finishing.com
Pine Beach, New Jersey
---
---
March 5, 2011
Q. I recently purchased a Colt pistol that was manufactured in 1908. The seller said it was nickel finish (and that it was probably refinished over the past 100 years). I took it to the local smith to have it given the once over and during their quick inspection they commented that it was a chrome finish. Under different lights it has either the blue or yellow sheen...I am not sure who to believe and how to confirm.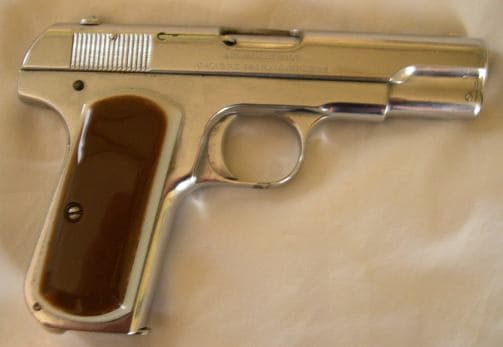 Steve Ziga
Collector - Fountainville, Pennsylvania, USA
---
March 9, 2011
A. Well that gun originally came out in 3 finishes. Blue civilian, nickel civilian and parkerized USA army. Obviously as was customary in the day almost anything was available from the custom shop and as the Colt Model 1903 Pocket Hammerless Pistol was popular with gangsters, cops and everyone in between it probably has been offered in every configuration imaginable. Originally it was offered in nickel though and I would be willing to bet it is still nickel. The hammer pin bothers me as it should be plated or at least worn silver. The grips bother me in that the shape is incorrect for that model. Some will say that the rampant colt is missing but it was often dropped on custom shop guns. I would say the grips are probably non-Colt and that the gun is a regular production model.

Rod Henrickson
gunsmith
Edmonton, Alberta, Canada
---
March 14, 2011
A. It looks like nickel to me. Probably less than 100 year old nickel. Can't say that for sure. If you want to make sure that it is not chrome then get something that you know for sure is chrome plated and place it beside your gun and look for a difference. The chrome will be a bright white blue color, the nickel will be not quite as bright and have a yellow hue to it.
Frank DeGuire
- St. Louis, Missouri, USA
---
---
May 11, 2017
Q. I'd like to find out if a pistol was plated before or after acceptance/serial numbers were stamped into the metal. Is there any way to tell? Would a plating job cover up or blur stamped numbers/marks? I've got a CZ-27, handed down from my Dad (WW2 vet) chrome/nickel plated, and would like to find out of this particular pistol was a factory plated special presentation piece, or plated afterwards. Original finishes on these pistols is usually phosphate. Need photos, let me know. Thanks!
Norman Peterson
- Reedsport Oregon USA


This public forum has 60,000 threads. If you have a question in mind which seems off topic to this thread, you might prefer to Search the Site