Where the world gathers for
plating, anodizing, & finishing Q&As since 1989
-----
Spotting, Staining, Blackening of Hot Dip Galvanized Finish

Q. There are yellow scale on the surface of the hot dip galvanized surface. Do you know what are this scales and how they can be removed or avoided?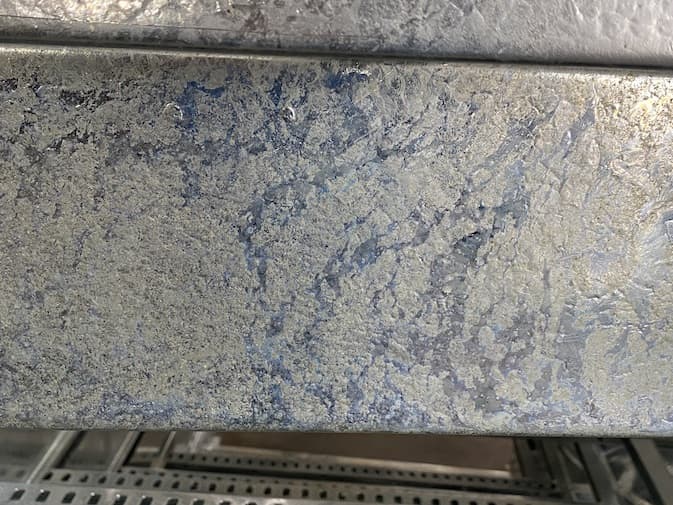 Nesh Nesh
- Wichita, Kansas
March 30, 2023

Ed. note: Since 1989 we've strived to build a legacy of aloha & camaraderie incompatible with anonymity; everyone is welcome to read anonymously, but is asked to use their real name & town when posting :-)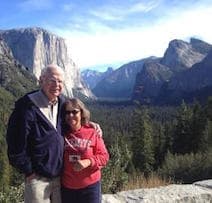 Ted Mooney
, P.E. RET
Striving to live Aloha
finishing.com - Pine Beach, New Jersey
---
---
↓ Closely related postings, oldest first ↓
---
---
Q. Hello, my name is Charles Stewart. I am a QC Inspector for a trailer mfgr. in Lebanon, Mo. The business offers powder coat and galvanized coating. Recently the galvanized finish has had dark spots that look like rain drops. Our customers do not like this. The spots are tough to remove.Scotts Brite Pads and water leave small scratches in the finish. It also speeds up the oxidation process. I tried using a weak solution of water and Clorox and then wiping dry. This turns the galvanizing black over a period of days. My question is four part:
1 Other than debris or carbon, what is causing the spots in the finish?
2 By using the Clorox (stopped when trailer turned black, about a week). Have I opened pores in the finish?
3 If so will they close?
4 If the problem cannot be resolved at the galvanizing plant, is there a product that will remove the black spots without damaging the finish?
Any suggestions would be greatly appreciated and thank you for your time.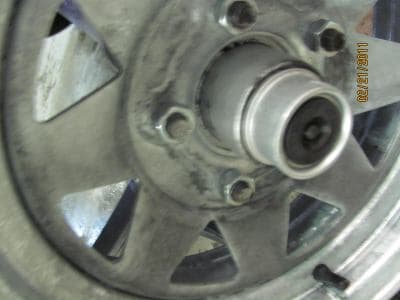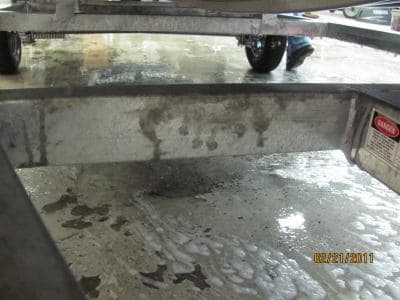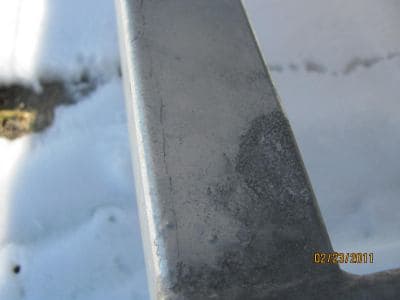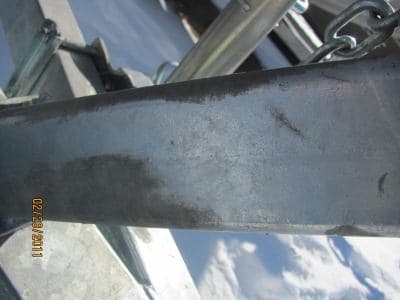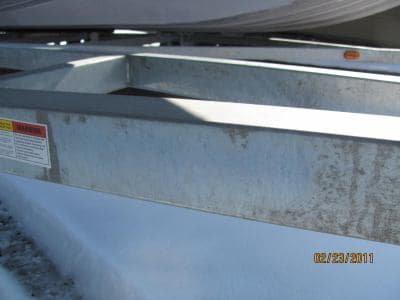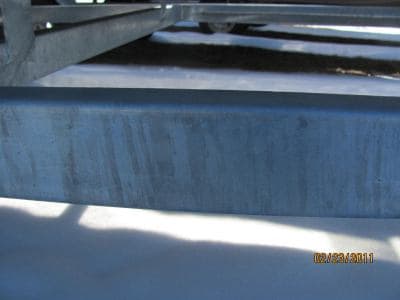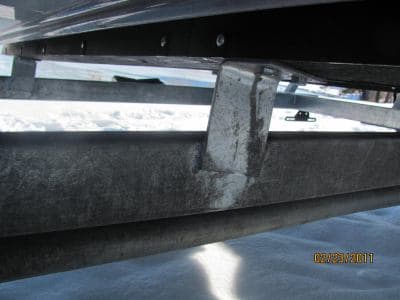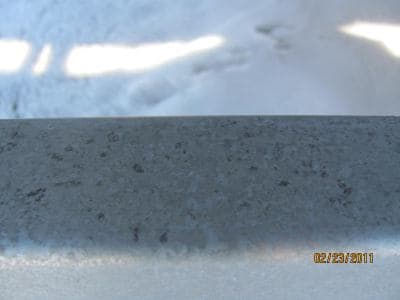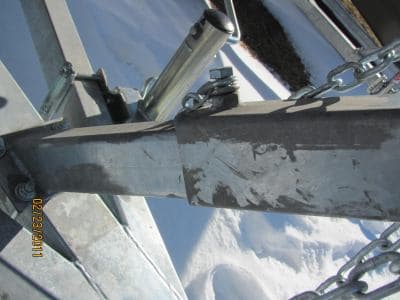 Charles Stewart
employee - Lebanon, Missouri USA
March 1, 2011
---
---
Q. Dear sirs,

I'm working in a company that galvanizes steels for power transmission towers. We're having a constant defect in our galvanized steel. It looks like black spots, but I believe it's something different and I don't know what it is.

We use these steps:
Acid degrease (10%-12%)
Chloridric acid (16% initial)
A tank for water rinse
Flux (29 °Bé)
Zinc (Zn 99,8%, Al <0,005%, Cu 0,12% I don't know why we have this much copper)

I really need some help because we're having this problem in all the big pieces.

Regards,
Daniel Athayde
Chemical Engineer - Belo Horizonte, Brazil
May 14, 2013
---
Here are photographs: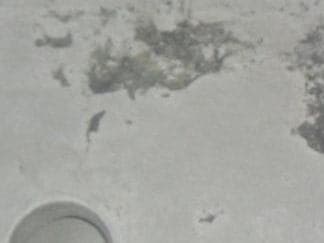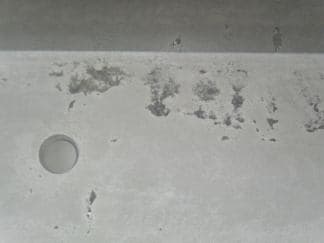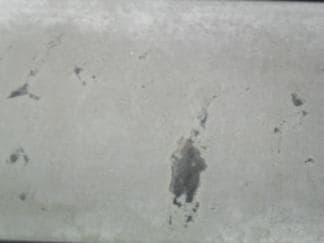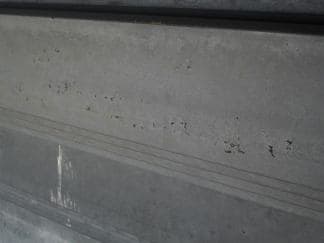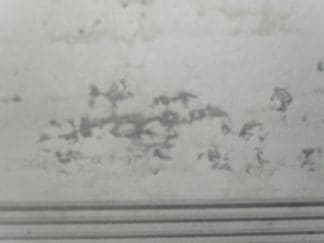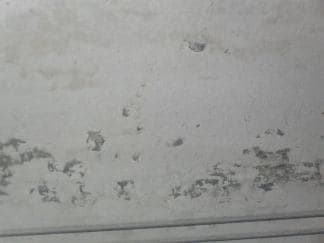 Thanks,
Daniel Athayde
[returning]
- Belo Horizonte, Brazil
May 21, 2013
---
Q. Dear Geoff,

For this particular kind of piece, the zinc thickness needs to be over 100 µm (microns). In those black spots, the zinc thickness is about 30 µm and, after brushing with a wire brush, we could see the steel.

We found out that the inhibitor we were using may present a problem to the process because we needed to spend more time in the pickling solution. We stopped using the inhibitor and the black spots appeared less but it's still a constant problem in our line. We're facing about 1% of rework everyday because of this problem!

I hope you can help me with your advice.

Thanks!
Daniel Athayde
[returning]
- Belo Horizonte, Brazil
May 28, 2013
---
Q. Dear Geoff and David,

We solved the problem. It was the inhibitor that caused the problem, because the pickling rate was too slow. Only by stop using the inhibitor this kind of problem stopped.

My goal now is to make a research of the best inhibitor concentration in a way that we don't compromise the process and still maintain the inhibitor advantages.

One question about pickling time. I set up an experiment where I measured the speed of the reaction between the steel and the acid, but I don't believe the reaction speed is the same of the reaction between the acid and the rust!

So, is there a way to measure the reaction rate between the acid and the rust or, in other words, the speed that the acid clean the surface of the steel? Or the only way is visually?

Thanks for your help!
Daniel Athayde
[returning]
- Belo Horizonte, Brazil
July 8, 2013
---
---
Q. Hi,

We hot dip galvanise our own steel products and whenever we use 'weathering steel', we always see issues with black spot. We have tried variations in the time that the steel spends in the cleaner and pickling tanks, but this has not solved the problem. Our mild steel products process through the same galvanizing tanks without issue. It is just the weathering steel that gives us this problem.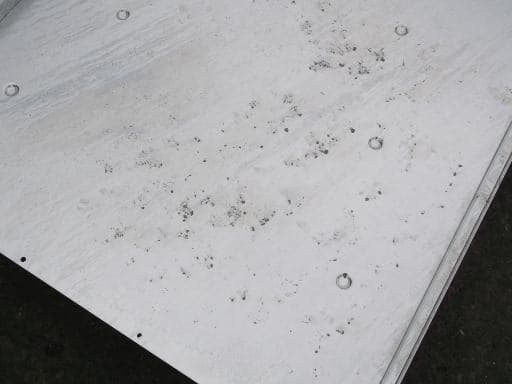 Has anyone any theories in this?
Phil Rudland
- Scarborough, North Yorkshire, UK
Q. Hi Geoff, thanks for your comments. Yes we call it Corten steel. What do you mean by 'Light sweep blasting'? I've not come across this term before?
Thanks

Phil Rudland

[returning]




- Scarborough, UK




July 17, 2013






A. Sirs:

The original name for weathering steel was cor-ten. I just finished galvanizing (using SHG zinc at 835F and withdrawal speed of 3 feet/minute)a sample of cor-ten with the results:

three minutes: 4.86 mils (123 microns)
six minutes: 7.95 mils (202 microns)
nine minutes: 10.43 mils (265 microns)

The zinc coatings were very smooth and without problems.
I do not like to galvanize cor-ten because I believe that some copper gets into the zinc in this way. Also some secondary brightener bar is contaminated with copper. I do not like to see copper above 0.05% in the kettle zinc.

Regards,

Dr. Thomas H. Cook

Galvanizing Consultant - Hot Springs, South Dakota, USA
---
---
Galvanised Poles with Black Patches
Q. We recently received lighting poles where we expected a good galvanised finished look to the poles similar to poles purchased in the past. These poles appear to have a lot of black staining which stands out to the silvery finish. Is this as a result of contaminates like too much flux or what is it that we are experiencing?
Will this get worse with time or will the life of the pole be reduced?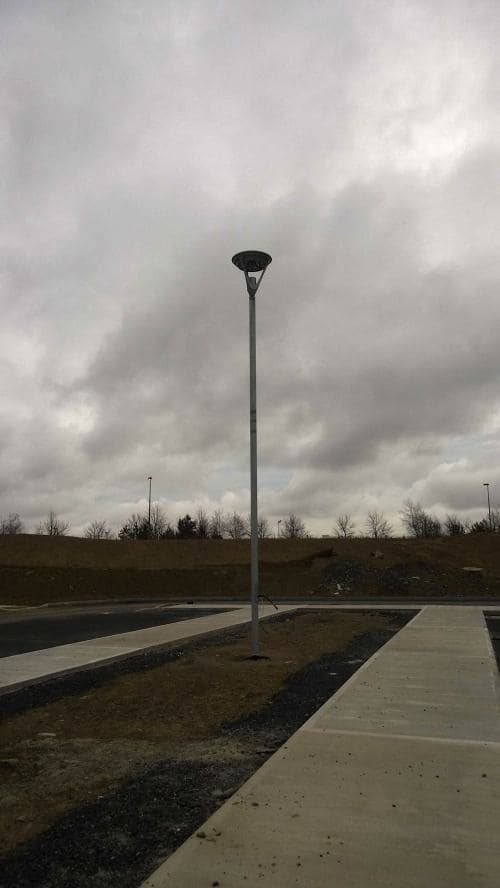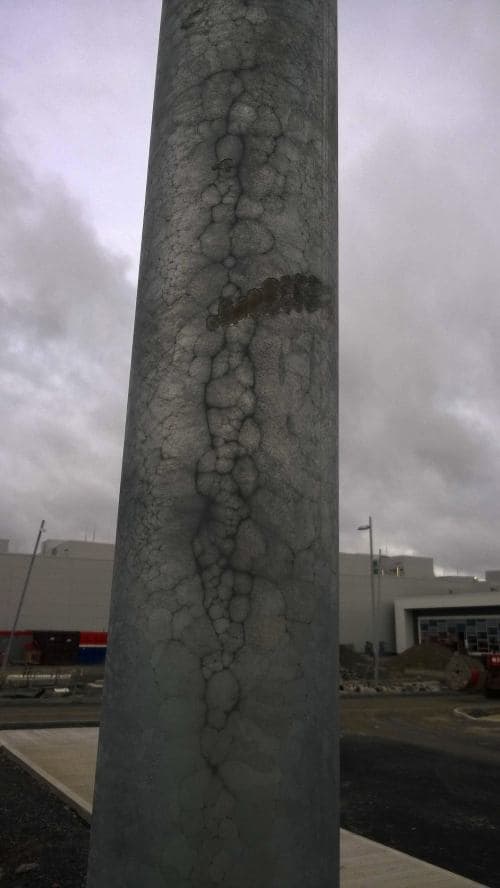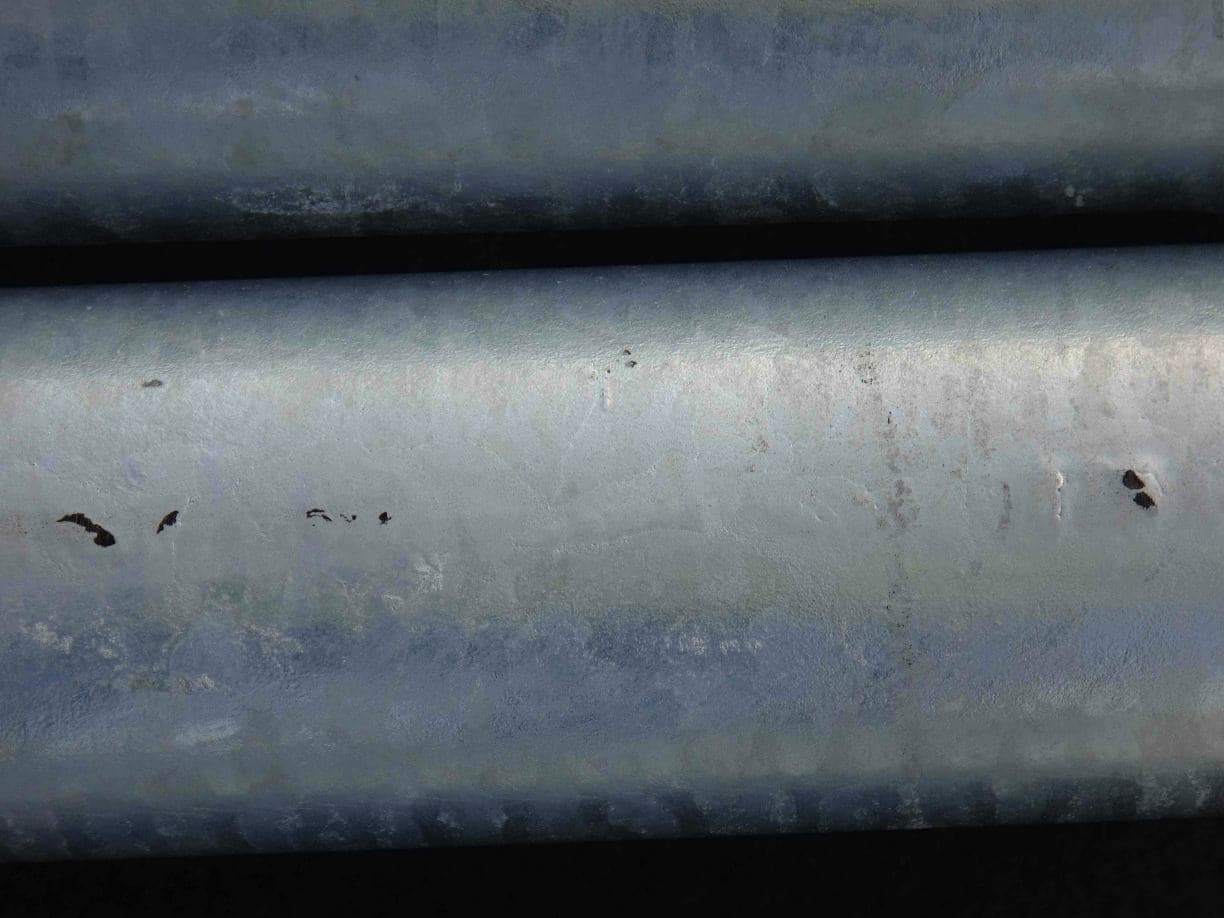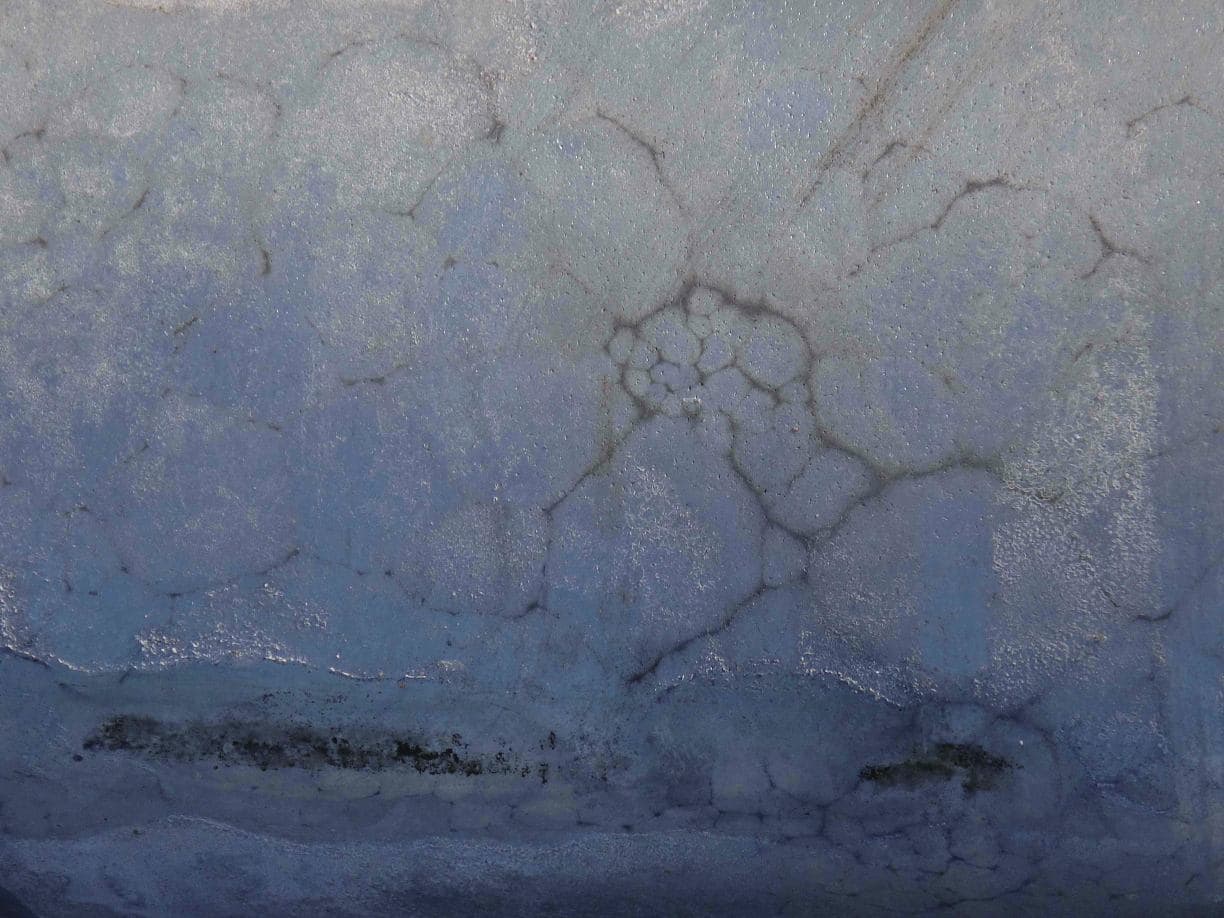 Ed Kelly
- Dublin, Ireland
March 23, 2015
---
---
Q. I want to ask you what is reason of blackening the galvanized sheets after some days of manufacturing. Or I can put it another way, what is the reason of premature darkening of the galvanized sheets. What is the remedy of that problem? Is it related with passivation (Chromic acid) or alloys like Lead, Sb & Al or some other reasons?
Kantilal Trivedi
- Baroda, Gujarat, India
January 2, 2016
---
---
Galvanizing rejected for poor appearance
Q. Client has rejected the grating due to poor appearance. Request you to please advise is it a valid rejection as per ASTM A123 [affil link]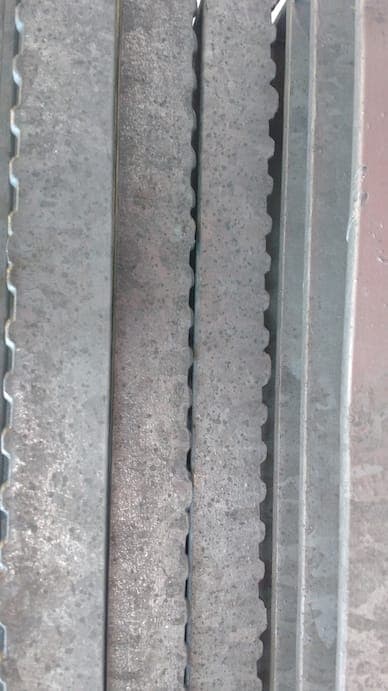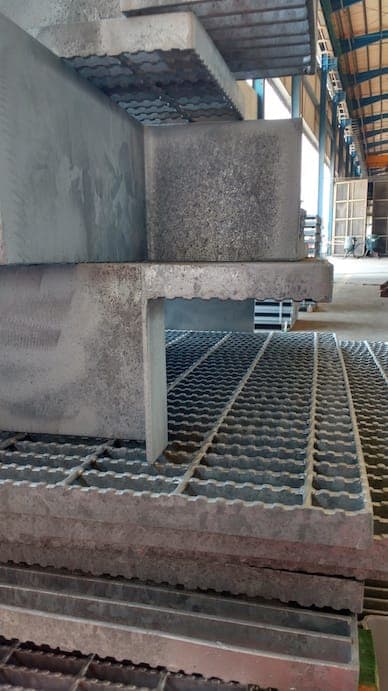 Dipu kOMALAN
METAL MANUFACTURING - Dubai UAE
June 27, 2017
---
---
Galvanize Discoloration
Q. what are the common causes of discoloration of a galvanized metal?
Please see my photo: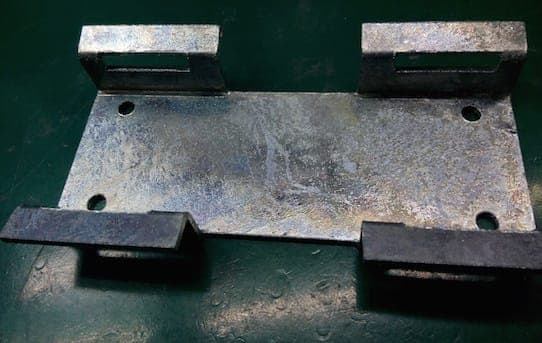 Bredix Duman
- Rosario, Cavite, Philippines
October 16, 2017
---
---
Q. We have some problem for the delivered poles with some spots on the shaft of the poles. We want to understand what is the reason for this problem and how this problem can be solved.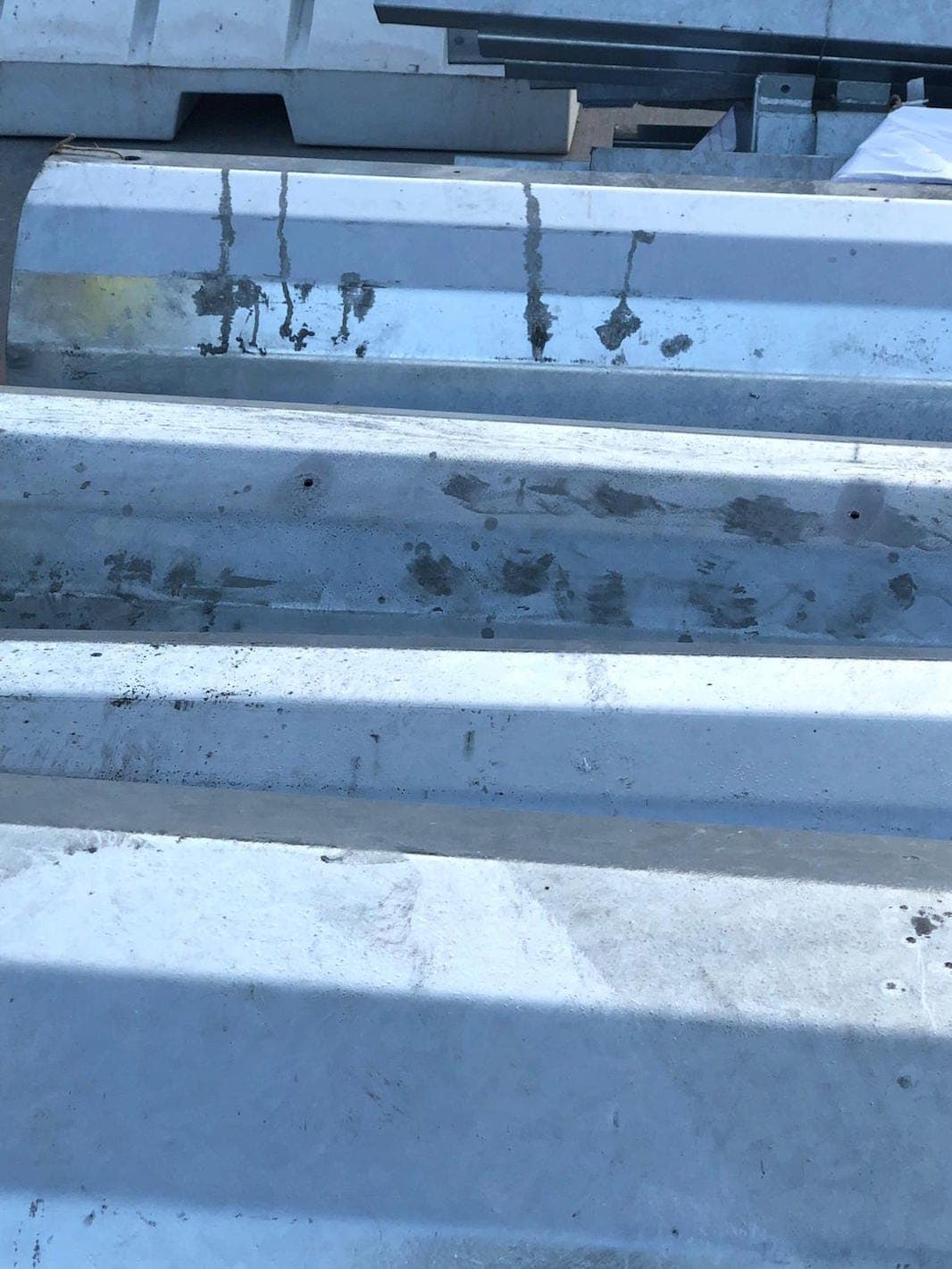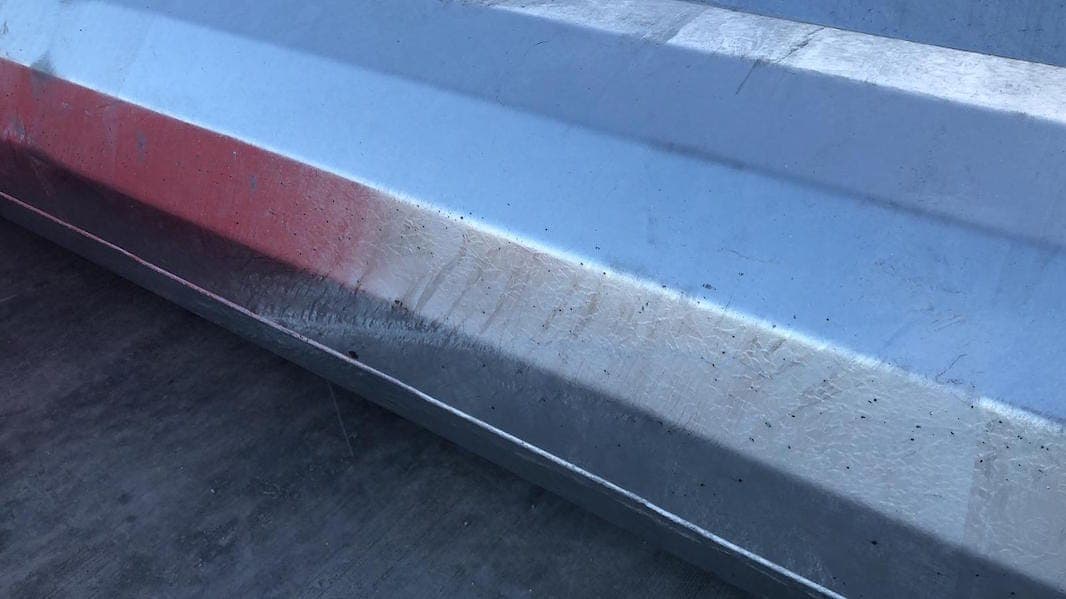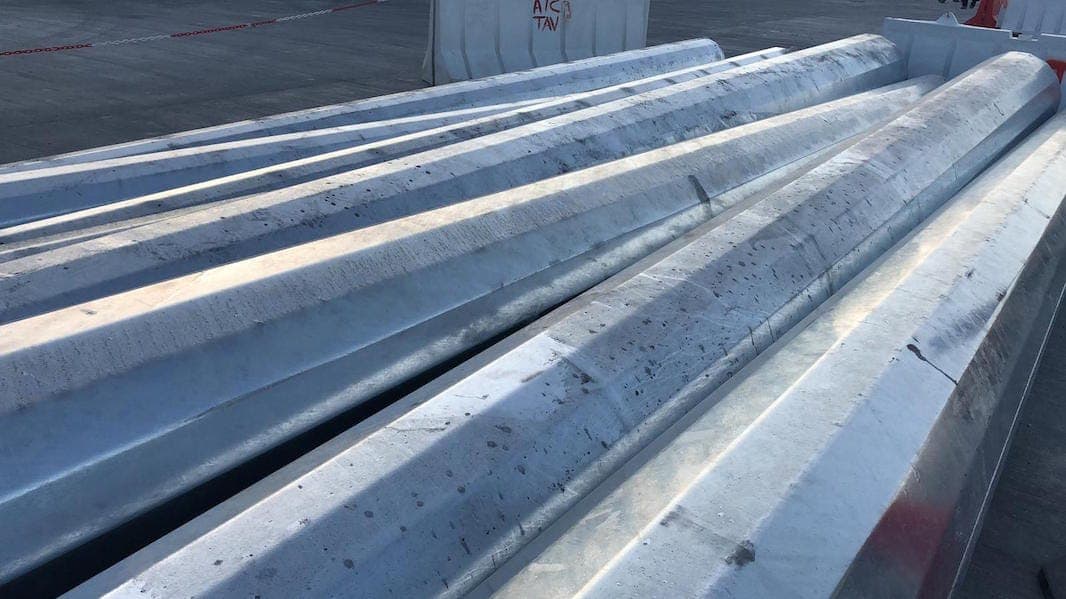 Sumit puri
- Delhi , India
November 4, 2018
---
---
Q. Please review these photos of steel expanded metal sheets. Panels were processed by hot dip galvanizing. The galvanizing has developed stains over time. We do know the panels were stored outside, uncovered and stacked on each other for approximately 6 months before install.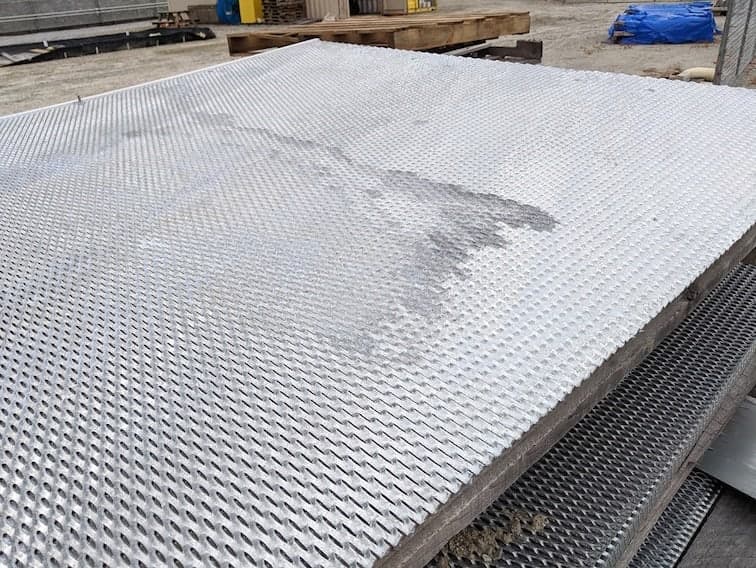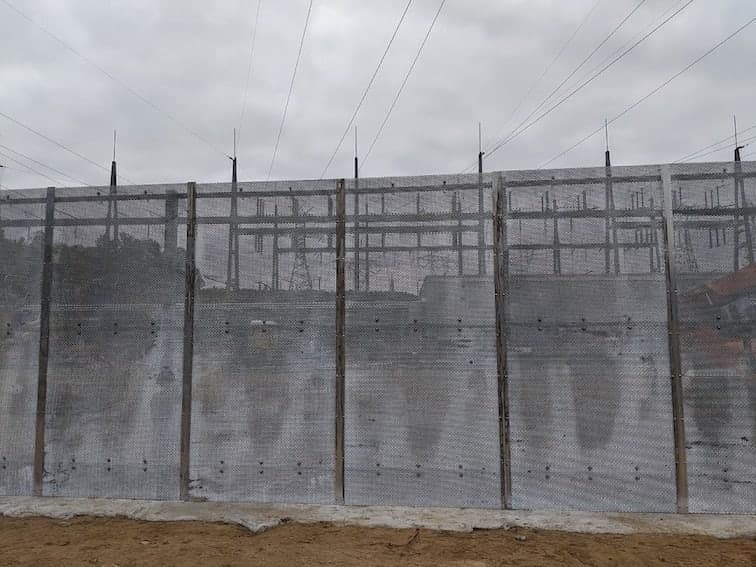 Supplier has indicated these are storage stains and stated stains should fade out as the corrosion layer matures. Can your confirm stains would in fact dissipate in time if storage stains? Is there a component that can be added to galv bath minimizing stains?
C Sayre
- Tulsa, Oklahoma USA
October 28, 2019
---
---
Q. Hi everyone.

We have been HDG etl items (angles, plates, class3 steel) for over 30 years.

We encountered some color differences/darker areas, and some cases yellow oxides, on the galvanized items Last year around July ... and after 2 weeks it disappeared. We thought our flux was bad and we reduced iron in the flux, and thought the problem solved.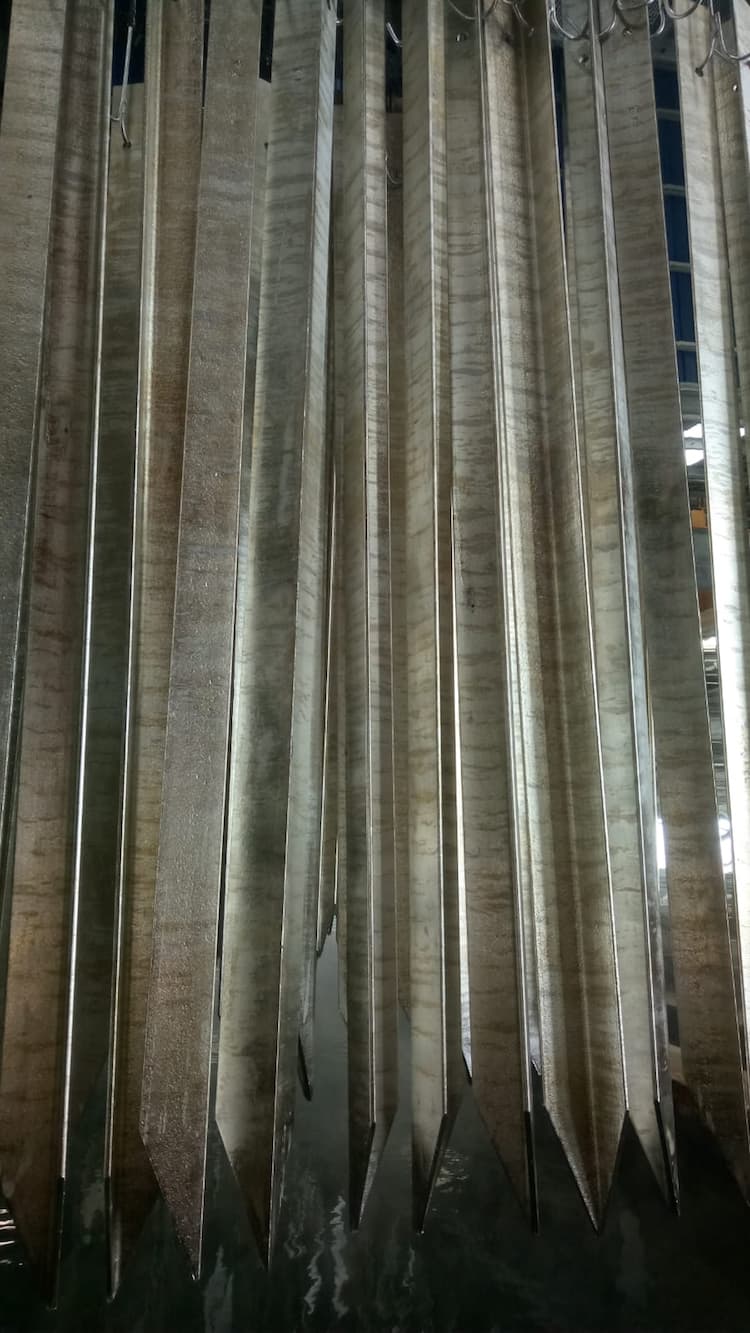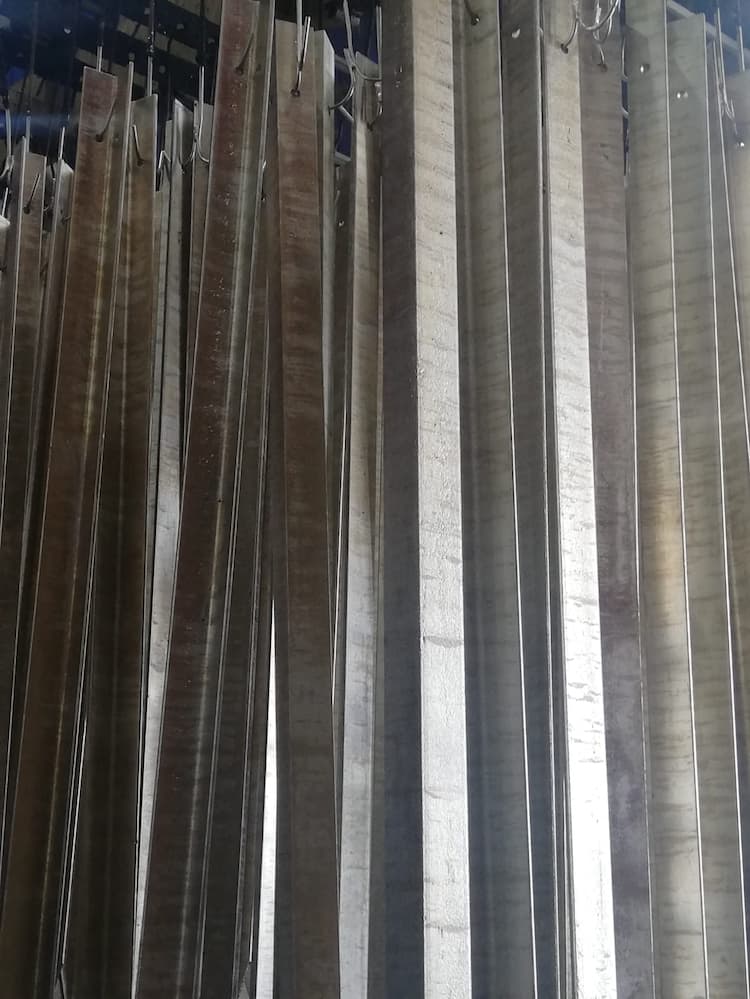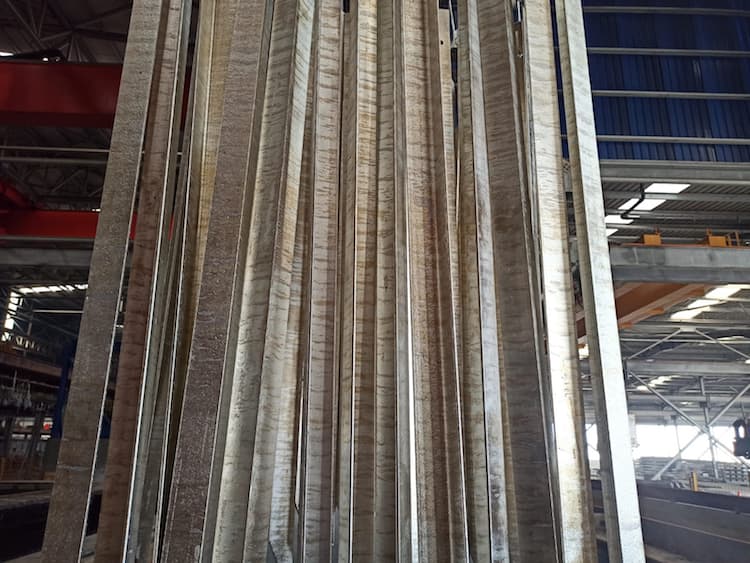 A month ago these visual problems started again, and below is what we have tried:

- reduced alloys like nickel and Al to 0.
- prepared new flux bath
- dipping without flux -- only acid cleaning (%33 HCl prepared 70/30)
- dipping without acid cleaning (sandlasted and skip acid cleaning to directly flux)
- cleaning kettle with pure N gas after drossing.
- we test 1 sample/25 tonnes zinc ingot. In this case we have melted 10 zinc ingots and taken a sample from it. It's okay, no impurities.
- went to university about that problem. They say it's not in the literature and don't know what would be the cause.

Our kettle has 98.9-99.1 zinc, 0.700 Pb, normally 450 ppm Ni and 60 ppm Al.
Flux has a 1.5gr/lt iron. Salt percentage controlled every month. Baumé 25-27 pH 4-4.5. Double salt.

All dippings have been done at 450 -5 °C.

None of these tries solves that problem of ours and we can't find the root cause.

Is there anyone on the forum who has encountered same problem? I'm waiting for your valuable comments.

P.S. These darker areas are getting bigger with vertically hung items, with horizontal hung items it's more homogenous.
Zengo Bag
- Sincan Turkey
October 14, 2021
---
---
Q. I am a QC in charge of an organisation.
We have a hot dip galvanizing plant of fasteners. After hot dip galvanizing we saw that there are black spots on all fasteners.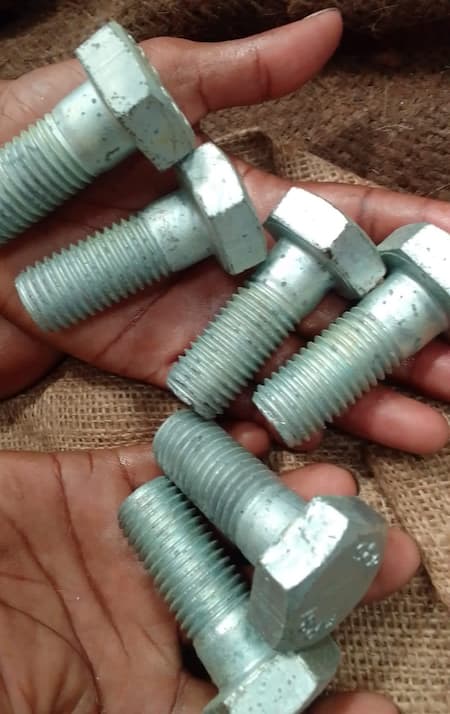 We can't understand the reason.
Materials are perfectly cleaned and pre-flux, and we are using dichromate solution afterwards.
Sumanta Adhikari
Employee - Howrah, India
July 16, 2022
---
---
Q. We are galvanizer of structural steel. In last few months, we are facing problem of staining spots in some pieces of batch galvanized. There is no ash contamination. These spots underneath zinc coating. But, it is critical to wash out by SS wire brushed. These are found in some areas of whole surface. These are not ash contamination marks. We feel it is leaching effect.

We analyzed the pre-flux (Triple salt) solution. The results are as per below.
1) Zinc Chloride = 15.16% (Complexometric titration)
2) Ammonium Chloride = 15.75% (Kjeldahl method)
3) Free Zinc = 7.27%
4) Acid content = 7.69% as HCl
5) pH = 4.36
6) NiCl2 = 0.17%
7) MgCl2 = 1.24%

Advice how can eliminate such black/gray stain marks.
Pravin Pawar
- Nagpur, Maharashtra, India
November 4, 2022
---
Q. Al % in the molten zinc bath is 0.0039. Generally, Al % is always observed between 0.0029 ~ 0.0040.
Those are not black spots. The zinc coating is available underneath the black stains. It needs big effort to rub by ss brush to make those fade. It is like suppressed because of heat in the material.
Pravin Pawar
[returning]
- Nagpur, Maharashtra, India
November 12, 2022