Education, Aloha, & Fun
A roundtable with 60,000 topics and a seat for you
topic 56797
Color changes on weld seam of pipes during hot dip galvanizing
A discussion started in 2011 and continuing through 2020 so far.
Adding your Q. / A. or Comment will restore it to our busy Current Topics page
February 21, 2011
Q. Hi,
We are faced with color changes on weld seam of hot dip galvanized ERW steel pipes DURING the STEAM BLOWING process (only outside surface). Pipe length is 6 meters. Coating thickness; 45-55 micron in the body of the pipe, 55-65 micron on the darkened weld seam. Can anyone help me to find the reasons of this problem?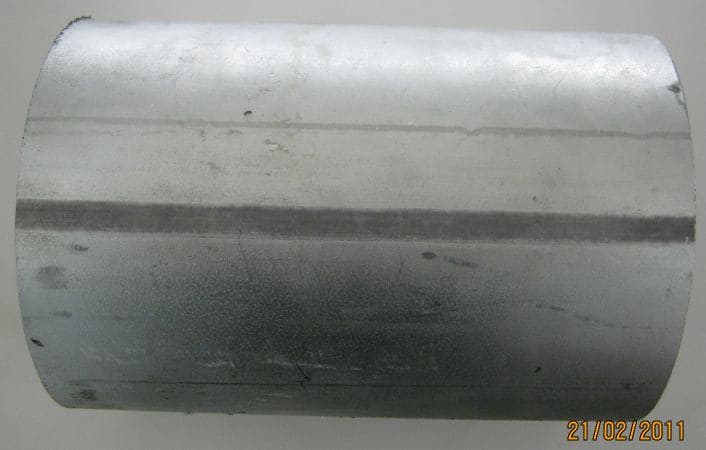 Regards,
Deniz Akin
Engineer - Istanbul, TURKEY
---
February 24, 2011

A. Sir,

The weld wire is a more reactive steel than the strip from which the pipe is formed.

Regards,

Dr. Thomas H. Cook




Galvanizing Consultant - Hot Springs, South Dakota, USA





---

February 24, 2011

A. The seam weld has had the swarf removed by a scraping process which re-profiles the steel, which in turn allows faster alloying reaction in galvanizing. This means the composition of the coating at that point is higher iron alloy than surrounding area which has purer zinc on the surface of the coating.

The corrosion protection of the coating is proportional to the thickness of the coating not to the colour.

Geoff Crowley




Crithwood Ltd.





Westfield, Scotland, UK





---
March 30, 2011
Q. Thank you for your reply Mr. Cook and Mr. Crowley.
Mr. Crowley, as you mentioned above, we do not use welding wire. We weld the edges together by high frequency resistance method. Then we remove the weld bead.

I removed the galvanize layer from the pipe surface by acid and couldn't see any rough surface profile where the weld bead removed.

I understand that from your answer, there is no free zinc layer on the top of the coating where the problem reveals. So it seems dark-grey colored. I want to examine the coating layers under the microscope. Normally I have an etchant for galvanize layers but this time it did not work on this sample. Do you suggest any etchant solution to see clearly the galvanize layers under the microscope?

Regards,

Deniz Akin
[returning]
- Istanbul, Turkey
---
---
July 22, 2011
Q. Deniz,
I wonder if you could let me know which etchant you were using for galvanize layers?
Indeed I need the solution!
Someone recommend 2% nital, do you think would it work?
Thanks in advance
Bekir Kilicaslan
- Hatay, Turkey
---
---
September 23, 2020
Galvanized pipe after hot dip is burned at the weld line.
Ta Van Thinh
- viet nam