Not a lecture hall but a roundtable with a seat for you!
60,000 topics spanning 36 years. Education, Aloha, & Fun
topic 56595
Excessive growth of foam in zinc plating bath (NH4Cl)
January 26, 2011
Q. Hello.
I need your help!
I Have a zinc plating process with (NH4Cl); all my concentration are in spec.
I have a problem with the finish of the metal because it is white (like a white cloud).
My passivation is with HNO3, but when I take out the piece from the bath I can observe the finish.
My tank has a lot of foam and I do not why?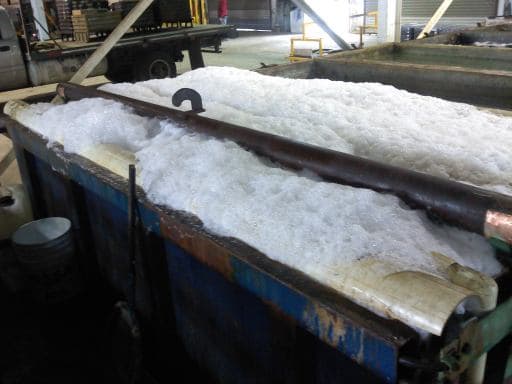 (photo added Feb. 10)
What can I do to fix it?
Aracely Rodriguez
Production manager - Mexico, Mty,N.L.
---
January 27, 2011
A. Hi,

The foam may be due to the surfactants & solubiliser used in carrier and brightener, you can ask the supplier to provide you with assistance by changing the additives to an non foaming brighteners, I guess you have a rack zinc plating with air agitation.
Regards

Praveen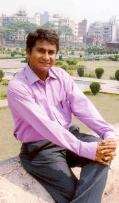 Praveen Kumar
plating process supplier
Mumbai, India
---
January 27, 2011
Q. A lot of Thanks.

Do you know how I can control it while I develop another supplier?
My supplier said that their products are non-foam formulation and said that foam is from the pickle but the pickle tank does not have foam.

regards
Alicia Rodriguez
[returning]
- Monterrey, Nuevo Leon, Mexico
---
February 9, 2011
A. I am not sure that the foam is coming from the pickle, yet the fact that you do not observe a foam layer on the pickle, is not an argument. The foaming effect is observed in the electrolytic bath like the zinc plating and not in a dipping bath like a pickle.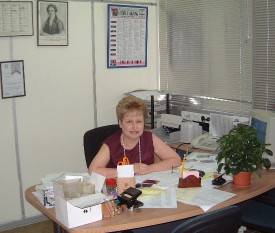 Sara Michaeli

chemical process supplier
Tel-Aviv, Israel
---
February 17, 2011

A. 1)I took the information as an ammonium chloride acid zinc bath and an electroplating bath.

Is the agitation achieved by a pump, air or rack movement?

Could it be due to wrong surfactant?

Once I had a problem with my pump because it had a leak, and when I turned it on the pump sucked air into the pipe and the air caused the excessive foam; it could not work, just for short runs.
If you use a pump check for a leak or a poorly sealed component.

Hope this helps.

DANIEL HERNANDEZ




- Bucaramanga Santander Colombia





---

February 18, 2011

A. Hi,

I guess you should make a Hull Cell test as follows --
Make new solution half a liter, same as per you tank concentrations(metal contents, etc same as per your tank solution) put it in hull cell(260 ml)now with out adding any brighteners/additives just put the agitation on in hull cell for 2 hours and then plate a panel it for 10 mins ,make your observation for foams, later add the brighteners/additives as per the TDS in the same solution, put the agitation on for 2 hours and plate an hull cell for 10 mins and make your observations for foam. I am sure you will come to some conclusions.




Praveen Kumar


plating process supplier
Mumbai, India


---
February 19, 2011
A. If the problem is a hole in a pipe the air also affects the appearance (I'm not sure why is it) maybe brightener oxidation.
Daniel Hernandez
- Bucaramanga Santander Colombia
---
February 22, 2011
A. Hi,

You can find the non foaming brightener and additives in market to resolve your problem.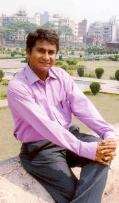 Praveen Kumar
plating process supplier
Mumbai, India
---
March 1, 2011
A. Dear Brother,

I was using Mixed chloride Bath, that is KCl + NH4Cl.
I sometimes encountered the same foam. I was using Chemistry of Columbia Chemicals and Growell.
There are two additives 1) Brightener 2) Wetter.
If the Wetter is less in bath there will be excess foam.
You may also be facing patches on deposit. Please check in Hull Cell. Wetter requirement will be around 5-10 ml/ltr.

Thanks & Regards,

Parashar S R
Sanjeev Raman Parashar
- PUNE, Maharashtra, India
---
March 5, 2011
Q. A lot of thanks.
Do you know How I can check (analytically) the concentration of the Wetter?
Alicia Rdz
- Monterrey N.L., Mexico
---
March 19, 2011
A. With trial and error and experience on reading hull cell test panels.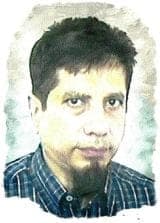 Khozem Vahaanwala
Saify Ind

Bengaluru, Karnataka, India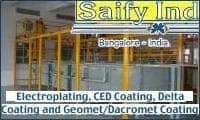 ---
---
Surfactant for Acid/Zinc Bath
June 23, 2020
Q. Has anyone seen a reference regarding Sulfamic Acid as a wetting agent in Acid-Zinc baths? I've found one where Sulfamic Acid replaces Tergitol.
Ed Spencer
- Wichita, Kansas, USA
----
Ed. note: Hi Ed. Hobbyists/amateurs are 100% welcome to try to develop any process they wish. You have previously introduced yourself, so we know who you are so are not concerned about where you got this reference. But can any responders please tell us where they find the information you offer? There is a lot of proprietary trade-secret knowledge involved in acid zinc processes, and a "no registration required" semi-anonymous website like this one has to work hard to make sure the things we crowd-source are indeed generic information, not things that we shouldn't -- for example, information from competitors or former employees :-)