Serious Education ... plus the most fun you can have in metal finishing.
Sanitation of Animal Water Troughs using CuSO4 crystals
January 1, 2011

I knew a deer farmer who would throw a few copper sulphate crystals (size of finger nail) into water troughs to combat algae, bacteria, salmonella and other nasties in the water. The treated troughs were crystal clear, like a swimming pool, and you could see the big crystals sitting on the bottom. He used these because of the slow release into the water, and therefore no sudden peaks in toxicity. The untreated troughs had growths of brown algae and green slime. The deer all looked really healthy, and because of their high value I don't think he would have done it experimentally. However, I have not been able to find any advice on the subject - plenty on the dispersal of CuSO4 over ponds, but not in water troughs. Can I use it safely for horses and if so, how much?

Deborah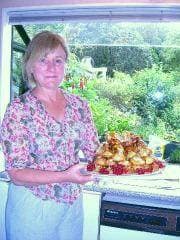 Deborah Read
equestrienne -
Waitakere, Auckland, New Zealand
---
January 3, 2011
I will offer a guess that the crystals were not pure or they would have dissolved enough to have turned the water at least a light blue. Temperature and agitation would also increase the dissolution rate.
Approach it with caution, IE: start with tiny amounts.
James Watts
- Navarre, Florida
---
January 5, 2011
Copper sulfate was commonly used as an algacide many years ago. But, it is seldom used for this purpose anymore. The EPA's limit for copper in drinking water is 1 mg/L, so much more than this is probably not good for livestock.

You would get better protection using unscented household bleach (sodium hypochlorite) at a concentration of 0.5 to 1.5 mg/L instead of copper sulfate. Household bleach is usually 5-5.5% strength so for 200 L in the trough, you would need to add only about 0.5 ml to get this strength. However, since the chlorine decomposes with time and exposure to sun light, you would need to add it every couple of days.

Lyle Kirman
Lyle Kirman
consultant - Cleveland, Ohio