Where the world gathers for
plating, anodizing, & finishing Q&As since 1989
-----
Electrocolouring of anodized aluminum: speckles, white powder stains, rainbows

Q. Why don't we get colour inside hollow section when we do electrocolouring in anodizing? Does pore formation only take place outside the hollow section?
Nilesh kadam
- Mumbai India
November 22, 2022



A. Hi Nilesh. You only get pores where you get anodizing, and you only get anodizing where the electricity goes, and the electricity 'follows the path of least resistance.
The anodized coating is insulative, tending to divert the current to non-anodized areas, so there may be a little bit of 'wrap' into a hollow tube, but you won't get anodizing inside a tube except for a very large diameter, very short one.
Luck & Regards,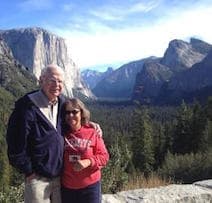 Ted Mooney, P.E. RET
Striving to live Aloha
finishing.com - Pine Beach, New Jersey



---
---
⇩ Closely related postings, oldest first ⇩
---
---
Q. I anodize aluminium profiles in my plant. We have 2 problems that I'm hoping someone will have come across before:
) How does one effectively drain hollow profiles which get filled up with sulphuric acid? We tilt the jig manually and wait for the sulphuric acid to pour out which is decidedly clunky.
2) During the electrocoloring process I find that small bubbles form on the profiles at immersion time which prevent proper coloring. To work around this we lower the profiles in the electrocoloring bath, then raise the profiles and slowly let the solution pour off. We then dip the profiles into the electrocoloring bath and start the process. We find that the first dip prevents any bubble formation. Again, this seems a clunky solution.
Clues anyone?
Thanks,
Sanjay A. Bulchandani
- Bombay, India
1998



A. Sanjay:
1). You can drain hollow profiles by tilting the jig manually and waiting for the sulphuric acid to pour out. It is decidedly clunky :-)
I don't know if there is any other way, but some shops invest the time in careful jigging with poly shields and so on to steer the stream neatly back into the tank.
2). In nickel plating, where clingy hydrogen bubbles are a nuisance that cause gas pits, wetting agents like sodium lauryl sulphate (baby shampoo) are used. I don't know whether such additions would have an ill effect on your electrocoloring.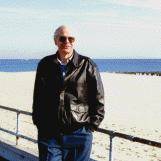 Ted Mooney, P.E.
Striving to live Aloha
finishing.com - Pine Beach, New Jersey



A. Sanjay,
I assume your aluminum profiles are over 3000 mm long and you transport them by a crane, possibly a "bridge crane". I could recommend :
Rack the profiles inclined so that the two ends will have about 100 mm difference
After taking the load out of the bath, incline the crane so that the solution drips down. Wait about a couple of minutes (provided the load not dried) and then move the load next stage.
Those will help you in two problems you asked.
Sincerely,
Timur Ulucak
aluminum extrusions & finishing - Istanbul, Turkey
---
---
Q. It comes to my notice that some aluminium section reflects rainbow colour after anodising in sulphuric acid. Why? please suggest.
I want to Know about multicolour technology for colouring aluminium- the chemical used, working parameters, the type of bath used with metals used as cathode and anode, rectifiers, etc.Kindly suggest.
I want to know the method to calculate the anode to cathode ratio in electrocolouring bath as well as in anodising bath containing sulphuric acid - stannous sulphate(For colouring bath). Can I use lead(hollow type / flat) in anodising bath as cathode and flat type as anode? Kindly suggest.
Abhijit kumar Datta
- Kolkata, West Bengal, India
2002



---
---
Q. Hi, we have produced some Bright Gold Sections of 6060 alloy anodised in sulphuric acid to 5um and then cold sealed.
after the gold electrocolor treatment the profile has fine speckling that is of natural color. The pitting looks similar to pitting produced when brightening (phosbright 171)is conducted using low nitric concentrations. I can not find any literature that describes process defects for gold electrocoloring, what would possible causes be?

Thanks,
Rodney Gutsell
Anodiser - Australia
2006



A. First get the thickness up to 10 or 15 microns. If that does not solve the problem, then come back and we will explore some other problems.



Robert H Probert
Robert H Probert Technical Services



Garner, North Carolina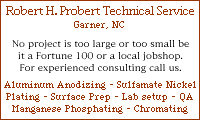 ---
---
Q. Hi again, we've noticed white stain and purple hue on electrocolored anodized bars. The bars are packed in PE low density packages and left for more than 4 months in this package. Any information on the source of such defect and how to overcome it ? and which type of package would be useful for packaging.
Elie Kattar
consumer - Jounieh, Lebanon
2007



A. Low density PE can contain low molecular weight polymer which tends to be greasy.
Anodised surfaces are absorbent, even when sealed. This could be the cause of your problem.
I would always recommend wrapping in acid free tissue paper first then possibly craft paper for protection depending on how the parts are to be stored or transported.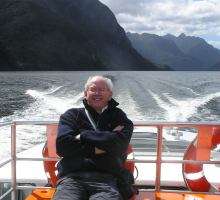 Geoff Smith
Hampshire, England



---
Q. Thank you Mr. Smith.....but paper packages (cellulose) are sensitive to moisture and water and could develop sticky surface and damage more the surface ... I'm actually looking in enhancing the PE properties buy using additives that can reduce the iridescent phenomena (anti-fog, less colorant, ...) or use medium or high density PE if possible ... any information on that issue could be helpful thanks.
Elie Kattar [returning]
- Jounieh, Lebanon



A. Elie
If moisture is a problem, I would do for acid free tissue to protect the metal surface and PE bag to keep the moisture out.
I would discuss the type of PE with the bag supplier or better the manufacturer. Most PE bags are for low tech use and they may not understand that you need a quality controlled product.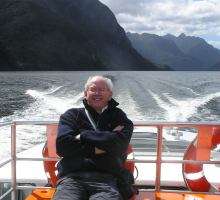 Geoff Smith
Hampshire, England



---
---
Q. I am anodizer from Riyadh K.S.A. we have two electrocolouring tanks working, and white powder deposits on processed material irrespective of light/dark colours.we have 5 micron cartridge filters with a filtration capacity of 25 cubic mtr/hr.our filtration works round the clock.can you please suggest how to eliminate this white powder. Thanks
Masood Khan
anodizer since 10 yrs. - Riyadh K.S.A.
December 25, 2010



---
Q. Hi sir,
we encountered the same problem. Have you corrected it already? Can you give me some advice?
Dhazel De Mesa
- Manila Philippines
June 5, 2021



---
---
Q. Why anodized profile sometimes get burnt (rainbow colour), after electrocolouring in particular, anodising bath. Checked all cathode contacts, temp. of bath and concentration and found Okay
Ananth Nayak
Asst. Manager(Anodising) - Mysore, Karnataka, India
May 8, 2012



A. Hi,
I read your above query. I think the problem is due to oxidation occurring. Ask the operator to dip the aluminum object without giving anytime when it is out from the electropolish tank to water rinse.

Also there are special proprietary products available which can reduce your problem, when you add them in your electropolish bath.
Adhish Rathod
- Mumbai, Maharashtra, India



---
Q. Hi,
We do not carry out any Electropolish dip in our process. Is the burning due to any grounding of the busbars connected to the Anodising tank? Please clarify.
Ananth Nayak [returning]
- Mysore, Karnataka, India
May 31, 2012



---
---
Q. Paulo here from Brazil. Trying to locate what is causing these stains in electrocolouring. Similar to gas trapping, these stains are appearing in every color we currently produce. The shape of the stains is similar to dripping.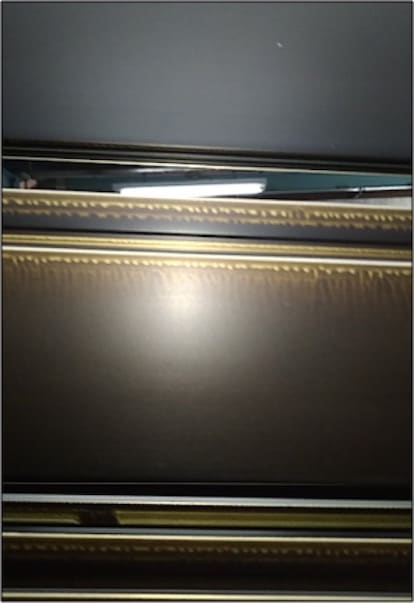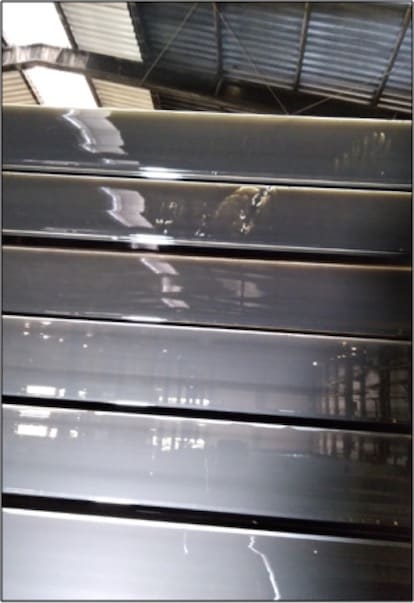 We have noticed that our tin bus bar is showing an extremely accelerated deterioration.
Paulo Sérgio
- Santa Catarina, Brazil
January 24, 2022



A. Hi Paulo
i just ran across your question so not sure where this problem stands as it is nearly one year. In looking at your picture on the left, if I had my guess I would say the part is an extrusion made of 6063 material. This dripping pattern is very common for these types of parts. There is really nothing that you are going to be able to do that will help eliminate the problem because those stains are usually there prior to anodize. As we all know, anodizing enhances issues that already exist. Strip and reprocessing will normally not be of any help to you either. One possibility is to perform a speed sanding process which is also called time-saving. It puts a grain on the surface but you would have to take it down pretty far to remove the staining. I have never been able to find out what is done or not done at the mill which causes these extrusions to exhibit the aforementioned condition but I can take a few guesses. It is a circumstance that is usually beyond your control. You might lose your hair stressing over it or turn your hair grey by worrying about it but neither is a viable option. As they tell you in the army ... take 2 salt pills and keep on driving ... in other words, just pick up and keep on going. It is not your issue although neither your customer nor the mill might believe that.
Philip J. Verzal
supervisor - Cicero, Illinois
Saporito Finishing Co.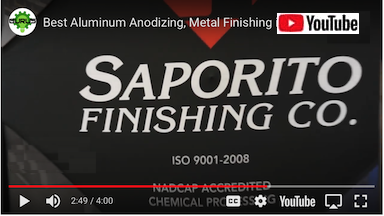 December 2, 2022
A. Paolo
The top of the part will dry first during tank transfer. The photo of the 6 parts appears to show a gradient of the 'staining' , improving as you move down the rack. I would be looking at what is happening to the parts during transfer. Maybe consider a spray rinse.
Willie Alexander
- Green Mountain Falls, Colorado
December 6, 2022