topic 56270
Discoloration of Zinc Plating with Yellow Chromate Treatment
December 3, 2010
Q. Our sheet metal vendor just sent in a lot of aluminum dip-brazed enclosures that have a C.R.S. reinforcement plate riveted inside that has noticeable discoloration. This C.R.S. plate is finished with zinc plating with yellow chromate treatment per ASTM B633 [link by ed. to spec at TechStreet] Type II, SC2.

We contacted our sheet metal vendor about this and they are calling this superficial staining and it is not rejectable by spec.

We decided to contact the NADCAP plater that our sheet metal vendor uses and they said the C.R.S. reinforcement plates did not leave their facility discolored and blamed our sheet metal vendor for storing the plates in a poor environment which caused the discoloration and staining.

It appears to me that the yellow chromate was not properly applied because if you rub the plate you can start taking off the yellow color.

Is this staining and discoloration an concern? Is it rejectable per spec? Was the yellow chromate improperly applied? Is it possible this condition was caused by our sheet metal vendor's storage techniques?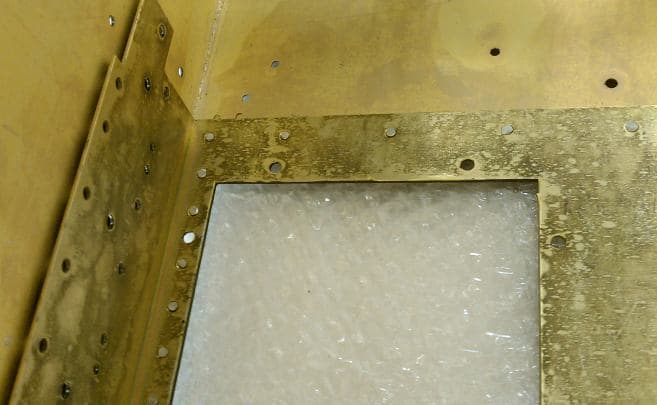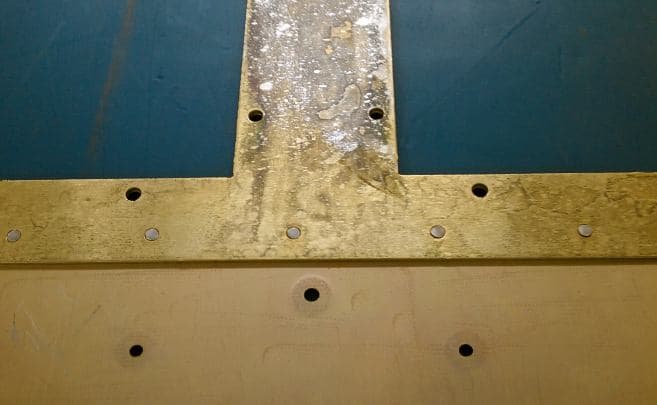 Rick Nace
Engineer - Norristown, Pennsylvania, US
---
December 3, 2010
A. Rejectable by the doctrine of common sense :-)
Seriously, how can anyone tell if you have complete coverage, or predict the salt spray resistance or useful life of something that's already such a mess. I am curious what they did to it, although the second photo seems to show water stains. Your vendor needs to send you good parts whether or not it's his plater's fault.
Regards,
Ted Mooney, P.E. RET
finishing.com
Pine Beach, New Jersey
---
December 3, 2010
A. It is unusable for virtually everyone. It is a problem for the vendor and the plater to sort out.
James Watts
- Navarre, Florida
---
December 7, 2010
A. Sir,

Your photos remind me of testing that I did 30 years ago. In that hex chrome galvanized zinc product we found that chromic acid (chromium trioxide) gave very bad staining (like your photos), whereas when we used sodium dichromate and acetic acid the chromate quench was not visible but did pass the 40 hour salt spray test chamber.

In later years I learned to keep the pH of such a solution between 3.5 and 4.5 which gave a much longer lifetime of the chromate quench tank.

Regards,
Dr. Thomas H. Cook
Galvanizing Consultant - Hot Springs, South Dakota
---
December 15, 2010
A. Dear Sirs:

The case presented is similar to what we have on our products that is loose, yellowish, and powdery deposits that can be scrubbed off by bare hands. Its true however that the question on acceptability lies on the agreement between the plater (or galvanizer) and the end-user.

Nevertheless, granting quality complaints, I think improvements have to be made based on the following:

a) Acidifying the sodium dichromate solution to activate its chromium trioxide (CrO3) needed to further oxidize the zinc oxide layer on the galvanized item in a direct quenching process. My experiment revealed a varnish like coating that still existed after six months of trial without signs of increase in coating thickness compared to a bare zinc oxide coating that eventually became dull grey in color with slight increase in thickness. It is assumed that quenching zinc oxide first in water will create zinc hydroxide that could interfere with the chromium trioxide's action on the zinc coating. It would be very much appreciated if Dr. Cook can comment on this.

b) The above protective coating has to be water rinsed to reveal the protective zinc chromate coating and prevent dehydration of sodium chromate on the surface typical of the pictures presented. It would be more useful if Mr. Crowley, Sir, or anybody could share their experience on chromate rinse water specially on its disposal if it has to be, or just plain addition with water over time.

c) Has anybody have current total chromium analysis from the smoke (latent heat) generated by the galvanized article quenched directly in a chromate solution in whatever form (.e. acidified sodium dichromate, chromic acid, etc.)? I have read that chrome badges are not reliable but there is this colorimetric detector tube that can measure 0.2 to 1 mg/m3 of chromic acid from zinc chromate gases and vapors. Wonder if anyone who's using it can share data for benchmarking.

Regards.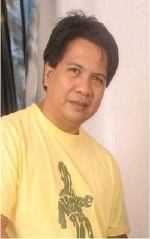 Barlow Campano
galvanizing chemist - Jeddah, KSA
---
---
January 5, 2017
Q. I have a customer we do a rather large part for and after we apply yellow chromate they will send it to a painter to apply a wet coat application. The part is well over 150 pounds and hollowed out on the inside with about a 3/4 to 1 1/4 inch wall thickness.

When the paint is applied after the Yellow Chromate process, they place the part vertically in an oven for 7 minutes at 400 °F. The part cools to 130 °F then the paint is applied to the outside. The part is then cured for 75 minutes at 375 °F

The completed part is then allowed to cool.

Now the problem: Most of the parts come out with the yellow chromate on the inside intact and looking just like it went in. Some of the parts, sporadically, will come out with the inside being milky and white in appearance. The luster is just about completely gone. The painter states they are not doing anything different in their process so, of course, it must be the plater's fault. My response to my customer was that they should not be asking why this happens from time to time, but they should be asking why this doesn't happen every time.

Any ideas on this one?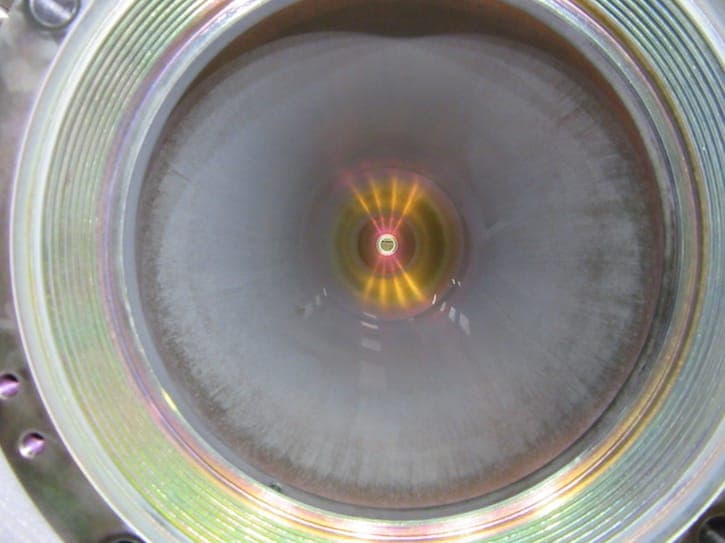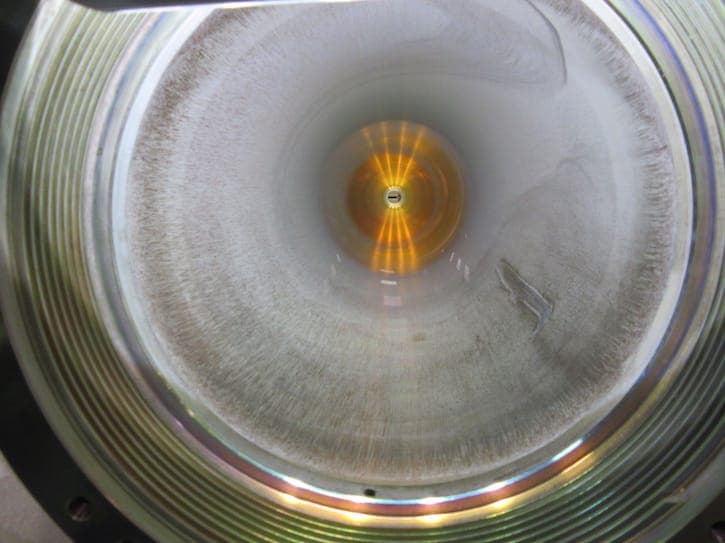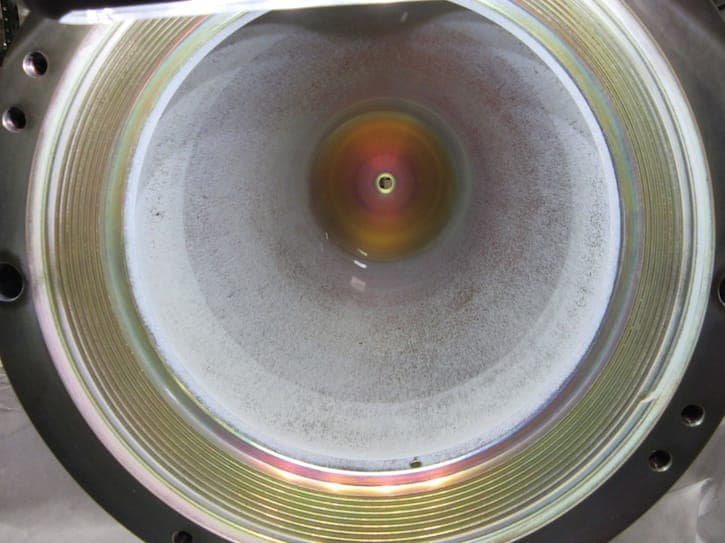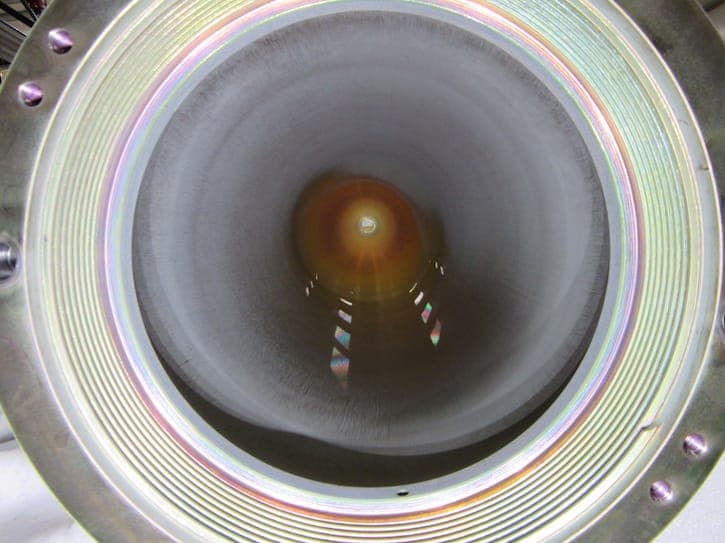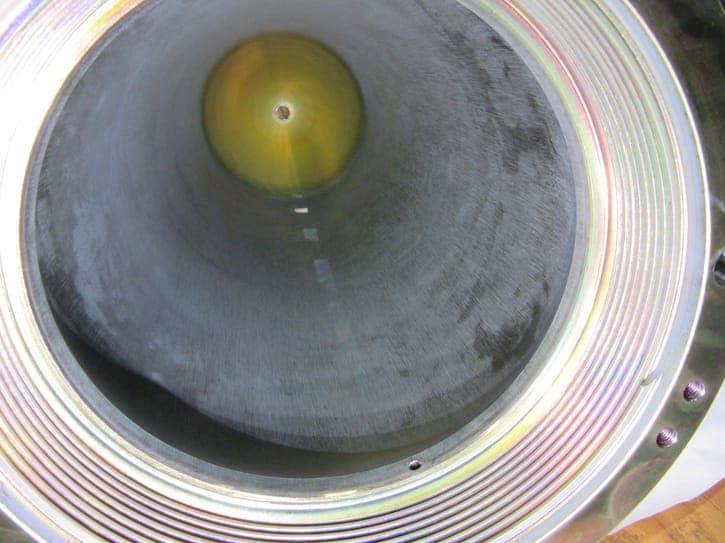 Paul King
professional plating shop - Virginia
---
January 2017
A. Hi Paul. I am perhaps misunderstanding, but this component with bare chromate is put into a 400 °F oven for 7 minutes; then later put into a 375 °F oven for 75 minutes and people want to know why the chromate isn't reliably holding up?
I don't think anyone reasonably expects a bare chromate surface to survive a 375 °F bake. But perhaps the cured paint could survive activating and chromating if you'd like to reverse the chromating and painting sequence?
Regards,
Ted Mooney, P.E. RET
finishing.com
Pine Beach, New Jersey
Striving to live "Aloha"


This public forum has 60,000 threads. If you have a question in mind which seems off topic to this thread, you might prefer to Search the Site