topic 5694
Tarnish on Tin Plating
2000
Q. Hello,
We are having trouble with .0001"/.0003" tin plating over BE/Cu finger stock tarnishing within one week of shipping. It happens during shipping between Pennsylvania and Singapore. The tarnish is black and occurs in a mottled pattern. We have tried packing a desiccant in with the material, without success. Does anyone have any ideas as to the root cause of the tarnish?
Matthew F. Evans
- Allentown, Pennsylvania
---
2000
A. That is an extremely thin coating. Probably without a nickel barrier underneath it. Copper is very probably migrating thru the tin as an alloy and as pure copper. There have to be pores in a 1/10 thousandth thick tin coating.
James Watts
- Navarre, Florida
---
2000
A. Matthew:
I agree with Jim: the copper will alloy with all of the tin pretty quickly at that thickness unless you have a barrier like nickel. This will occur faster as the temperature is increased. I don't have charts at my fingertips right now, but a week at 90 to 100 &F might be enough.
That said, I am not sure that the resultant appearance from alloying or exposed copper would be a black color. The black color sounds more like some type of corrosion of the tin. Moisture could be the problem, some sort of chemical contamination, possibly from packaging, could also be a factor. You probably will need to do some analysis to figure out for sure what the mechanism of blackening is, then start looking for a root cause.
Larry Hanke
Minneapolis, Minnesota
---
2000
I had also thought about the "black", and assumed it was probably something like a copper sulfide. Larry is very probably correct, you have another problem as well as the thin coat.
James Watts
- Navarre, Florida
2000
A. Is the tin solution and acid tin? Especially with brighteners. If so you may need to add a neutral rinse after plating to kill the acidity and brighteners.
Phil Pace
- Tulsa, Oklahoma
---
A. Blackening of tin deposits is normal unless you do some post treatment like chromate or dipping the parts in an alkaline solution, about 30 g/l NaOH at 30 °C.
The process is like that:
Tin plating
rinse
Alkaline dip
rinse
Sara Michaeli
chemical process supplier
Tel-Aviv, Israel
---
2000
Q. We are doing a Cu flash prior to the tin plating. After looking at a cross section of the corroded parts we can see the corrosion occurs on the top layer. We are doing an alkali dip after plating, potash specifically.
We tried to do a clear chromate conversion over the parts, but they performed poorly in the salt spray booth. The chromate line is normally used for zinc plating. Is there anything special for chromating over tin? Matt Evans
Matthew F. Evans
- Delaware Water Gap, Pennsylvania
---
2000
A. Matthew, acid tin is very prone to tarnishing unless it is totally free of plating residue and is dried quickly. You may want to try a product we use from Enthone OMI called TB-RA. We've found it to be helpful in neutralizing the leftover film. We use it on all three types, sulfate, msa and fluoborate. The only drawback is a little more drying stains if you don't remove the water quickly. Tom Salvino is the Enthone rep in your area I believe. Good Luck!
Jim Conner
Anoplex - Dallas, Texas USA
---
Tutorial: An extreme example of fretting corrosion from letter 5106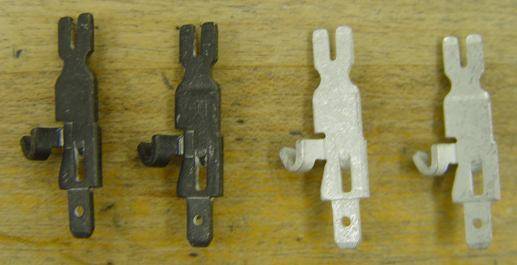 February 2, 2009
A. Tin fretting corrosion can also be a culprit if the parts are shipped in bulk. Vibration occurring during shipping can cause the parts to rub against each other (also called micromotion). The rubbing causes tin displacement and subsequent tin oxidation (dark spots or mottling).
Bill McDade
- Glendale, Arizona
---
April 6, 2009
Q. Matt,

We have been struggling with a similar issue. We have tried several different plating vendors and always get the black/brown tarnish on the plating over time. We have even tried plastic lining the shipping box and use desiccant. We are plating per ASTM B545 [link by ed. to spec at TechStreet] Class B (approx: 0.0002 to 0.0005" thick)

Did you find a solution to this problem?
Ben Gontarz
- Avon Lake, Ohio
---
---
September 19, 2013
Q. We are into reel to reel plating of stamped parts; of late we are facing Black marks in MSA Matte Tin plated parts with an undercoat of Nickel. This appears over a period of time and in areas where the Tin plating is damaged (scratches).
The Tin plating thickness is 2 - 4 micrometers. It is prevalent on Brass base material predominantly. Please let us know what could be the possible causes. Thanks in advance.
Vijayakumar Balasubramanian
- Bangalore, India
---
September 23, 2013
A. I suspect that your nickel coat is not thick enough to keep the copper in the parent material from migrating up and alloying with the tin.
James Watts
- Navarre, Florida
---
Blackening of tinned copper strands in rubber cable
July 4, 2016
Q. Tinned copper strands inside the cable insulation turns black after curing in high humid and high temperature chamber.

But this does not always happen. Sometimes only a few strands turn to black colour.

Unable to understand the reasons for the same.
Srinivasa REDDY
- Alwar, India
---
July 2016
A. Hi Srinivasa. The insulation is rubber? Then I would expect the consequent sulfur to cause blackening, especially if the tin plating is thin or inconsistent. What exactly do you mean by tinned copper: the whole wire is electroplated with tin (what thickness?), the whole wire is hot-dipped in tin, or only the ends of the wire are hot dipped? Thanks.
Regards,
Ted Mooney, P.E. RET
finishing.com
Pine Beach, New Jersey
Striving to live "Aloha"
---
July 5, 2016
Q. Thanks Mr.Ted,

Tinned copper is hot dip tinned strands of the wire. And we do not use sulfur in rubber
Srinivasa Reddy
[returning]
- ALWAR, RAJASTAN, INDIA
---
July 2016
A. Hi. It would seem that some of the strands are not reliably tinned, as un-tinned copper will turn black in such circumstances.
Regards,
Ted Mooney, P.E. RET
finishing.com
Pine Beach, New Jersey
Striving to live "Aloha"
---
July 20, 2016
Q. In 132/11kV Trafo cable box, flexible corroded tinned copper link has been oxidized. Why does it happen? Please note: cable box is free from the rain and a heater is also provided in the cable box to eliminate the humidity.
Divan Mujipeer
- Al Karama-Dubai- uae
---
---
October 17, 2016
Q. We are getting parts of switch terminal with tin plated over the brass. A slight copper flash is being done over the brass before tin plating. But around 20% of terminals getting rejected due to blackish / grey in colour pathes. What needs to be done to eradicate this problem. thanks
radhakrrishnan s
qa manager - india
---
November 3, 2016
A. Hi Radhakrrishnan,

If tin discoloration happen only after prolong storage then you may apply anti-tarnish after tin plating and before final rinse to protect tin deposit from tarnish during transportation / storage.

Regards,
David

David Shiu
- Singapore


If you have a question in mind which seems off topic, please Search the Site