Where the world gathers for
plating, anodizing, & finishing Q&As since 1989
-----
Poor paint adhesion over chromic acid anodizing
October 21, 2010
Q. I have a problem of lack of paint adhesion over chromic acid anodizing, non-sealed --
Normal on anodising painting must have good adhesion.
Waiting time was 13 hours.
We discussed storage while awaiting for painting?
Think it is to blame anodization or contamination before painting?

What do you advise?
Garbacia Stefan
engineer - Bucharest, Romania
---
October 25, 2010
A. It is very difficult to judge what may have caused the adhesion remotely, but maybe we can direct you at what to look for.

Firstly you may be right with contamination. Without knowing how you have stored the parts prior to painting we cannot say if you have a problem, but if you suspect that you have a contamination issue then you may want to consider a wipe with a solvent such as acetone or methyl ethyl ketone (MEK) prior to painting.

Secondly you need to look at the painting. Are you using a primer prior to top-coating? If not then I would seriously consider added a primer step. If you do prime and then top coat are you sure you have cured the primer fully? Is the paint mixed properly and do you have it at the right viscosity prior to spraying? What is your humidity and temperature conditions like in the spray area/booth?

Once you start eliminating each of the potential factors affecting the adhesion of the paint you will soon come to cause of the problem.
Brian Terry
Aerospace - Yeovil, Somerset, UK
---
---
October 9, 2013
Q. I have a very strange issue concerning paint adhesion failure on 2024A / 2024HDT materials.

The 2024A / 2024HDT materials are subject to chromic acid anodising, followed by chromate primer. we have not had adhesion issues on this type of material / process for a long time.

The problems we are seeing are very localized, almost patchy areas where the paint will come away from the substrate when tape tested.

Note that no other failures have occurred on normal 2024 material, or any other alloys types.

I am currently looking at potential for contamination, but would very much appreciate any guidance or advice that the finishing community might be able to provide.

Best Regards,

Stuart
Stuart H
- Manchester, United Kingdom
---
October 11, 2013
A. How are you sealing the chromic acid anodizing? Be aware, per Alcoa in 1956, but in controversy with some airframe specs, over 10 minutes in hot water degrades the coating. Low concentration, pH controlled sodium/potassium dichromate does NOT degrade the coating. Also, if they are applying epoxy on top of the chromate, then the coating should be very light iridescent. Heavy chromate causes the paint to peel. Most schoolboy engineers have not yet read that part of the spec.

Robert H Probert
Robert H Probert Technical Services

Garner, North Carolina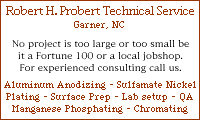 ---
---
Paint adhesion problem, is it possible to over seal CAA
October 24, 2013
Q. I'm a quality agent working in a Aerospace cie. Every time that we change the dichromate solution we experience issue regarding paint adhesion failure on aluminium part chromic acid anodized seal 23 minutes in dichromate. Anyone ever experienced problem with what I called over sealing? My theory: the new solution is so efficient that it creates an oversealing effect under the same parameters that we were using with the old solution with wich we didnt have any issues. Anyone ever experienced same kind of issues?
Nick Blue
- Montreal, Quebec, Canada
---
November 4, 2013
A. Nick,

A dichromate seal solution with pH 5-6 as specified in MIL-A-8625 / MIL-PRF-8625 [affil. link or DLA] will provide more sealing effect than desired.
We normally use a di-chromate seal (6-8 oz/gal) for 15-20 minutes with a pH of the solution between 3.5 to 4.5 with optimum setting at 4.0. That way we still meet salt spray requirements of MIL-A-8625 and have good paint adhesion.

Regards,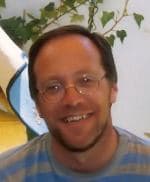 Arnold Langeveld
aerostructures - Papendrecht, The Netherlands
---
November 5, 2013
Q. So our parameter of 23 minutes immersion time in dilute dichromate seal might be too long for a new solution but we still achieve good paint adhesion results after 3 to 5 days. The problem seems also worst on bigger machined parts, small but thick machined parts and non clad surfaces of skin. If anyone of you met same kind of issues your input would be greatly appreciated because our customers are getting really impatient as customers usually are. We also use water based primer on our parts and water based primer might also have less capacity to infiltrate the pores of chromic acid anodized layer.
Nick Blue
Anodizing - Montreal, Quebec, Canada