Where the world gathers for
plating, anodizing, & finishing Q&As since 1989
-----
Black stains after annealing
October 21, 2010
Q. Dear Sir,

I work in wire drawing industry. We have a problem at wire surface, like black oxide, that is formed after recrystalization anneal. We cannot remove the black area at the surface, with alkaline degreaser and acid pickling. The black area has a higher surface hardness than clean surface wire. Our customers use this low carbon wire (SAE 1006 - SAE 1008 - C10C - CQ15 - 20MnB4) manufacture screw, nuts and bolts, they complain about the black surface wires in coil, are cracking during manufacturing screws.


Photos added to the posting on Nov. 11, 2010 --
55972-1.jpg" alt="55972-1" width="512" height="384">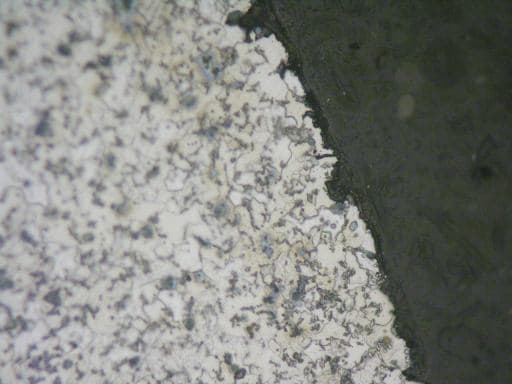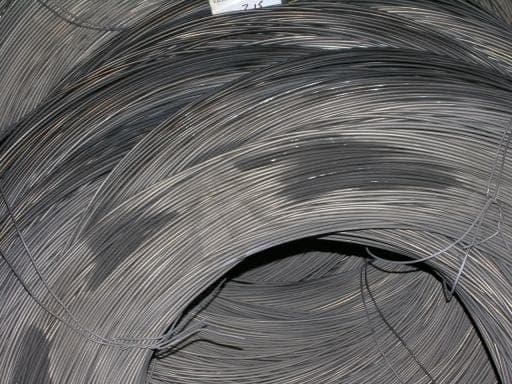 We can't solve this problem in management structure, If anybody knows how we can remove this black area or solve this problem.

Thanks
Emre Alpay
cars, shopping - Istanbul, Turkey
---
"Recrystallization and Related Annealing Phenomena"
by Rollett & Humphreys
from Abe Books
or

Affil. Link
Your purchases make finishing.com possible
November 9, 2010
A. Dear Emre Alpay,

Maybe your best bet is to start using an inert or reducing atmosphere during the annealing process, this avoids the forming of the oxide. However I can imagine myself that this is impractical.

If the formation of the oxide is unavoidable, it needs to be removed in a pickling action. Here you can try to enhance the pickling by making the thread anodic and remove several microns from the surface.
You need special provisions to assure a long enough exposure time in the acid, but wire plating is a common issue in the industry.
Disadvantages are
-a rapid iron build up of loose Fe at your cathode
-if you use HCl, it will be difficult to find the right anode which withstands this type of environment
-if you use sulfuric acid you can use lead anodes but you need a rather high voltage and probably a temperature of 50° C. or more of the sulfuric acid
-and you will have a micro-rough surface which could give reason to other complaints at your customers.

Both options (inert/reducing atmosphere versus severe pickling) have their pros and cons ... up to you to decide.

Success,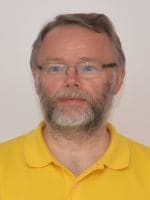 Harry van der Zanden
- Budapest, Hungary
---
November 9, 2010
A. Or a vacuum furnace or a hydrogen furnace. Another option might be salt bath. Another nasty option is a permanganate soak prior to the pickle.
James Watts
- Navarre, Florida
---
November 11, 2010
Q. Thanks Sir, we have a vacuum furnace with a nitrogen controlled atmosphere, and our alkaline degreaser is two component with potassium permanganate, but it's not cleaning the black areas, the blackening that I try to define, not seems like oxygen blackening, also my opinion the black areas are partly nitriding in the furnace and the black surfaces harder then clean surface and they are cracking when our customers manufacture the screws.
Emre Alpay
[returning]
- Istanbul, Turkey
---
November 11, 2010
A. From the added pictures, I will guess that it is poor cleaning/rinsing/acid treatment prior to the furnace run.
I doubt if you are getting a nitride surface, but we always used argon rather than nitrogen. I think that you are forming a carbon compound-probably a carbide which can be greatly harder than the wire. I will guess that it is fracturing off during the screw step.
When is the last time that you did a burnout cycle on your furnace?
James Watts
- Navarre, Florida
---
November 14, 2010
Q. Could you inform me about burnout cycle I couldn't find anything about it.
Emre Alpay
[returning]
- Istanbul, Turkey
---
November 15, 2010
A. A burnout cycle is intended to remove carbon and other materials that prevent the furnace from reaching a hard vacuum. It involves taking an empty furnace to a high temp-fairly close to the max allowed for your brand of furnace for a given period of time.
Consult your furnace manufacturer for the exact process for your furnace.
Then do a leak down test (check) on the vacuum.
James Watts
- Navarre, Florida
---
---
May 5, 2017
Q. Dear Emre Alpay
I am writing to ask if your issue was resolved. We are experiencing the exact issue that you dealt with. All grades, all sizes. Localized black persistent staining, not removed by caustic permanganate, and HCl acid.
Jared Griffith
- Jerome, Pennsylvania United States
---
September 27, 2017
A. This black surface can be caused if you unload annealing charge at temparature higher than 110 °C. Annealing is done in protective atmosphere. but when you unload charge at temp higher than 110-120 °C, air (oxygen) comes in contact with hot strip or hot wire and oxidises it and turns it blue or black.
Please unload charge below 100 deg and see. you will get improvement.
Also check leakage of atmospheric air form inner cover sealing or leakage of inner cover due to failure of welding of shell.
Shrikrishna Riswadkar
- Surat Gujarat India
---
---
July 3, 2019
Q. Thanks for finishing.com for such a great forum and I am lucky to find that thread!

I am having the same problem of black patches on steel wires. The problem appears after the pickling. Prior to that the wire goes to degreasing, annealing in vacuum, quenching right after annealing and the pickling in a mixture of H2SO4 and HF. I am unable to understand that even after using a mixture of aforementioned acids problem still persists.
Any help will be more than welcome.

Kind Regards,
Ridwaan
Ridwaan Ali
- Lahore, Pakistan