Where the world gathers for
plating, anodizing, & finishing Q&As since 1989
-----
Polishing an anodized 2024 aluminum inlet
October 14, 2010
Hi guys I am in the aircraft industry and have been tasked with finding the "better mousetrap". In our shop we polish a large amount of 2024 aluminum from an anodized start to a mirror finish,
we are currently using a DA sander starting with 80 grit and continuing thru 320 grit paper and finally using Mothers Polish to achieve the finish we require. While we are pleased with the end product as you know this is a very time consuming process.
does anyone have a lightning bolt that I have not seen.

Edgar Jones
Machinist - Madison, Mississippi, USA
---
October 14, 2010
Hi, Edgar. Can't most of this polishing be done before anodizing, either mechanically, or by bright dipping, or by electropolishing?

Regards,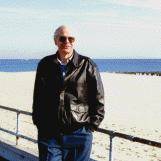 Ted Mooney
, P.E.
Striving to live Aloha
finishing.com - Pine Beach, New Jersey
---
October 15, 2010
After hitting the part with 80 grit DA, I doubt if you have much anodize (if any) left on the part. A small number of shops use a bright dip and it is nasty, but I will bet a starbucks that it is a better and cheaper way to go, and you will have some anodize left on the part.
Aerospace anodizing is frequently chromic, and it is a lot softer and a lot thinner than sulfuric.
James Watts
- Navarre, Florida
---
First of two simultaneous responses -- October 18, 2010
Thanks for the input, I was not clear I guess (I apologize it's my first post). What we are polishing is a leading
edge part of the Inlet after we rivet it in place, the raw piece part is anodized from the factory and after all installation (riveting)has taken place then we polish the leading edge portion. We require the mirror finish only on the leading edge portion of the Inlet. As earlier what we are doing works it's just so labor intensive I was just looking for a more efficient process. Someone had suggested using a sisal wheel and compound in lieu of the initial sandpaper on the DA as a faster way. any thoughts on this?

Edgar Jones
machinist - Madison, Mississippi, USA
---
Second of two simultaneous responses -- October 18, 2010
Just send the parts through a burnishing vibratory and you will get what you want in short time in mass production.
Robin Thede
metal finishing - Toronto, Ontario, Canada
---
October 19, 2010
To echo some sentiments from higher up.
I am aware of the components you are working on (or similar ones at least) We had one customer who liked a mirror finish on their lipskins. They were using a similar method (without starting at 80 grit though more like 180).
Only problem we had was that this eliminated the corrosion protection on the component and therefore it wasn't something we were allowed to do. Please do me a favour and check your standard practices or drawings to see if this is something you should be doing at all.
Ciaron Murphy
Aerospace - South Wales, United Kingdom
---
October 19, 2010
Thanks for the responses thus far.
Ciaron, the drawing and all applicable tech data require the mirror finish however I understand where you are coming from. You may have a better grasp of my dilemma than some, this part is a assembled Inlet that the leading edge is polished after assembly all sections that are to be painted are masked while the polishing "ordeal" is going on. And as I indicated we are happy with the current results I just need to know if a more time efficient process may be available.

Edgar Jones
- Madison, Mississippi, USA