Where the world gathers for
plating, anodizing, & finishing Q&As since 1989
-----
Gold Plating a stainless steel ring
October 10, 2010
I have made a homemade gold solution of h2o/KOH and potassium ferrocyanide [affil link]. I have done away with the ferro as much as I could. I know its not the safest of things. but I have done o.k. plating coins(cupronickel). today I plated a ring made of stainless steel. however only the outside rotating band was plated and not the rest of the ring. what happened?why would stainless not act as cupronickel? I'm using an ordinary cell phone charger for power source (4.8 volts).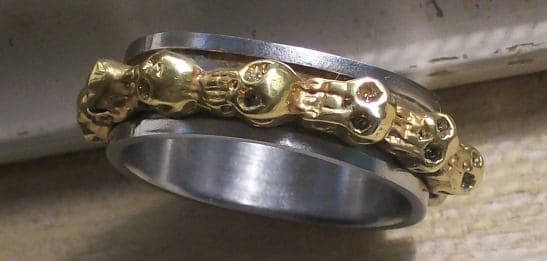 David Castillo
hobbyist - Abilene, Texas
---
October 13, 2010
Stainless steel is covered with protective oxide layer -- that is reason why it is stainless -- you must remove that layer and then you can plate your object. Try uspto.gov website there you can find some expired patents on gilding of stainless steel. Ferrocyanide bath is very stable and compared with cyanide based baths relatively harmless if used with care . With it you can probably plate stainless with it directly, without nickel underplate. Hope it helps and good luck!

Acid nickel pretreatment: 240 gm nickel chloride
85 ml HCl
nickel anodes,3-5A/dm2, 20 °C temp
3-5 minutes

Goran Budija
- Cerovski vrh Croatia
---
First of two simultaneous responses -- October 13, 2010
Hi David

I'm a little puzzled as the solution you give does not seem to contain any gold.

But to the question. Stainless steels (there are many) form a stable oxide layer (passivation) and require special processes for successful plating which would not be easy in a hobby shop.

Anyway, I think the ring looks rather good as it is.

You can relax a little with ferrocyanide, it is nowhere near as toxic as cyanide but you should not use any chemicals unless you know what to do when something goes wrong.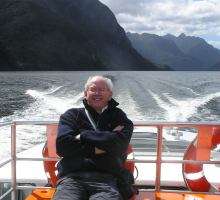 Geoff Smith
Hampshire, England
---
Second of two simultaneous responses -- October 13, 2010
wow! Goran you're fast to the draw. thanks. I found out right here on this very site as soon as I posted this, that stainless has an outer oxide protective coat specially if it has chromium. I take it cupronickel coins don't have chromium . I have nickel sulphate. I will now try to convert it to the chloride. Thank you for the patent site. its something else to see a gold finish actually done by my own hands.
David Castillo
- Abilene, Texas
---
October 14, 2010
I electrolyzed using gold anode with gold cathode for about 20min. prior. yes I think the ring looks good. I couldn't of done this if I went for the outcome. the method I used to make my solution does involve some risk, you can probably figure it out so I rather not elaborate.
David Castillo
- Abilene, Texas
---
October 16, 2010
David
I work with ferrocyanide based baths over 15 years(2,65 gm gold/15 gm waterless sodium carbonate / washing soda [affil link]/15 gm potassium ferrocyanide [affil link]/1 lit water), there is no need for gold anodes, you can use stainless steel as anode (or platinized titanium if you like expensive things). Hope it helps and good luck!
Goran Budija
- Zagreb,Croatia