Where the world gathers for
plating, anodizing, & finishing Q&As since 1989
-----
Formation of Spongy smut on 6061-T851 aluminum Cathode Plate
October 6, 2010
Recently, we discovered black staining on our part of Alu 2219-T851 after sulphuric acid anodising. We found out that the cause of these black stainings were due to the deposited "spongy smut" floated out from the Alu 6061-T851 cathode plate during anodising. We've replaced these cathode plates with the same material however these spongy smuts were formed after first anodising run (see photo attached). We do anodise Al 6061-T6 parts on the same bath and to date there is no staining observed.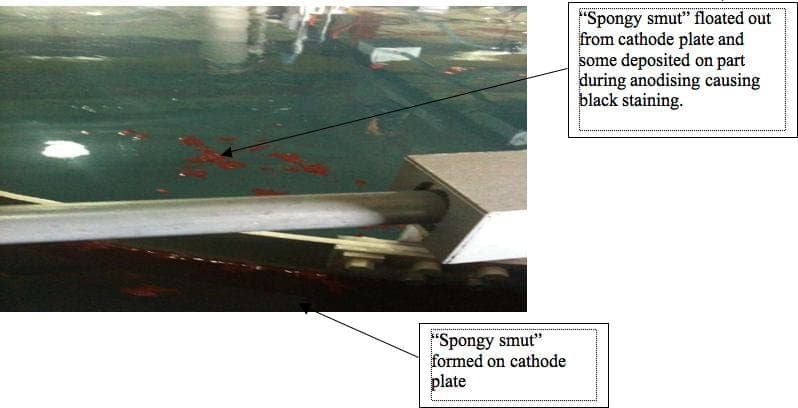 We would appreciate you all can share with us the cause of this "spongy smut" on the cathode plate. Also is lead material an option for use as cathode plate for sulphuric acid anodising and for anodising Al 2219 alloys?

Thank you for your help.
Jimmy Sim
Plating Shop Engineer - Singapore
---
October 7, 2010
Probable AC coming through the rectifier and/or stray current from somewhere else.

Robert H Probert
Robert H Probert Technical Services

Garner, North Carolina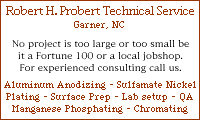 ---
October 11, 2010
I'll defer to Robert Probert, but it looks like copper to me. Copper from the anodized alloy dissolves from the part and into the solution. It then loosely plates out on the cathodes and then occasionally sluff off back into the solution where it needs to be skimmed off. I wouldn't normally describe it as "spongy", but it would be easy to test to see if my guess is correct.

Jon Barrows
, MSF, EHSSC
GOAD Company

Independence, Missouri
---
October 14, 2010
We did sent these "spongy" stuff out to a lab to carry out analysis. To our surprise, Cu was not listed as found element. The composition of this "spongy" stuff is;

Oxygen: 38.9% - 58.2%
Carbon: 13.9% - 38.9%
Silicon: 11.4% - 30.9%
Sulphur: 1.6% - 8.6%
Aluminium: 0.9% - 5.9%
Sodium: 0.4% - 1.2%
Potassium: 0.3% - 1.1%
Jimmy Sim
- Singapore
---
October 24, 2010
To avoid the float out particles "spongy smut" getting in contact with the part surface during anodising we decided to use PP bag to bag the cathode plates. Appreciate your sharing with us on bagging the anodising cathode plates. Would this cause the effect on current distribution?

Looking forward to your sharing and advise.

Thanks,

Jimmy Sim
Jimmy Sim
- Singapore
---
October 25, 2010
The analysis of the "sludge" indicates that alternating current is coming through the rectifier.

Robert H Probert
Robert H Probert Technical Services

Garner, North Carolina