Where the world gathers for
plating, anodizing, & finishing Q&As since 1989
-----
How to do directional textured finish on irregular shapes
September 24, 2010
There are a few good postings and recommendations on this site related to "brushed" or textured finish on flat aluminum surface. Generally speaking that kind of texture to be applied by using wide belt sanders.

My parts, however, differ in shape, almost never flat, and we need to apply directional, or brushed finish to them. Usually we finish clear anodize them afterwards.

Our current supplier can't offer any solution other than manual process to apply brushed finish, which is obviously expensive and inconsistent.

Does anybody have recommendations or ideas how to economically automate this operation? Are there any equipment or commercially available process?
The key factor here is IRREGULAR surface that requires brushed finish.

Thank you in advance

Mark
Mark Stolyar
Product Engineer - Plano, Texas, USA
---
October 4, 2010
Not sure how large your parts are; however, if they can fit in a mass finishing machine system, you can achieve a surface finish very close to a sand blasted look using a dry organic abrasive mix. Because it is a dry system, the process will take a lot longer than a wet process. If you want to know the specific products involved, get back to me. Generic answer, had to change original.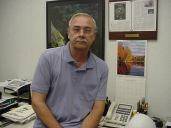 AF Kenton
retired business owner - Hatboro, Pennsylvania


----
Ed. note: Tony, yes, we discussed this in private; this site is made possible by supporting advertisers who cheerfully pay the costs of providing this opportunity for technical discussions and sharing camaraderie. But they very reasonably don't want us to spend their money steering potential customers towards their competitors :-)
---
October 4, 2010
Mark

Without seeing the parts it's hard to tell, but I would consider a robot utilizing a flapper wheel of sorts. An abrasive head that could conform to the contours.
Willie Alexander
- Colorado Springs, Colorado
---
October 6, 2010
AF,
What mass finishing machine system do you have in mind?
My extruded profile parts usually will fit inside of 5" circle. Finished parts several feet long.

Ideally, I would like to find a solution which allows to brush finish extrusion, not cut parts.
Mark Stolyar
- Plano, Texas, USA
---
October 12, 2010
It sounds like your parts are too long for a mass finishing system. There are some mass finishing tube type systems that can handle up to a 10 or 12 foot part. Not sure about anything longer. Anyway, there is a dry organic media that is specifically treated to carry pumice with it. Organic wood material is fibrous and treatment adheres pumice to it to create something like miniature files, but because this material is so light weight, it takes a long time to get results. Material is not commonly used or sold.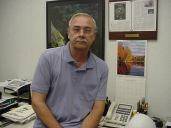 AF Kenton
retired business owner - Hatboro, Pennsylvania
---
October 18, 2010
The way to achieve a directional finish on irregular parts besides doing it manually is to use a follower wheel, semi auto feeder into either a wheel or belt depending on the contour of the piece. wheel is usually preferable either using greaseless for short runs or scotch brite for longer runs requiring uniform finishing.
Robin Thede
metal finishing - Toronto, Ontario, Canada
---
May 12, 2011
AF

What tube finishing equipment are you referring to?
Can you point me to get more information about it?

Directional finish is significant cost factor for us, but we are not in a position to fund and develop this process.

I need to find commercially available solution.

Appreciate your input, Mark
Mark Stolyar
- Plano, Texas