Where the world gathers for
plating, anodizing, & finishing Q&As since 1989
-----
Name this finish please
Hi I run a small company doing custom automotive accessories. I have found some unique finishes on other products on the market and want to incorporate these finishes into my product line. I believe one is some sort of titanium oxide, However I do not know exactly what the finishes are or who provides them. Please see the attached pictures; any help on identifying these would be greatly appreciated. Thanks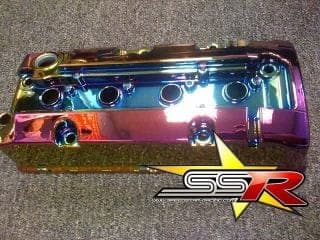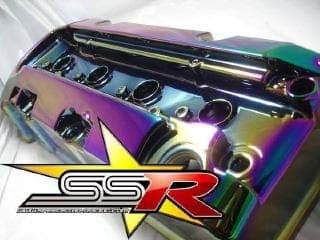 Eric Palmer
product designer - Reno, Nevada, USA
August 4, 2010
---
September 4, 2010
Eric,

The colouring of these assemblies is due to the interference colouring, resulting from the difference in the thickness of the oxide layer. Usually, oxidation of valve metals such as, titanium, zirconium by thermal or electrochemical methods or by laser surface treatment leads to this type of finish.

For what type of automobile component do you want to apply this finish and why?


T.S.N. Sankara Narayanan
- Chennai, Tamilnadu, India
(ed.note Nov. 2017: The good doctor has a fascinating blog at https://advancementinscience.wordpress.com)
---
We can achieve this effect with powder coating. The colour alters as you view the item from different angles... you have probally seen the effect on certain cars as you walk past the car colour apparently changes from transparent blue to green to violet etc.
Terry Hickling
Birmingham, United Kingdom
September 7, 2010
---
September 13, 2010
We think that the first photo represents partial submersion into electrolyte of titanium color anodizing. Initially the whole titanium part was submerged ito electrolyte under ~18 Volts to achieve blue color all over the surface. Then this titanium part is slightly elevated(so that the side surface are inside electrolyte, but the inner surface of this titanium part is free of electrolyte. The voltage is raise to around 40 V to continue to grow the color film on the surface - the remaining surface will change the color to pink. The further elevating this part from electrolyte will leave only the side surface under electrolyte. Increasing voltage to ~50 V (I do not remember exact numbers) will transform the pink walls into yellow. The whole process will take around 5 minutes. This process is highly reliable and repeatable if you utilize a good color anodizing method and correctly prepare the surface for coloring. Contact us if you need help.

The second photo shows thermal method of coloring titanium. In old times it was used for coloring, however in present times this method is not very often utilized in production since it is impossible to replicate the results.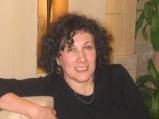 Anna Berkovich
Russamer Lab

Pittsburgh, Pennsylvania